Baltimore Protests 2015: Mayor Blames 'Thugs,' Sets Citywide Curfew To Quell Unrest; A 'Very Disturbing' Evening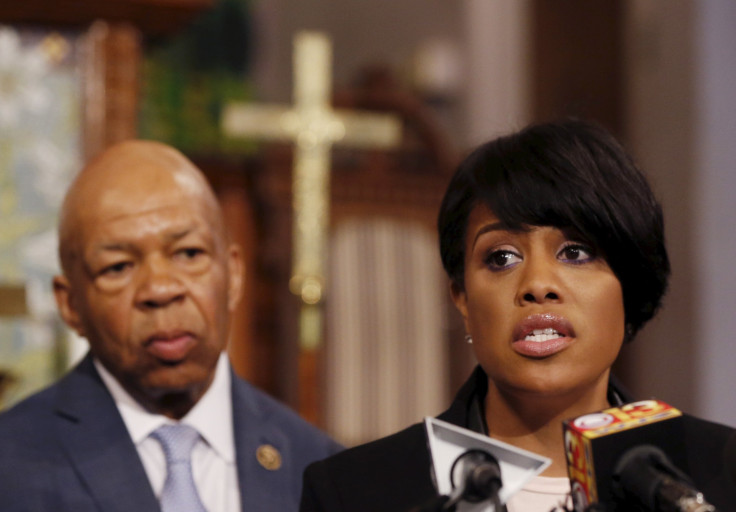 Baltimore's mayor Monday evening announced a weeklong curfew amid escalating chaos in the Maryland city. Mayor Stephanie Rawlings-Blake said residents must be off the streets from 10 p.m. to 5 a.m., beginning Tuesday. Baltimore city schools will be closed Tuesday.
"What we see tonight that is going on in our city is very disturbing," she told a news conference. "I'm a lifelong resident of Baltimore. Too many people have spent generations building up this city for it to be destroyed by thugs who in a very senseless way are trying to tear it down."
Unrest in Baltimore built throughout the afternoon following the funeral of Freddie Gray, a city resident who died in police custody two weeks ago. In recent days, thousands of demonstrators have held mostly peaceful protests across the city to protest Gray's death. Rawlings-Blake carefully distinguished those earlier marches from the looting and violence of Monday night.
"It is very clear there is a difference between what we saw over the past week with the peaceful protests … and the thugs who only want to incite violence and destroy our city," she said.
As of 8:15 p.m. EDT, two police cars and two other vehicles had been set on fire, and at least a half dozen stores had been looted and destroyed. Fifteen police officers were injured this evening by agitators who threw bricks, bottles and other debris. Two officers are still hospitalized; the others have been released with minor injuries, Col. Darryl De Sousa, the Baltimore Police Department's chief of patrol, told the news conference.
Rawlings-Blake said Baltimore police would impose a citywide curfew starting Tuesday for residents of all ages. Only residents with medical emergencies or on the way to work would be permitted in the streets, she said. Police Monday night were to enforce existing curfews for juveniles, including a 9 p.m. curfew for children less than 15 years old and a 10 p.m. curfew for 15- to 17-year-olds. The mayor's decision to wait to impose the citywide restrictions until Tuesday drew criticism in media interviews and Twitter comments. The curfew will be in effect until May 4, the mayor said, but could be revised as needed.
Rawlings-Blake said she activated an emergency operations center to enable an administrationwide response to incidents as they unfold. Maryland Gov. Larry Hogan declared a state of emergency and called the state's National Guard into action at the mayor's request, saying unrest and destruction of property could not be tolerated.
"We're deploying every resource possible to gain control of this situation and to ensure peace moving forward," Rawlings-Blake said.
© Copyright IBTimes 2023. All rights reserved.
FOLLOW MORE IBT NEWS ON THE BELOW CHANNELS