Baltimore Protests 2015: Maryland Declares 'State Of Emergency' As Unrest Grows After Freddie Gray Funeral; Scattered Looting, Cars Set Ablaze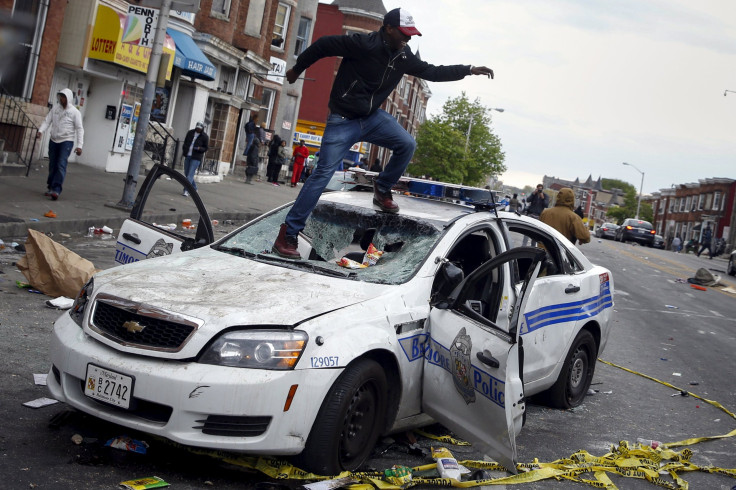 Maryland's governor declared a state of emergency Monday evening as clashes in Baltimore turned increasingly chaotic. Gov. Larry Hogan called the National Guard into action, and Baltimore police urged parents to get their children off the streets as groups of teenagers wielding bricks, sticks and bottles swarmed parts of downtown.
Hogan condemned the looting and acts of violence that unfolded across the city hours after the funeral of Freddie Gray, a Baltimore man who died in police custody two weeks ago. Seven police officers were treated Monday evening for injuries including broken bones, the Baltimore Police Department said. An unconfirmed number of protesters, reporters and other passersby were also injured after police fired tear gas and rubber bullets into the crowds.
"These malicious attacks against law enforcement and local communities only betray the cause of peaceful citizens seeking answers and justice following the death of Freddie Gray," Hogan said in a statement.
The Baltimore Police Department said it was asking parents to bring their children home "due to the large number of juveniles in these violent groups. We don't want to see anyone get hurt," the department posted on its Twitter account.
Unrest broke out earlier in the day near Mondawmin Mall. Last weekend, thousands of demonstrators held mostly peaceful protests throughout the city although some businesses and cars were vandalized and about 35 people were arrested. Fans attending a Baltimore Orioles-Boston Red Sox game Saturday night were temporarily held inside the Camden Yards stadium amid safety concerns.
A Monday night Orioles game against the Chicago White Sox was postponed about a half-hour before its scheduled 7 p.m. EDT start. Police pre-emptively closed the gates to Camden Yards about an hour earlier, and Orioles management opted not to hold the game after consulting police. "An announcement regarding a make-up date will be made asap," the team posted on Twitter.
Relatives of Freddie Gray had asked the community for a day of calm during Monday's funeral. The Rev. Jamal Bryant, who delivered Gray's eulogy, urged groups to halt their attacks against police. "I'm asking every young person to go home," he told reporters Monday evening. "What has happened this afternoon is not peaceful, and it does not reflect the spirit and heart of this movement. This does not represent the Gray family."
Thick plumes of black smoke rose above Baltimore's buildings as two police vehicles and a civilian car were engulfed in flames. Firefighters with the Baltimore City Fire Department arrived to quell the fires, but were hampered when groups cut one of the water hoses, the police department reported.
A CVS pharmacy near North and Pennsylvania avenues was looted, with dozens of people removing boxes of food and knocking over shelves. Police lined the streets near the intersection to block groups from further ravaging the building. A nearby check cashing store and 107-year-old Italian deli were also destroyed. University of Maryland closed its Baltimore campus, and Baltimore public libraries shuttered their doors.
Attorney General Loretta Lynch, who had been sworn in just hours earlier, met Monday evening with President Barack Obama and told him she would continue to monitor the unrest in Baltimore, the White House said. Obama spoke with Baltimore Mayor Stephanie Rawlings-Blake earlier in the day to discuss previous demonstrations and efforts to halt the chaos.
© Copyright IBTimes 2023. All rights reserved.