Baltimore Riots 2015: Surveillance Planes Repeatedly Flew Over Freddie Gray Protests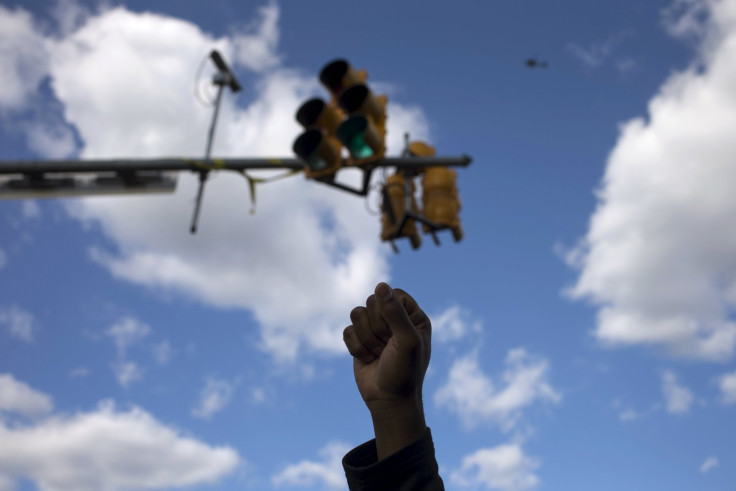 Baltimore residents discovered surveillance planes circling above the city last week after riots and protests broke out over the death of Freddie Gray. Users on Twitter and Reddit worked together to identify at least four flights over Baltimore between Thursday and Saturday, the Washington Post reported.
The FBI would not comment on the planes, but the American Civil Liberties Union planned to request further information about them. "A lot of these technologies sweep very, very broadly, and, at a minimum, the public should have a right to know what's going on," senior ACLU policy analyst Jay Stanley told the Post.
Benjamin Shayne, a 39-year-old who lives in Baltimore and leads police radio site scanbaltimore.com, was the first to raise questions about the planes overhead on Twitter. On Saturday, Shayne asked his followers, "Anyone know who has been flying the light plane in circles above the city for the last few nights?"
Responses poured in. One person, a former ACLU employee named Pete Cimbolic, tracked the flight back to NG Research in Bristow, Virginia, and shared a Reddit post from a user who'd spotted the same aircraft the year before. Together, social media users and the ACLU found two planes that had recently flown four times over Baltimore: a Cessna 182T Skylane and a Cessna 560 Citation V.
Baltimore has seen dozens of demonstrations inspired by the death of Gray, a 25-year-old black man who died of injuries sustained April 19 while in police custody. About a week later, after his funeral, the activism turned violent. Some protesters threw bricks at police, who used tear gas and pepper balls to control the group, and others looted stores and burned cars. Mayor Stephanie Rawlings-Blake set a curfew as a result.
An anonymous official told the Post that the Baltimore police department had asked the FBI for the surveillance planes to help watch the area. The official indicated that the planes' infrared technology tracked people on the ground, which worried the ACLU. "The fact that at any point the government or a contractor for the government could have a wide view or a large picture of what's going on on block after block of the city is really concerning," Cimbolic said. "It's scary."
The ACLU has accused the Baltimore police of invasive surveillance before. In November, the group called out the department for a using cell phone tapping method called Stingray, CBS News reported. They said officers used Stingray without a warrant in at least one case.
© Copyright IBTimes 2023. All rights reserved.