Baltimore Riots: Gangs Did Not Make 'Credible Threat' To Police, Call To End Violence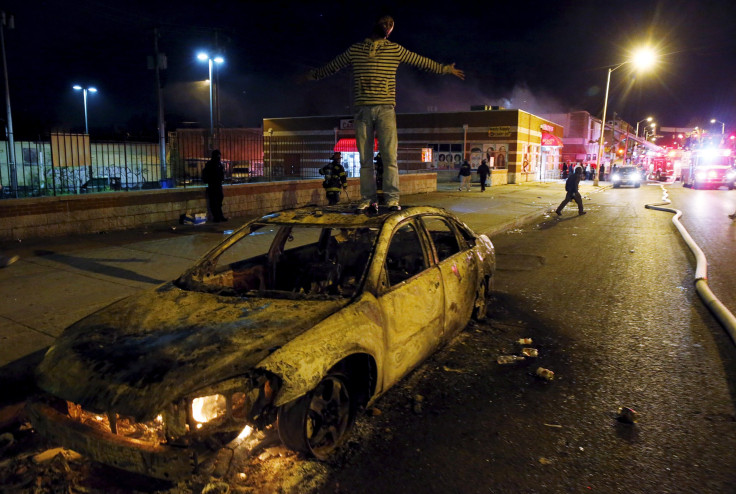 Several gang members gathered at Baltimore's New Shiloh Baptist Church, where the funeral of Freddie Gray took place Monday, denying claims that they had made a "credible threat" to law enforcement officials, according to a BuzzFeed reporter. Baltimore has been seized by violence in the past few days, stemming from anger over the death of the 25-year-old black man in police custody.
The Baltimore Police Department's statement that members of several rival gangs had come together to "take out" police officers was false and was aimed at dividing the city, according to Billy Murphy, the Gray family attorney. The police statement on Monday claimed that three gangs -- Bloods, Crips and the Black Guerrilla Family -- had agreed to join hands to harm the police.
"The police is supposed to put out correct information, instead of freaking out the people of Baltimore," Murphy told BuzzFeed News after a meeting, adding that members of the Bloods and Crips gangs were present to make a show of unity and voice their opposition to the night's violence. "This is about black men standing up and owning their part of the problem," Murphy reportedly said.
"Law enforcement agencies should take appropriate precautions to ensure the safety of their officers," the city's police force, members of which were hit by stones and bottles, said, in the statement. Police responded with pepper balls and rubber bullets, injuring at least a dozen people, including passersby and reporters.
As protests raged in the city, several buildings were set on fire and reports of looting surfaced even as Gray's family called for a halt to the violence. During Monday's unrest, at least 15 officers were injured and a general curfew from 10 p.m. to 5 a.m. will be in place from Tuesday through May 4, "unless renewed or rescinded by order of the Mayor," Baltimore police wrote on its Twitter account.
Gray died on April 19 following a spinal injury, which he had received seven days earlier after being detained by police on a weapons charge and dragged inside a police van.
© Copyright IBTimes 2023. All rights reserved.