Baltimore Sees Deadliest May In Four Decades As Violence Surges, Arrests Decline In Wake Of Freddie Gray Death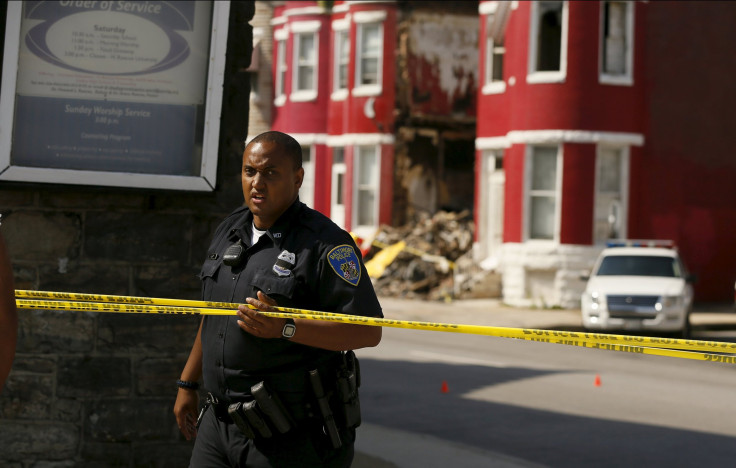 Baltimore saw its deadliest May in more than 40 years this month following a pair of double shootings Sunday. Violence is surging in Baltimore while arrests are declining as police face intense scrutiny following the death of Freddie Gray, a 25-year-old black man who died April 19 after suffering injuries in the back of a police van.
Baltimore's 43rd homicide in May happened late Sunday morning, surpassing the 42 homicides the city saw in August 1990, the Baltimore Sun reported. The city has seen 116 homicides so far this year, compared to 208 homicides for all of 2014.
The last time Baltimore experienced a deadlier month was December 1971, when 44 people were killed, the Sun reported. Baltimore's population was far greater then -- about 908,000 residents -- compared to roughly 623,000 people today, according to U.S. census estimates.
At the same time, arrests in Baltimore have tumbled: Police are booking fewer than half the number of people they arrested last year, the Associated Press reported last week. West Baltimore residents said they feel abandoned by the officers they once considered overbearing. "Before it was overpolicing. Now there's no police," Donnail "Dreads" Lee, who lives in the public housing complex where Gray was chased down, told the AP.
Police officials say their officers are not shirking their duties. But some officers have acknowledged feeling hesitant after Gray's death unleashed protests against police and following the criminal indictment of six Baltimore officers involved in Gray's arrest.
"I'm hearing it from guys who were go-getters, who would go out here and get the guns and the bad guys and drugs. They're hands-off now," Lt. Kenneth Butler, president of the Vanguard Justice Society, a group for black Baltimore police officers, told the Baltimore Sun in early May. "I've never seen so many dejected faces," he added. "Policing, as we once knew it, has changed."
© Copyright IBTimes 2023. All rights reserved.
FOLLOW MORE IBT NEWS ON THE BELOW CHANNELS