Baltimore Youths Protest Freddie Gray's Death With Student-Led March To City Hall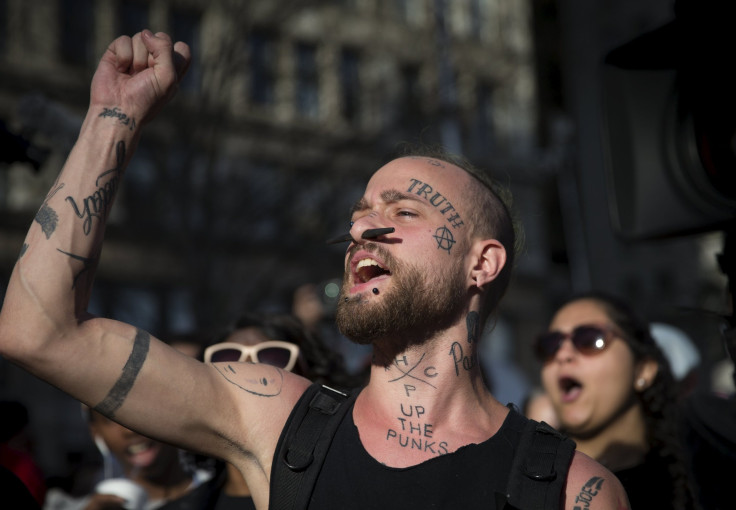 Protests in Baltimore early Wednesday evening were peaceful but well-attended. Hundreds of students from area high schools and colleges met up at 5:45 p.m. EDT to march from Penn Station to Baltimore City Hall, chanting "Black lives matter" and "No justice, no peace" along the way.
Demonstrators were expressing their anger at police brutality after Freddie Gray, a 25-year-old black man, died last week from injuries he sustained in police custody. Baltimore youths have played a central role in this week's protests -- Business Insider
reported
a group of about 100 teenagers started the violence Monday afternoon, when they began throwing rocks and bricks at police officers.
Later that night, protests sparked by the Gray incident turned into violent riots. Baltimore saw 235 arrests, 144 vehicle fires and 15 buildings damaged, according to the Baltimore Sun, leading Mayor Stephanie Rawlings-Blake to institute a city curfew from 10 p.m. to 5 a.m. On Tuesday night, some activists ignored the curfew, refusing to go home and lobbing water bottles at police. The Associated Press reported that officers responded by firing pepper balls and tear gas canisters. Among the detained was Joseph Kent, a 21-year-old college student who seemed to disappear when a National Guard Humvee rolled by him during a CNN broadcast.
Youth protests continued Wednesday, when students from Johns Hopkins University, Goucher College, Towson University and Morgan State gathered on Johns Hopkins' Homewood campus. The university seemed to endorse the activism, tweeting "Well done" from its official account.
Protesters reached City Hall Wednesday just before 6:30 p.m. and held a three-minute moment of silence. "It's great," Councilman Brandon M. Scott told Baltimore Sun reporter Kevin Rector. "The young people are doing what they should be doing. They should be sending a message -- they want answers."
© Copyright IBTimes 2023. All rights reserved.