Ban Ki-Moon US Unilateral Action Against Syria Will Violate UN Charter, Says Use Of Force Allowed Only In Self-Defense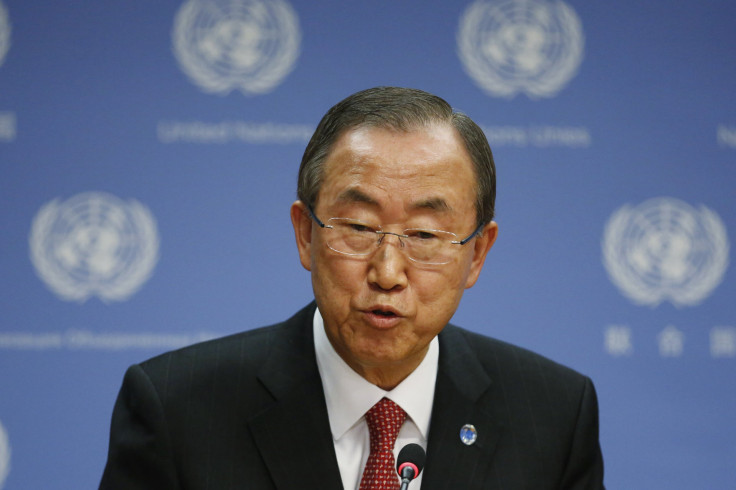 United Nations Secretary-General Ban Ki-moon, on Tuesday, expressed concerns about the U.S.'s plans to launch a unilateral military strike against Syria over the alleged use of chemical weapons by Bashar Assad's regime, and emphasized that the use of force is permitted only in self defense under international law.
The U.N. chief's remarks came shortly after President Barack Obama appeared closer to securing support from the U.S. Congress for military action against Syria, after two key Republican leaders -- House Speaker John Boehner (R-Ohio) and House Majority Leader Eric Cantor (R-Va.) -- announced their backing for the strike on Tuesday, and expressed confidence that fellow lawmakers would follow suit.
"As I have repeatedly said, the Security Council has primary responsibility for international peace and security. That's my appeal – that everything should be handled within the framework of the United Nations Charter," Ban told reporters in New York, according to a transcript published by the U.N.
"The use of force is lawful only when in exercise of self-defense in accordance with Article 51 of the United Nations Charter and/or when the Security Council approves such action. That is the firm principle of the United Nations," Ban said.
Ban said he appreciated Obama's efforts to gain the support of the U.S. Congress, adding that he is aware of the argument that military intervention could deter the future use of chemical weapons.
"At the same time, we must consider the impact of any punitive measure on efforts to prevent further bloodshed and facilitate a political resolution of the conflict," he said.
Ban said that the U.N. chemical weapons inspection team, which will bring back biomedical and environmental samples from Syria to its laboratories on Wednesday, did not have the mandate to determine who used the chemical weapons against whom, "based on the recognized standards of the international community."
He called on all members of the Security Council to develop an appropriate response if the allegations of the use of chemical weapons are proven true, adding that the Council had a duty to overcome the current impasse.
Security Council members, Russia and China, are staunchly against foreign intervention, and have repeatedly vetoed past resolutions brought out by other members against the Syrian regime.
Meanwhile, Israel, acknowledged that a defense test carried out jointly with the U.S., on Tuesday, caused ballistic missiles to fall into the sea and was detected by Russia, causing uncertainty in the region, BBC reported.
The test firing was seen as a sign that Israel is preparing for the possibility of a violent fallout from a U.S. strike on Syria, in the form of retaliatory actions from Syria, or its Lebanese militant ally, Hezbollah.
© Copyright IBTimes 2022. All rights reserved.
FOLLOW MORE IBT NEWS ON THE BELOW CHANNELS