Ban Nuclear Weapons? With US And Russia In Cold War, United Nations Inches Closer To New Disarmament Policy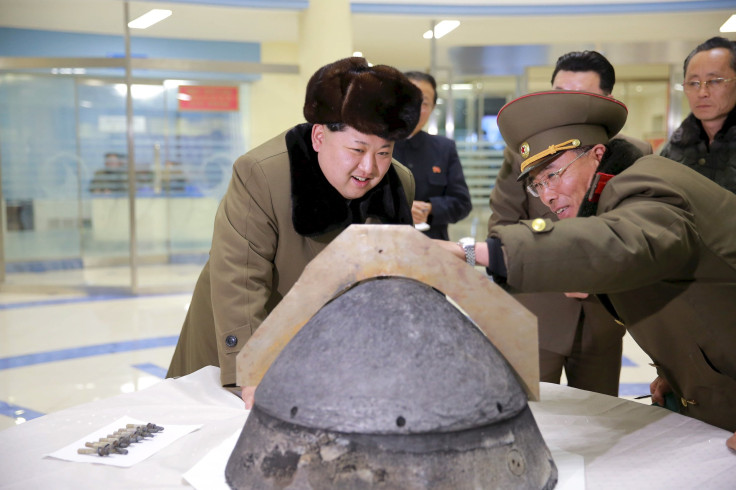 An effort to persuade the United States, Russia and China to give up their nuclear weapons is moving forward at the United Nations. Anti-nuclear proponents are imploring a coalition of non-nuclear arms states to support a resolution submitted to the U.N. General Assembly last week that would establish a mandate for negotiations in 2017 for a treaty that prohibits nuclear weapons, leading toward their total elimination.
Led by Austria, Mexico, South Africa, Ireland, Brazil and Nigeria, the resolution to prohibit the usage or future development of nuclear weapons had the support of 33 co-sponsors as of Friday and was expected to be adopted by a majority in the General Assembly by Nov. 2. The resolution titled "Taking Forward: Multilateral Nuclear Disarmament Negotiations," acts on a recommendation made in August by a U.N. working group on nuclear disarmament in Geneva, where 107 countries expressed their support toward prohibiting nuclear weapons.
"It is not a treaty for the elimination of nuclear weapons, which would involve destruction and verification and inspection," said Beatrice Fihn, executive director of the International Campaign to Abolish Nuclear Weapons (ICAN,) a global coalition of more than 400 NGO's in 100 countries working to ban nuclear weapons, at press briefing about the resolution Friday at the U.N. "It is a treaty for the prohibition, so it is a stigmatizing instrument that hopefully will lead to other legal instruments or political instruments later on down the road that will do that work."
A treaty prohibiting nuclear weapons would close the "legal gap" within the U.N.'s list of prohibited weapons, proponents argue. Chemical weapons, biological weapons, anti-personnel landmines and cluster munitions are all expressly prohibited by the United Nations Office for Disarmament Affairs, yet nuclear weapons are allowed under international law.
Proponents of the bill face pressure from the five permanent members of the U.N. Security Council: the U.S., the U.K., Russia, France, and China, all of which have nuclear arsenals. Combined with the only four other countries that have them, India, Pakistan, Israel, and North Korea, there are 15,000 nuclear weapons worldwide, according to an ICAN report.
Fihn said the best way to combat the vetoing power of the permanent members of the United Nations Security Council is by pressuring governments to make nuclear weapons "taboo."
"It is important to point out, given that some of the states say this is unrealistic, that states often do give up, restrict or avoid certain methods or means of warfare," said Fihn. "The state gives up weapons after the weapon becomes stigmatized."
Decades of negotiation on disarmament have mostly ended in a deadlock between nuclear-armed states and non-nuclear nations. Nuclear states, eager to protect their military advantage, argue that moving too quickly to dispose of a key element of their deterrence strategies not only endangers national security but would also undermine international security.
Mikhail Ulyanov, director of the Foreign Ministry Department for Non-Proliferation and Arms Control within the Russian Foreign Ministry, recently called the prohibition of nuclear weapons "unrealistic" as it would break an established multilateral agreement that the nuclear arms held by the five permanent member states of the U.N. Security Council are legitimate under the United Nations Non-Proliferation Treaty. Such a ban, he said, would damage the system of checks and balances in international relations, threatening the national security of Russian citizens.
In the first big foreign policy speech of his administration, President Barack Obama vowed in 2009 that the U.S. would "seek the peace and security of a world without nuclear weapons." It was the first time a sitting U.S. president had made that kind of promise.
During a visit this year to Hiroshima, the site of the first war-time atomic weapon detonation, Obama again declared in May that the U.S. would lead the effort for "a world without nuclear weapons."
But it's unclear if any steps have been taken toward that goal during Obama's seven years in the White House. The Pentagon plans to spend roughly $3.2 billion on programs to modernize the military's nuclear submarines, bombers, Intercontinental Missiles and nuclear-equipped cruise missiles in 2017, according to a Defense News report. Meanwhile, Obama's administration has dismantled fewer nuclear devices than his predecessors, the Washington Post reported.
In a September speech to troops at Minot Air Force Base in North Dakota, U.S. Defense Secretary Ashton Carter defended the massive "modernization" of the U.S. nuclear arsenal, citing a potential war with Russia. The improvements in the Pentagon's nuclear stockpile, he insisted, provided "the bedrock of security."
"In today's security environment, one that's drastically different from the last generation, and certainly the generation before that, we face a nuclear landscape that continues to pose a challenge…that continues to evolve, in some ways less predictably than during the Cold War," he said.
Russia and the United States signed a nuclear disarmament accord in 2009, when both sides agreed to a new limit on delivery vehicles, such as bombers or cruise missiles, and a limit on deployed warheads, the New York Times reported. The U.S. and Russia together control more than 90 percent of the world's nuclear warheads, according to a report from the Arms Control Association, which promotes effective arms control policies.
Earlier this month, Russia withdrew from a treaty drafted in 2000 between Moscow and Washington that would require the countries to destroy military stockpiles of plutonium, the material used in some nuclear weapons, according to a New York Times report. President Vladimir V. Putin said relations with the U.S. had deteriorated in a "radically changed environment."
"The threat to strategic stability posed by the hostile actions of the U.S. against Russia, and the inability of the U.S. to delivery on the obligation to dispose of excessive weapons plutonium under international treaties," forced him to withdraw, Putin said.
But if Russia and the U.S. did work together to ban nuclear weapons, it would represent "the most significant development in nuclear politics since the end of the Cold War," said Matthew Bolton, associate chair of political science at Pace University in New York and an expert on multilateral policy making with Reaching Critical Will, a disarmament research and advocacy program based in New York.
The United Nations resolution against nuclear weapons allows smaller states to "shift the conversation," on nuclear weapons, he said.
"At a time of crisis of confidence at multilateral action, this stands out as a potential way for us to revive confidence in the United Nations system and open up the potential for an approach to national affairs that is inclusive—that is open to the concerns, interests and values of all states and all people, not just the few that threaten the rest of the world with catastrophic violence," said Bolton.
FindTheData | Graphiq
© Copyright IBTimes 2023. All rights reserved.