Bangkok Bombing: Police Issue Arrest Warrant For Suspect In Erawan Shrine Attack; Sketch Released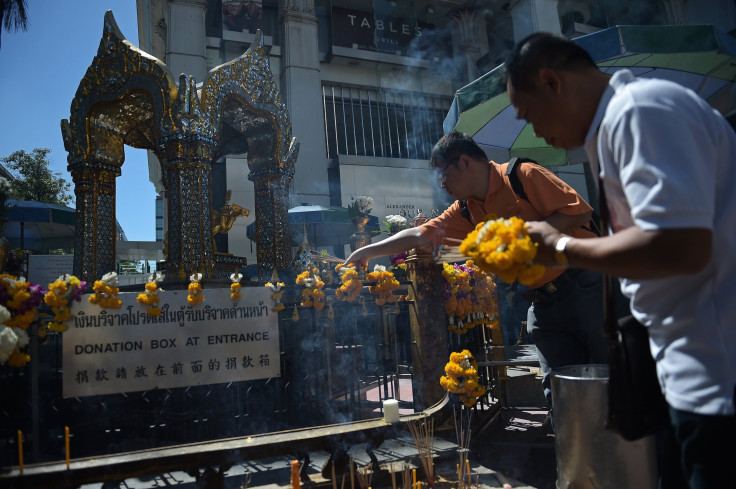 Update as of 7:21 a.m. EDT: Police in Thailand issued an arrest warrant Wednesday against an unidentified suspect in the Erawan Shrine bombing that killed at least 21 people Monday, according to reports.
The warrant was issued after police released a sketch of the suspect. Police also said, according to Reuters, that two other men seen in surveillance footage are also being treated as suspects.
Earlier on Wednesday, Thai Prime Minister Prayuth Chan-ocha advised the suspect to surrender, the Associated Press reported.
"If the person wants to be safe, he should turn himself in. Officials will find a legal way to provide him with safety. It's better than living in hiding," he said, adding:"I want to tell those close to the suspect to tell him to come to police, whether you are in the same network or not, because he might be in danger."
Update as of 4 a.m. EDT: Thai investigators Wednesday released a sketch of a suspect in Monday's Erawan Shrine bombing in Bangkok that killed at least 21 people.
Police said they had called in about three people, mostly foreigners, for interrogation in connection with the attack.
Original story:
Thailand will offer a 1 million baht reward ($28,104) for information on suspects of Monday's blast at Bangkok's Erawan Shrine that killed at least 21 people, police spokesman Lt. Gen. Prawut Thavornsiri announced Wednesday on Twitter.
A man in a yellow T-shirt, carrying a backpack as seen in a surveillance video has been identified as the bomber by officials. However, investigators have not been able to determine the nationality of the man or ascertain if he was still in Thailand, National Chief of Police Somyot Poompanmoung said Wednesday, according to Reuters. He also said that the man did not act alone.
"He didn't do it alone for sure. It's a network," Poompanmoung said, according to the Associated Press (AP).
The Erawan Shrine reportedly reopened to the public Wednesday after Monday night's blast, which Prime Minister Prayuth Chan-ocha called the "worst incident" in the country.
After the reopening, people posted condolence messages on a board and placed flowers and incense sticks at the shrine, AP reported. One of the messages written in English reportedly stated: "Be strong. Be together."
The Hindu shrine, located in Pathum Wan district, was built in 1956 and is a popular tourist attraction.
© Copyright IBTimes 2023. All rights reserved.