Bangkok Bombing: Turkey Expresses Skepticism Over Reports Its Nationals Were Involved In Erawan Shrine Attack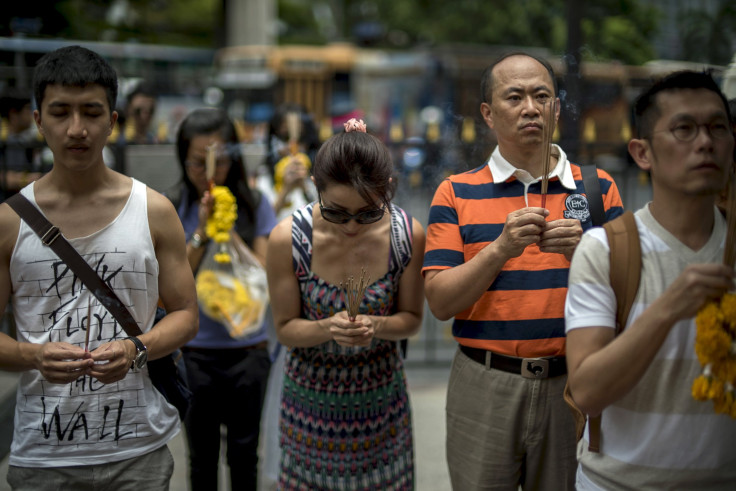 Turkey expressed doubts Thursday over reports that its nationals were involved in the bombing at the Erawan shrine in Bangkok on Aug. 17 that killed 20 people and injured over 100. A statement from the Turkish embassy in the Thai city came amid reports that at least two of the eight suspects are possibly Turkish.
Turkish authorities said Thai officials had not informed them about the suspects being sought in connection to the bombing, according to the Associated Press (AP). Thai authorities have been probing the involvement of Turkish nationals in the attack, giving rise to speculation that the bombing may have been carried out by a group seeking to avenge Thailand's forced deportation of Uighurs -- a Turkic-speaking Muslim ethnic minority from China's northwestern province of Xinjiang -- in July.
"We have agreed already that I won't mention the name of a country, the name of a group or their religion. Please allow me to say that it is a network, and let's wait and see which group it is," Thai national police spokesman Prawut Thavornsiri said Thursday, when asked if the case was linked to Uighurs, according to AP.
So far, three people have been arrested in connection with the attack, the latest being on Tuesday. The 38-year-old Thai national, identified as Kamarudeng Saho, was arrested at his house in Sungai Kolok town, in the southern province of Narathiwat, near the Malaysia-Thailand border, by a government security unit.
Thai police have issued arrest warrants for a Thai woman, Wanna Suansan, and her husband, a Turkish man, identified as Emrah Davutoglu, both of whom are believed to be in Turkey. Wanna, who reportedly said in interviews with Thai media that she was innocent, was allegedly contacted by Saho.
A second suspect -- described as the main suspect by Thai authorities -- detained Tuesday near the Thai-Cambodian border, had a Chinese passport, according to a foreign ministry spokesman in Ankara cited by the Turkish embassy, in its statement. The statement also mentioned that the first suspect, arrested in a raid on a Bangkok apartment, had a fake Turkish passport.
On Wednesday, a senior police official said authorities believe that the main suspect in Thailand's worst bomb attack is a member of the Uighur ethnic minority, the Wall Street Journal reported. A photo of the Xinjiang-issued passport -- which showed that it belonged to 25-year-old Mieraili Yusufu from Xinjiang, home to the Uighurs -- was published by several Thai media outlets Wednesday.
© Copyright IBTimes 2023. All rights reserved.