Bangkok Bombing: Fingerprints On Bomb-Making Materials Match Foreign Suspect's In Custody; Arrest Warrant Out For Fresh Suspect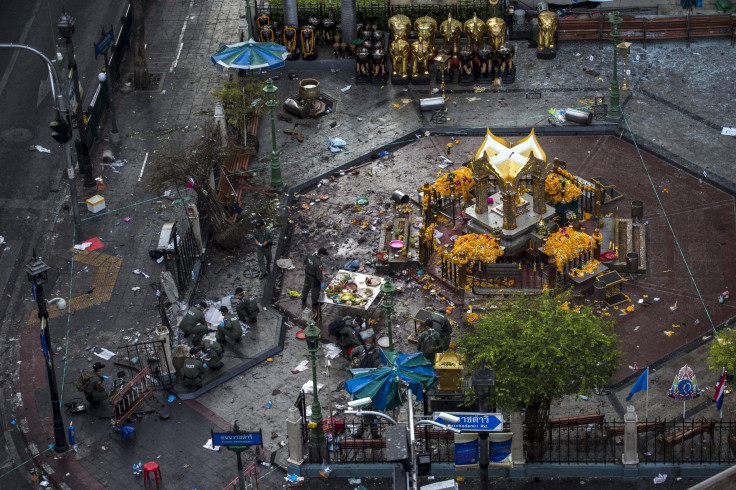 Update as of 6:30 a.m. EDT: Authorities believe that the main suspect of Thailand's worst bomb attack is a member of China's Uighur ethnic minority, a senior police official said, according to the Wall Street Journal.
Police General Chaktip Chaijinda reportedly said that the man, who was arrested near Thailand's border with Cambodia Tuesday, was born in China's Xinjiang province, according to the travel documents he was carrying. But police could not confirm as they have yet to authenticate the passport he was using.
Gen. Chaktip also said that the man has denied involvement in the blast that killed 20 people and injured over 100 others.
Update as of 5 a.m. EDT: Thai police issued an arrest warrant Wednesday for a Turkish man, who is the husband of Wanna Suansan, a Thai suspect already being sought by authorities in connection to the deadly bombing at the Erawan Shrine in Bangkok on Aug. 17.
The man, identified as Emrah Davutoglu, has been charged with conspiracy to possess unauthorized war materials, national police chief Prawut Thavornsiri said, according to the Associated Press. Authorities have so far issued eight arrest warrants, mostly for foreign suspects, in connection with the bombing.
Prawut reportedly said that Davutoglu is believed to have been "part of a network that provided accommodation" to those connected with the bombing.
Earlier this week, an arrest warrant was issued for Suansan, whose name was on the lease of an apartment where bomb-making materials were found during a raid over the weekend.
Update as of 3:40 a.m. EDT: The foreign suspect arrested near Thailand's border with Cambodia speaks Turkish and police require a translator, Thailand's national deputy police chief, Chakthip Chaijinda, said Wednesday, according to the Associated Press.
However, he did not mention whether the Turkish Embassy has been approached in connection to the latest development in the investigation into the Erawan Shrine bombing.
Authorities speculated that the suspect may be part of a group seeking to avenge a July incident involving Uighurs -- a Turkik-speaking Muslim ethnic minority from China's northwest. Thailand had deported over 100 Uighurs, who had fled China's troubled western Xinjiang region -- a move that prompted widespread condemnation from international rights groups and sparked a mob attack on the Thai consulate in Turkey.
Turkey sees China's treatment of the Uighurs as an important issue as they share a common cultural and religious background.
Original story:
Thai police said Wednesday that fingerprints of a foreign suspect arrested near Thailand's border with Cambodia match those found on bomb-making material recovered from an apartment on the outskirts of Bangkok. Authorities, however, are still trying to determine the motive behind the country's worst bombing that killed 20 people and injured over 100 at the Erawan shrine on Aug. 17.
Police reportedly said that fingerprints were found on a bottle containing bomb-making material seized during a raid Saturday in Min Buri district, near the neighborhood where another suspect was arrested. The two suspects in custody are being interrogated by the military, but no charges have been filed so far, according to the Associated Press.
The man, who was arrested near the border Tuesday, "is important and is related to or conspired with people" behind the bombing, national police spokesman Prawut Thavornsiri said Wednesday.
Prawut said that the foreign man, described as the main suspect, was also involved in a second, smaller explosion a day later, Reuters reported. The man was among the suspects against whom warrants were issued Monday.
National police also announced Monday that they were looking for a Thai woman and a man of unknown nationality for their involvement in the bombing at the Hindu shrine, which is one of the famous tourist attractions in Bangkok.
© Copyright IBTimes 2023. All rights reserved.
FOLLOW MORE IBT NEWS ON THE BELOW CHANNELS