Bangladesh Garment Industry Disaster Survivors Still Awaiting Compensation On 6-Month Anniversary Of Rana Plaza Collapse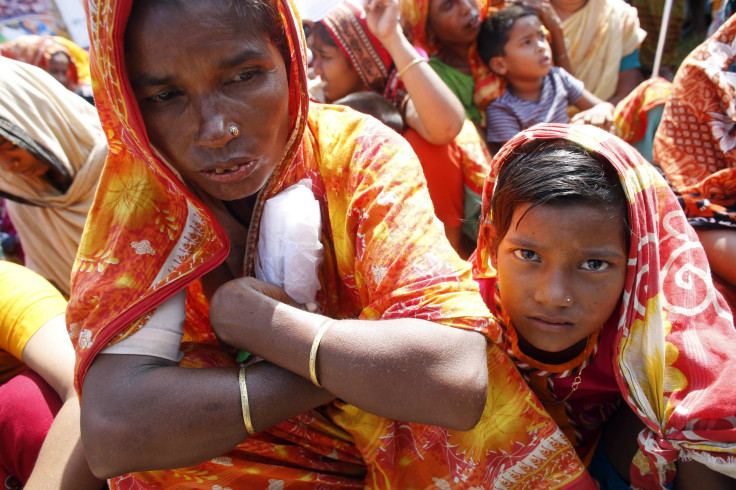 Six months after the Rana Plaza garment factory building collapse in Bangladesh killed more than 1,100 workers, employers have not paid any compensation to about 94 percent of the survivors, most of whom have stayed away from their work due to physical injury and trauma, ActionAid, Johannesburg-based charity group, said in a report on Thursday.
The report, based on a survey of 2,297 people -- nearly two-thirds of survivors and families of those who died in the eight-storey building collapse on April 24 -- noted that 63 percent reported serious physical injuries including amputations and paralysis. And, about 92 percent of those surveyed reported severe mental trauma and insomnia, coupled with a fear of entering buildings or enclosed spaces.
"It's indefensible that for six months, multi-million dollar companies have left the victims to fend for themselves," Farah Kabir, ActionAid's Bangladesh director, said in a statement. "The victims of the Rana Plaza disaster are in urgent need of medical and psychological support, as well as the financial means to feed and care for their families."
British retailer Primark is the only company to have provided financial support to survivors -- three months' salary of 15,000 taka ($190) to 3,300 people, while the Bangladeshi government has given a total of 2.2 million taka ($28,000) to 777 people, or a third of the victims and their family members. But, there has been no agreement on a long-term compensation package, according to ActionAid.
Meanwhile, Primark told BBC on Thursday that it will continue to pay wages to survivors of the world's worst garment factory disaster for three more months.
In September, IndustriALL Global Union, a group representing 50 million workers in 140 countries in the mining, energy and manufacturing sectors, had called a meeting in Geneva of top retailers who source garments from Bangladesh to set up a long-term compensation fund for the survivors of the tragedy. However, only nine brands out of 23 that had done business with the collapsed Rana Plaza factory attended the meeting.
IndustriALL, in a statement issued on Thursday, said: "The stance of the buyers to compensation has been varied, some refuse to engage, others vehemently deny a connection and some deny responsibility because their production ended some time ago or was outsourced to Rana Plaza without their knowledge."
© Copyright IBTimes 2023. All rights reserved.
FOLLOW MORE IBT NEWS ON THE BELOW CHANNELS