Becky Petrino: 8 Facts About Bobby Petrino's Wife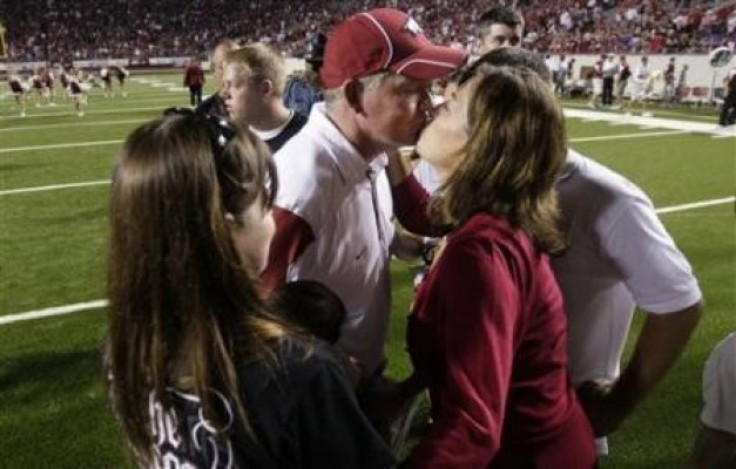 Winning doesn't mean everything, at least not to Arkansas.
The Razorbacks fired head football coach Bobby Petrino Tuesday night, in the wake of his recent scandal.
Last week, the school discovered Petrino was riding with Jessica Dorrell, an Arkansas employee and Petrino's mistress, during the time of the accident. Petrino failed to share this information with his superiors, and was let go after the attempted cover-up.
Petrino was very successful in his short time with the Razorbacks, but that wasn't enough to save his job. He went 34-17 in his four years at Arkansas, and won the Cotton Bowl this past season.
The coach accepted the school's decision, and blamed his poor decisions for his termination.
I love football. I love coaching. I of course hope I can find my way back to the profession I love, said Petrino. In the meantime, I will do everything I can to heal the wounds I have created.
Petrino says his number one goal is to repair the damage he did to his family.
They did not ask for any of this and deserve better. I am committed to being a better husband, father and human being as a result of this and will work each and every day to prove that to my family, friends and others.
Becky Petrino, Bobby's wife, has been very quiet throughout the entire scandal. Certainly her husband has a long way to go to make up for his actions.
Here are some facts about Becky Petrino, Bobby's wife:
- From Missoula, Montana
- Met Bobby while in college in Montana
- Has four children, two boys and two girls
- Twitter handle is @rj07petrino
- 89 twitter followers
- Enjoys playing golf and tennis
- Likes country, rock, and christian music
- Announced donation of $250,000 with Bobby to Arkansas Children's Hospital in Sept. 2011
© Copyright IBTimes 2023. All rights reserved.