Beer Production In China Drops As Taste For Wine Continues To Grow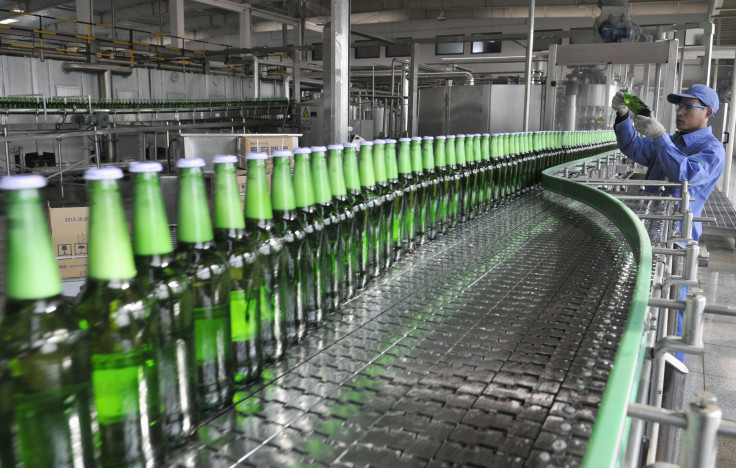 Slight declines in beer production could signal trouble for Chinese brewers. According to new data by China's National Bureau of Statistics, for the first time in 24 years the volume of beer produced in China fell in 2014, down by 2.76 percent, or roughly 4.9 million kiloliters, which is about 163 billion standard-size beer bottles.
Though beer continues to be the most popular alcoholic beverage in China, its firm grasp on the market is beginning to slip. After decades of rapid growth, with production tripling from 1990 to 2000 and then doubling from 2000 to 2010, beer production peaked in 2013 when Chinese beer producers broke the 50 million-kiloliter threshold for the first time, producing 50.62 million kiloliters of beer. According to a report by Taiwanese news site Want China Times, citing a report by the China Alcoholic Drinks Association, in 2014 beer held an overwhelming majority of the alcoholic drinks market -- 75.2 percent. Still, this was a 1.6 percent drop compared to the previous year, and beer was the only drink in the country that registered a drop in production.
"The development of the beer business is at a turning point," Wang Yancai, chair of the China Alcoholic Drinks Association, said at a Chinese beer expo.
He Yun, the deputy secretary general of the association, attributes the downward trend to an increasing number of Chinese people reaching for wine instead of beer. Though Chinese winemakers may not be recognized internationally, their brands are finding success in the country's growing middle-class market. Two years ago, China became the world's largest consumer of red wine, buying 155.4 million cases of red wine annually, according to statistics by Vinexpo.
Others contend the dip is partly due to the government's drive for public officials to be more frugal. This began in early 2013, shortly after President Xi Jinping took the helm, and there are now fewer parties, banquets and outings with big-spending politicos. "The government's austerity drive has dampened beer consumption," an unnamed manager at a Chinese brewery told state-run China Daily.
"Beer sales at restaurants and entertainment venues are gloomy, since a lot of officials haven't dared to eat out or even go to karaoke parlors. Many companies also suspended gift-giving in the wake of the austerity drive, which led to declines of beer sales at supermarkets."
© Copyright IBTimes 2023. All rights reserved.