China's Wine Industry Explodes, But Not Yet On The World Stage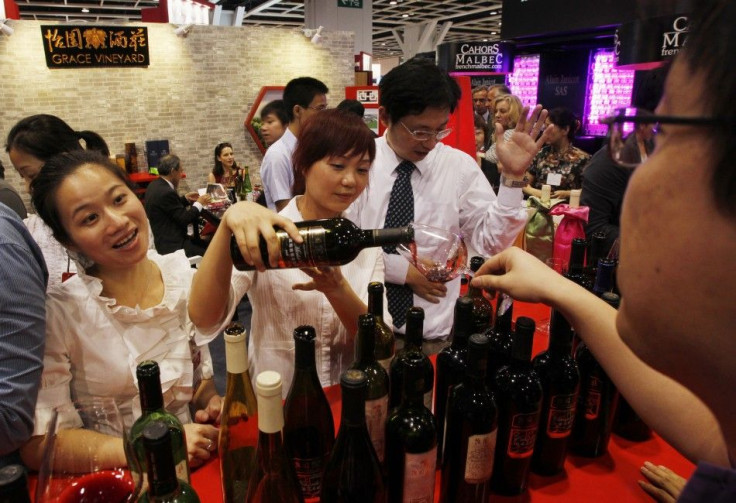 China is in the midst of another red revolution, but this one involves red wine. Over the past 15 years, its fledgling wine industry has expanded dramatically, with vineyards now occupying more than 3,000 square miles of land, according to a report by the International Organization of Vine and Wine. That's more than 10 percent of the world's total vineyards, and a larger area than any nation on earth after Spain -- more than vineyards in France, Italy, Australia and the U.S.
The growing popularity of wine in China stems in part from the country's breakneck economic development and the rise of a moneyed consumer class: Newly minted aficionados buy wine as a symbol of sophistication. Two years ago, China became the world's largest consumer of red wine, snapping up 155.4 million cases, compared with 150 million cases in France and 141 million in Italy, according to a report by Vinexpo, an international wine and spirits exhibition.
Roughly one-half of China's wine sales are racked up by foreign producers, with Chinese wineries still generally occupying the middle to low end of the market. But international wine critics are now giving favorable ratings to high-end offerings made in China. And given the scale of the Chinese wine industry and its growing ambitions, restaurants from New York to London could add Chinese bottles to their wine lists -- eventually.
Years ago, both Chile and South Africa managed to transform themselves from veritable wine pariahs, churning out massive volumes of low-grade product, into sources of often prize-winning bottles. Although experts see no onslaught of Chinese wines on the world market anytime in the immediate future, they recognize the potential -- particularly as reputable European vintners bring their know-how and brands to the mission through joint ventures with Chinese producers.
"It takes time. Vines aren't something you can plant and have good wine that year," Master of Wine Debra Meiburg told Agence France-Presse last year. "China will rock our wine world -- we just have to wait a little longer."
If foreign capital and skill succeed in helping make China a wine power, that would reprise country's recent history: Winemaking was among the first industries that saw domestic and foreign investors join forces as part of the nation's first tentative experiments with market-based economic reforms.
The roots of China's wine industry date back to 1892, the tail end of the Qing dynasty, with the establishment of the Changyu Winery in Yantai, a city in the coastal province of Shandong -- an area that remains among the country's largest wine producers. Nearly two decades later, in 1910, the Beijing Winery opened its doors, producing wine used in the performance of religious rites by China's Christians.
The first company built with the help of foreign funding emerged in 1979: the Great Wall Wine Co., which used equipment imported from France, Germany and Italy. The following year, the French company that is now Remy Cointreau, the maker of Remy Martin cognac and Cointreau liqueur, invested in Tianjin to create Dynasty Wines. French capital and know-how helped Dynasty establish European-style quality-control and management practices. That early investment paid off handsomely: Changyu, Great Wall and Dynasty -- often called the Big Three of Chinese wine -- now own a majority of the country's wineries, with combined revenues estimated at $8 billion, and are increasingly recognized as producers of quality wines.
The involvement of major French brands has been a powerful spur to generating Chinese consumer interest in domestic wine, lending the imprimatur of international authority. Urban, affluent Chinese consumers tend to be highly brand-conscious. Just as taste in cars and clothing has drawn luxury consumers to foreign brands such as Audi and Armani, the growing Chinese appetite for wine has similarly centered on prestige names -- not the least of which is Chateau Lafite Rothschild, owned by France's Domaines Barons de Rothschild, one of the five archetypal producers of Bordeaux.
The popularity of the French import led Rothschild to start its own Chinese vineyard in 2013, cultivating 37 acres of land in Penglai, a peninsula in Shandong. There, Rothschild grows predominantly cabernet sauvignon, the primary grape in Bordeaux reds.
The French luxury group LVMH Moet Hennessy now aims to capture a piece of China's wine growth, claiming 163 acres in the north-central province of Ningxia -- one of the poorest areas in the nation -- in addition to 74 acres in the southwestern province of Yunnan.
"I think as consumers increasingly buy based on taste, we are going to see more diversity in terms of grape varieties, and we'll hopefully see which do best in China," said Jim Boyce, a Beijing-based food and beverage writer and blogger at Grape Wall of China.
If reviews are any indication, wine experts have already begun to see China as a legitimate producer of quality wines.
"Real wine -- deep-colored, full-bodied, tannic, but with a lot of fruit -- that could have held its own with cabernets from other countries," read a 2010 review in the Wall Street Journal of a Great Wall 1998 cabernet, which cost about $72 a bottle in Shanghai.
High-end Western restaurants and hotels in Shanghai are already stocking some of China's best wines, mostly from the city of Yantai and the far-western province of Xinjiang. Wines made in Ningxia recently received international accolades from Decanter Magazine. Several other wines from China have received positive reviews by Robert Parker, a leading American wine critic, with 18 of 20 wines scoring average or better on his scale.
Most of China's higher-end wineries are essentially boutique operations, producing at such small scale that they cannot compete on volume or price against competitors in Australia, Europe or the U.S. "While there are several dozen producers making decent wines now, the prices are quite high by international standards," Boyce said. This is why China is unlikely to become a major exporter anytime soon.
Most Chinese wines that do make it overseas generally land in the low-price bin, said Karl Storchmann, an economist at New York University and editor of the Journal of Wine Economics. This is little different from the course of wine history in Chile, South Africa and California: They evolved beyond producing massive quantities of lower-end wines to eventually yield a handful of strong names distinguished by their quality.
China "will need a few flagship brands to be able to compete at the high end," Storchmann said.
Among international consumers, not even China's Big Three have gained much traction. In New York, tracking down a bottle of Chinese-made grape wine was nearly impossible.
After several calls to liquor stores, large wine distributors and restaurants, International Business Times was able to find only a couple of Chinese imported grape wines. Even New York's high-end wine shops that keep a stock of international wines didn't carry any Chinese grape wine. The only success was at Chinatown's Yoshi Wine and Liquor, which carried a limited selection of cheap Chinese wines. The two available -- Chefoo red wine, a brand owned by Changyu, and a Kuei Hua Chen Chiew dessert wine, produced by Beijing's Dragon Seal Wines -- were each priced at $4.50. (Their quality, after a quick tasting in the newsroom, was largely deemed to be consistent with their rock-bottom price.)
For now, China's bid to export higher-quality wine remains limited largely to Hong Kong and Macau. "There's far more money to be made at home than in selling abroad," Boyce said.
With China's growing middle class expected to surge to half a billion people by the end of this decade, that gives Chinese winemakers an extraordinary opportunity: They can continue to reap the spoils of a burgeoning domestic market. Meanwhile, wine buyers outside are not yet likely to encounter bottles bearing Chinese labels.
"The appetite for 'made in China' wines outside China is very limited," Chan said. "If you think about wine, China would not be the place that comes to mind."
At least, not yet.
© Copyright IBTimes 2022. All rights reserved.
FOLLOW MORE IBT NEWS ON THE BELOW CHANNELS