Beijing Air Pollution Alert Raised To 'Orange' For First Time After Smog Levels Become Hazardous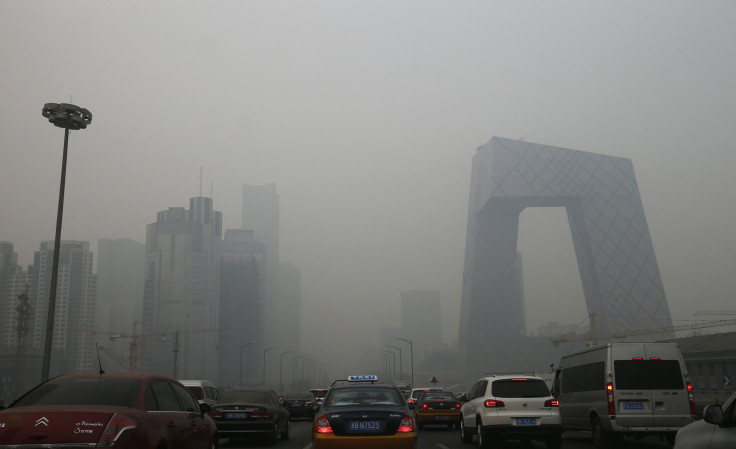 Beijing suffered some of its worst smog levels ever starting Friday, when the Chinese government raised the city's four-tiered smog alert to "orange," the second-highest level. The alert prompted schools to cancel outside sports and health officials to issue advisories suggesting children and the elderly stay indoors.
The alert was raised to Orange on Friday as heavy smog rolled into China's capital, blanketing the metropolis in a thick, gray haze that is expected to last for the next three days. According to the Associated Press, officials were reluctant to raise the urgency level because it would be difficult to enforce certain measures – like taking half of the city's cars off the road – meant to alleviate high levels of pollution, but public outcry on the Internet and in the media pressured the government to issue the warning.
"When the alert is at a low level, the measures are not effective, but those for the high-level alert are not feasible," Ma Jun, of the non-governmental Institute of Public and Environmental Affairs in Beijing, told the Associated Press. "The government is reluctant to raise the alert level."
Beijing's tiered air pollution alert system was introduced in October. But despite periods of heavy and dangerous smog, the plan's stricter measures have never been implemented.
The orange alert also led to bans on barbecues, fireworks and even halted demolition work in the city. Reuters reports that if the pollution urgency alert is raised to red – the highest level – the government would be forced to close schools and yank half the city's vehicles off the road, based on the last number on their license plates.
According to Reuters, city officials sent inspectors to several factories around the capital and warned them that any emissions violations they found would be met with fines.
If the current level of air pollution in Beijing lasts for more than three days, the government will have to raise the urgency level to red.
In January, Beijing officials recorded dangerous levels of poisonous smog. Density readings that measure the amount of particulate matter in the air exceeded 500 micrograms per cubic meter – about 20 times as high as what the World Health Organization considers safe.
Over the past several decades, as China has rapidly developed, many tons of pollutants have been spewed into the air. Health officials estimate that China's air pollution is killing hundreds of thousands of people every year. Between 2002 and 2011, lung cancer cases in Beijing nearly doubled.
The government has issued several statements about its plans to curb China's air pollution problem, including spending 982 billion yuan ($162 billion USD) to clean up rivers and target primary sources of airborne pollutants, but the benefits of these measures are years down the road.
© Copyright IBTimes 2022. All rights reserved.
FOLLOW MORE IBT NEWS ON THE BELOW CHANNELS