Belarus Crisis: Use Of Lethal Force Authorized To Quell Anti-Government Protests
KEY POINTS
The use of "special equipment and military weapons" was authorized by the Belarus Interior Ministry to try and quell protests
Anti-government protests have lasted for over two months following Lukashenko's controversial election win
The EU previously said it did not recognize Lukashenko's inauguration in September
Belarus' Interior Ministry on Monday authorized police to use lethal force if necessary as part of ongoing attempts to quell the anti-government protests across the country since the August elections.
"The protests, which have shifted largely to Minsk, have become organized and extremely radical," the Interior Ministry said in a press release. "In this regard, the Interior Ministry's employees and internal troops will not leave the streets and, if necessary, will use special equipment and military weapons."
Monday's decision followed another chaotic weekend of protests in Minsk that saw police and protesters clash on the streets. Police said it arrested 713 protesters Sunday after breaking up the latest protest with the use of water cannons and batons. There are also widespread accusations of authorities torturing protesters while in custody.
Political risk consultant Katia Glod told Euronews there's also growing fear among civilians about how far Lukashenko may be willing to go to quell the protests.
"Now people take his word more seriously than before, he is well known as an emotional leader who uses words to scare people, rather than use the tactics that he threatens," Glod said. "But after the unprecedented violence we have seen, people are obviously more worried about his words materializing than they were before."
Protests have been ongoing since the contested Aug. 9 election where President Alexander Lukashenko won over opposition leader Sviatlana Tsikhanouskaya with 80% of the vote.
Tsikhanouskaya challenged the election's results immediately, saying she won a first-round victory over Lukashenko with 60% of the vote. Her challenge was accompanied by allegations of voter fraud on the part of Lukashenko's government, which many poll workers appeared to verify, some of whom said they didn't know the election results for their own districts.
"I said I wouldn't sign the protocol because it's a crime, it's fraud. (I said,) 'Allow me to recount these ballots,' and they refused," poll worker Valeria Artikhovskaya previously said. "I didn't sign the protocol and left the precinct."
Protests started shortly after calling for a new election and have persisted across the country for over two months. The European Union said Lukashenko's Sept. 24 inauguration lacked "any democratic legitimacy."
"This 'inauguration' directly contradicts the will of large parts of the Belarusian population, as expressed in numerous, unprecedented and peaceful protests since the elections, and serves to only further deepen the political crisis in Belarus," the EU said in a press release.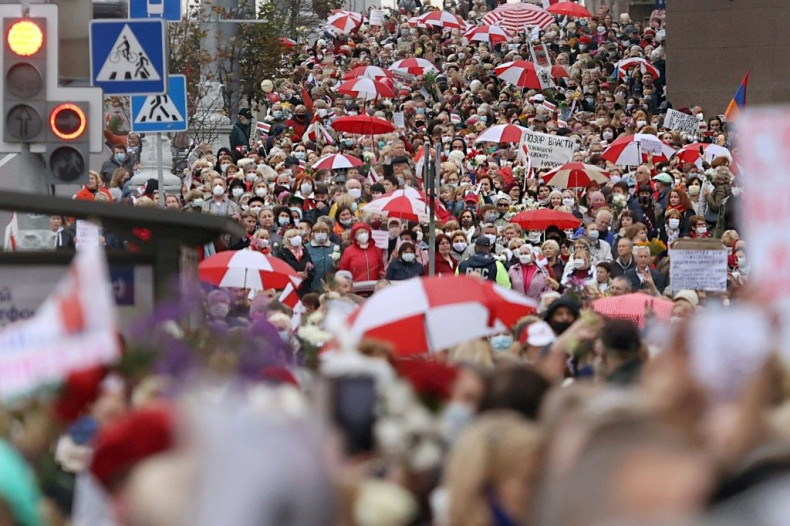 © Copyright IBTimes 2022. All rights reserved.