Belmont 2016 Betting Odds: Can Stradivari, Destin Or Cherry Wine Upset Favorite Exaggerator?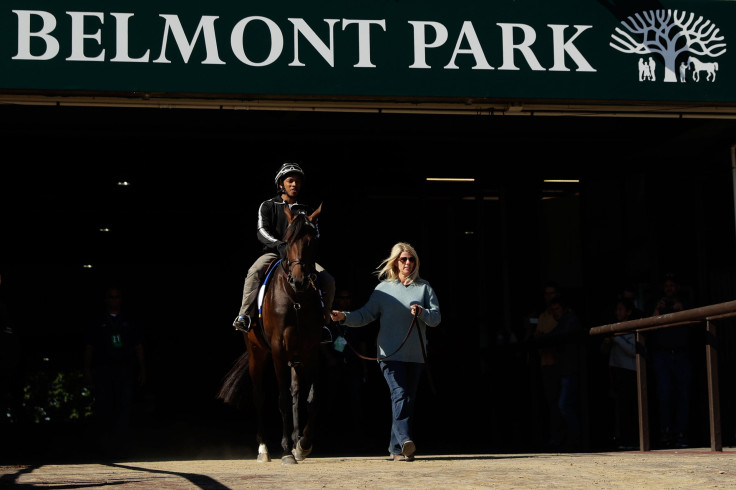 Heavy favorite Exaggerator looks to make history as he prepares to ride out of the No. 11 post at the 148th Belmont Stakes on Saturday in Elmont, New York. Trainer Keith Desormeaux's contender could be the first to slip up at the Kentucky Derby, but follow up with victories at the Preakness Stakes and Belmont since Afleet Alex in 2005. Only 18 other horses in racing history have completed the feat.
Exaggerator finished second to Nyquist at the Derby in May, but roared to the finish line at Pimlico and was named a 9-5 morning line favorite after Wednesday's post draw was announced.
Exaggerator's jockey and Desormeaux's brother Kent, who reportedly was treated for troubles with alcohol for eight days after riding the 3-year-old Curlin colt to victory at the Preakness, told reporters Wednesday he's excited about his horse's spot at the starting gate.
"It's a wonderful, wonderful position," Desormeaux said. "I can't see any horse that would cross over on him. I'd like to establish position preferably without him getting a grain of sand in his face."
Sportsbook.ag and the betting public appear just as confident. The online book lists Exaggerator at 10/11, a huge jump from his morning line odds, and his closest competitors are rather far back with trainer Todd Pletcher sending out Stradivari (5/1) from No. 5 and Destin (6/1) from No. 2.
Pletcher, who claimed Belmont victories with Palace Malice in 2013 and Rags to Riches in 2007, praised Exaggerator's pedigree and favored status but thinks the race will be far tighter than oddsmakers are projecting.
"I think it is a wide-open field, and I think Exaggerator is a deserving favorite," Pletcher said at the post draw. "He ran great in the Derby, and he ran great in the Preakness. He's shown up every time."
Cherry Wine (9/1) enters the race as an interesting dark horse after finishing second at the Preakness while on 17/1 odds. A week after the Preakness, Cherry Wine trainer Dale Romans praised the horse's abilities, Horse Racing Nation reported.
"Cherry Wine will run on concrete, he'll run on mud, he'll run on gravel, it doesn't make any difference. It wasn't the mud that moved him up, he's a good horse. He's a good horse that'll run on anything."
148th Belmont Posts, Morning Line and Sportsbook.ag Odds
No. 1 Governor Malibu 12/1 (12/1)
No. 2 Destin 6/1 (6/1)
No. 3 Cherry Wine 8/1 (9/1)
No. 4 Suddenbreakingnews 10/1 (11/2)
No. 5 Stradivari 5/1 (5/1)
No. 6. Gettysburg 30/1 (40/1
No. 7 Seeking the Soul 30/1 (40/1)
No. 8 Forever d'Oro 30/1 (40/1)
No. 9 Trojan Nation 30/1 (40/1)
No. 10 Lani 20/1 (20/1)
No. 11 Exaggerator 9/5 (10/11)
No. 12 Brody's Cause 20/1 (18/1)
No. 13 Creator 10/1 (16/1)
© Copyright IBTimes 2023. All rights reserved.