Bertha, The Giant Tunnel-Boring Machine Stuck Under Seattle, Makes First Progress In Over A Year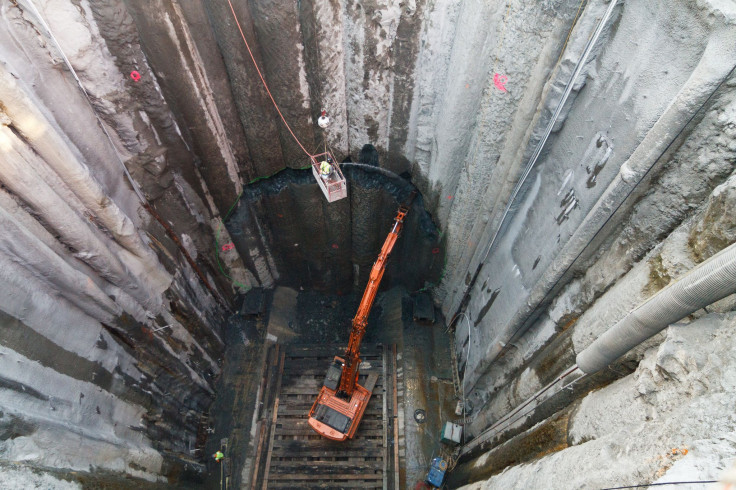 For more than a year, Seattle's ambitious urban planning efforts have been stymied by a serious problem -- the world's largest tunnel-boring machine has been stubbornly stuck beneath the city. This week, though, the machine began to chew dirt once again and had moved forward about 6 feet by the end of the day on Wednesday, according to a statement from the Washington State Department of Transportation.
The machine, nicknamed Bertha, still needs major repairs to stop it from overheating while it digs -- the problem which caused crews to shut it down in the first place in December 2013. At that point, Bertha was only about 1,000 feet into a 9,000-foot dig meant to allow city planners to drop the Alaskan Way Viaduct, an unsightly stretch of highway that currently cuts the city off from its waterfront, underground.
When Bertha first started to overheat, crews realized they needed to make repairs to her bearings, a task that would be easier if they could get in front of Bertha rather than work from behind. Therefore, they carved out a 120-foot-deep pit in front of where Bertha was stuck hoping that if the machine could drill through just a few more feet of dirt and concrete, it would emerge into the pit and they could unscrew the face to make the necessary repairs.
With yesterday's progress, Bertha still needs to cut through about 14 more feet of concrete before reaching the pit. The Washington State Department of Transportation has said that Seattle Tunnel Partners, the contractor in charge of the project, expects the machine to overheat during this process, too, and will temporarily stop digging if and when that occurs.
"Her temperature — everybody's worried about her temperature," Lynn Peterson, transportation secretary said, according to the Seattle Times. "They are keeping it at a very slow, even pace as they go through this to make sure she does not overheat and to ensure there is no further damage to the machine."
The agency hasn't said when they expect the repairs to be complete. The original schedule for the $3.1 billion project had estimated the tunnel's completion for October 2014.
© Copyright IBTimes 2023. All rights reserved.
FOLLOW MORE IBT NEWS ON THE BELOW CHANNELS