California Water Shortage: $1 Billion Plant Will Make Seawater Drinkable By End Of 2015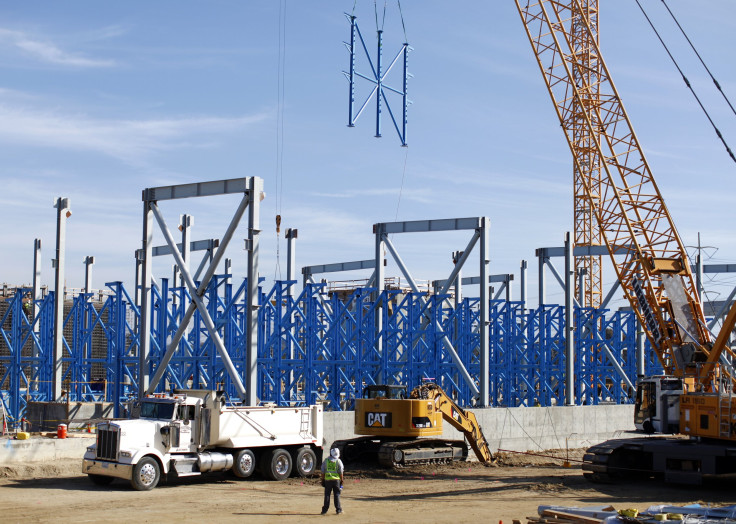 While much of California remains in the grip of a three-year drought, a $1 billion desalination plant that will turn seawater to drinking water is on track to open later this year to serve residents of San Diego County. Once running, the plant will be the largest of its kind in the Western Hemisphere. It will lessen the local water authority's dependence on water imported from other regions — but at a starting price that is twice the rate the authority now pays for drinking water.
San Diego County currently gets much of its water from the state water authority, which siphons it from the Colorado River and rivers in northern California. "This will be the first water supply in San Diego County that's not dependent on snowpack or rainfall," says Jessica Jones, outreach manager for Poseidon Resources, the company that is building the desalination plant. The plant is about 80 percent complete and should begin operating near the end of this year, according to an update to Carlsbad City Council earlier this month presented by water authority officials and plant operators.
Desalination is an ancient technique that has proved most valuable to arid regions with dense populations. Nearly 60 percent of the world's 12,500 desalination plants are in the Middle East. There, they generate 70 percent of the region's water, according to the Texas Water Development Board.
Worldwide, one in six people lack access to safe drinking water, according to the World Water Council. The 2015 World Economic Report on Global Risks lists water crises as the number one global threat based on likelihood and impact — above the spread of infectious disease, unemployment or terrorist attacks. Climate change is likely to usher in droughts of greater severity and render more of the world at risk for water shortages, according to the Union of Concerned Scientists.
Environmentalists lodge concerns against desalination plants related to piping seawater in from the ocean and disposing the salt that was removed from it back into the bay. An analysis by the Pacific Institute, a nonprofit research firm, studied two desalination plants already operating in California and found that one posed no meaningful harm to wildlife while the other presented a "significant" threat due to its impact on an endangered species of fish.
Many communities in the U.S. that take the plunge into desalination form public-private partnerships to minimize the risk of building a plant for residents and local authorities. Poseidon paid for the Carlsbad plant's construction by selling bonds. In turn, the water authority has agreed to purchase at least 48,000 acre-feet of water at around $2,000 per acre-foot from the plant each year for 30 years. An acre-foot of water is 326,000 gallons, or about as much as two families of four consume in a year, according to the New York Times.
With the Carlsbad project almost complete, Poseidon is already planning to build another desalination plant in Huntington Beach, California. In fact, a total of 13 to 15 desalination plants have been proposed from Los Angeles to San Francisco, according to Lisa Lien-Mager, communications director for the Association of California Water Agencies.
These communities are watching the Carlsbad project closely. "It's the most talked about desalination project in the U.S.," says Ronan McGovern, a postdoctoral researcher focused on desalination at Massachusetts Institute of Technology. There are at least 300 desalination plants in the country today, according to a 2012 study published in the journal of the International Desalination Association. About half are in Florida.
Inside the plants, pumps push seawater through a series of filters to remove sediment and debris, and then pass it across a semipermeable membrane for a process called reverse osmosis that can separate salt from water in about 20 minutes. For every 2 gallons of seawater the Carlsbad plant will take in, it will generate about a gallon of drinking water.
Overall, the new plant will supply about 10 percent of the area's water needs in a year — enough for about 300,000 residents who will pay an additional cost of between four and five dollars a month for the water, says Bob Yamada, water resources manager with San Diego County Water Authority.
Every drop counts for a region plagued by one of the most severe droughts on record. California Gov. Jerry Brown has declared a state of emergency due to the water shortage. "This last year, we used half of our storage reserves to meet demand," Keith Lewinger, a board member of the water authority, said during the update to city council. "So if demand is as high as it was last year and supply is as low, we will be in a shortage situation."
Desalination plants are historically expensive to build and operate because they require vast amounts of energy to pump water through the system. Energy used to account for a third to half of the operating costs of a plant like Carlsbad. McGovern says those rates have fallen by about two-thirds in the past 20 years, making desalination slightly more price competitive.
Yamada says in the parched landscape of Carlsbad, there is no fount that could supply more water at the current price. The new plant is meant to extend existing sources, rather than serve as a complete replacement. "The price of desalination is always going to be higher than taking [water] from rainwater sources and that's why desalination is only considered when there really are no renewable sources," McGovern says.
Right now, crews at Carlsbad are installing piping that will carry water to residents. Last week, they turned on the pumps in a test to run seawater through the system for the first time. Meanwhile, other communities in California may be wishing they had started the permitting process a little earlier so they, too, might have the promise of a desalination plant by year's end.
"There's a lot of eyes on Carlsbad," Yamada says.
© Copyright IBTimes 2023. All rights reserved.
FOLLOW MORE IBT NEWS ON THE BELOW CHANNELS