Best NFL Quarterbacks 2016: Ranking All 32 Starting QBs For The Season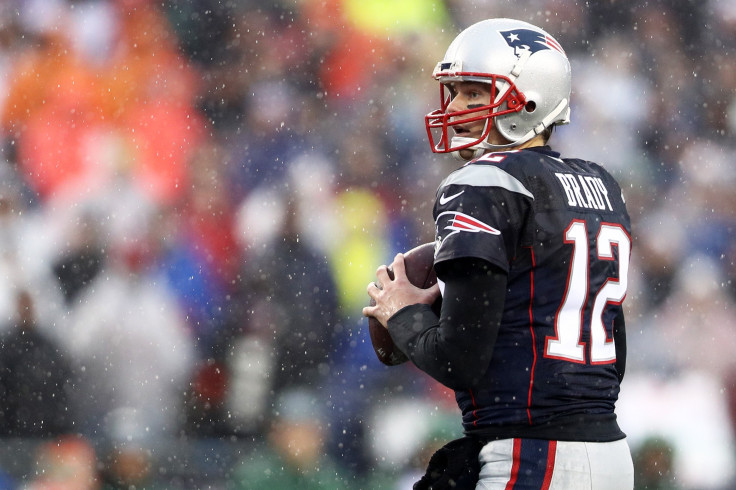 The 2016 NFL season has not been a particularly good one in terms of quarterback play. Half the league will end the year having started at least two different signal callers, and a few of last season's top quarterbacks have fallen off significantly.
Injuries have affected the position in a big way in 2016. Two of the NFL's best quarterbacks suffered season-ending injuries in Week 16, while Teddy Bridgewater and Tony Romo haven't played at all because they got hurt in the preseason.
A few quarterbacks stand out as the year's best, having separated themselves as MVP candidates. Others failed to live up to expectations and were benched in favor of quarterbacks with little experience.
Below is a ranking of all the starting quarterbacks in the 2016 season. Only players that will end the year with the most snaps under center for each team are eligible for the list. All stats reflect the quarterbacks' numbers through Week 16.
1) Tom Brady (25 TD, 2 INT, 110.7 Rating)
With another MVP-caliber season, Brady has cemented himself as the greatest of all time. The 39-year-old might not win the award after missing the first four games of the season, but he's playing as well as he ever has. His touchdown-to-interception ratio is easily the best in the league, and the New England Patriots would probably have one loss had he not been suspended to start the year.
2) Matt Ryan (34 TD, 7 INT, 115.5 Rating)
No quarterback that's started every game this season has been better than Ryan. He ranks first in passer rating and yards per attempt, as well as third in yards, touchdowns and completion percentage. Likely leading the Atlanta Falcons to a first-round bye with a top-10 all-time scoring offense, Ryan deserves to be the favorite in the MVP race.
3) Dak Prescott (23 TD, 4 INT, 105.7 Rating)
The starting quarterback for the Dallas Cowboys might be the most scrutinized position in all of American sports, and Prescott has been absolutely superb in the role as a rookie. Sure he's been aided by a top running back and the league's best offensive line, but Prescott's been nearly flawless in most games and a main reason why Dallas is tied for the NFL's best record. Ranking in the top four in passer rating, completion percentage and yards per attempt, Prescott has been a top-three quarterback in 2016.
4) Aaron Rodgers (36 TD, 7 INT, 102.7 Rating)
There might be no quarterback in the history of the league that's better than Rodgers when he's at his best, and the two-time MVP has finished the regular season at the top of his game. Throwing 14 touchdown passes and no interceptions from Weeks 12-16, Rodgers is playing so well that he could lead the Green Bay Packers all the way to the Super Bowl. He leads the league in touchdowns, but doesn't crack the top three on the list because of his struggles that contributed to Green Bay's 4-6 start.
5) Derek Carr (28 TD, 6 INT, 96.7 Rating)
Before Carr suffered a season-ending injury in Week 16, he gave the Oakland Raiders a legitimate chance upset the Patriots in the playoffs. The Raiders' defense has struggled at times, but the team has won seven games in which they've given up at least 24 points because of their quarterback. Carr's been picked off fewer times than anyone that ranks in the top 10 in touchdown passes, and he was a top MVP candidate for three quarters of the season.
6) Drew Brees (35 TD, 14 INT, 103.1 Rating)
If the New Orleans Saints even had a halfway decent defense, they would be on their way to the playoffs as a possible Super Bowl threat. Playing for a team that gives up nearly 28 points per game, Brees is first in yards, second in completion percentage and touchdowns, and fourth in passer rating. His 14 interceptions are somewhat high, but that's the result of attempting more passes than almost any other quarterback.
7) Matthew Stafford (22 TD, 9 INT, 93.1 Rating)
Stafford doesn't get the praise that he deserves because he plays for the Detroit Lions. With little help around him, the quarterback has willed the Lions to nine victories. His numbers aren't gaudy, but Stafford has done more than most would with the NFL's No. 30 rushing attack and a wide receiving corps that lost it's No. 1 player in the offseason.
8) Kirk Cousins (24 TD, 10 INT, 98.6 Rating)
After back-to-back strong years, it's hard to deny that Cousins is a top-10 quarterback. Ranking third in yards per attempt and sixth in passer rating, Cousins has helped give the Washington Redskins the league's No. 3 offense. If it weren't for some of his head-scratching interceptions, Cousins could have come close to cracking the top five.
9) Andrew Luck (29 TD, 12 INT, 96.8 Rating)
It can be argued that Luck is still overrated because he entered the league with so much fanfare, but there's no denying that he's had a very good season. Bouncing back from a poor 2015 campaign, Luck has managed to tie for fifth in touchdown passes while playing behind a bad offensive line. Poor performances against the Texans, however, cost the Indianapolis Colts a chance at winning a mediocre AFC South.
10) Marcus Mariota (26 TD, 9 INT, 95.6 Rating)
In just his second season, Mariota has quietly become a top-10 quarterback. The Tennessee Titans have their best record in five years, and the team is ninth in total offense heading into the season finale. Mariota needs to improve his 61.2 completion percentage, but his ability to limit mistakes (especially in the red zone) should make him a top quarterback for years to come.
11) Ben Roethlisberger (29 TD, 13 INT, 95.4 Rating)
It's been an average season for Roethlisberger. He suffered an injury that should have kept him out for weeks, but he only missed one game and led the Pittsburgh Steelers to a division title. He's tied for fifth in touchdowns, utilizing the NFL's best running back-wide receiver combo in Le'Veon Bell and Antonio Brown.
12) Russell Wilson (20 TD, 11 INT, 92.4 Rating)
The 2016 season has been the worst of Wilson's career. His numbers suffered at the beginning of the season because of leg injuries, and he's thrown a career-high in interceptions. Still, the quarterback has played extremely well at times, and he has a 19-4 touchdown-to-interception ratio when excluding his worst two games of the season.
13) Tyrod Taylor (17 TD, 6 INT, 89.6 Rating)
Taylor might not be a top-10 quarterback, but he's played well enough to start for a contender in 2016. Ranking 17th in passer rating, Taylor leads all quarterbacks with 580 yards on the ground. The Buffalo Bills have the NFL's No. 1 rushing attack while ranking seventh in points, but the team's defense isn't good enough to get them to the playoffs.
14) Philip Rivers (31 TD, 19 INT, 88.8 Rating)
Rivers has unraveled at the end of the season, leading the NFL in interceptions after getting picked off 12 times in the last six games. He had little to do with the San Diego Chargers' struggles in the first half of the season, however, posting a passer rating better than 90.0 in each of the first six games. Rivers ranks in the top five in both yards and touchdowns.
15) Alex Smith (13 TD, 7 INT, 89.9 Rating)
It's another typical Alex Smith season. He's limited his mistakes, and 26 quarterbacks have thrown as many or more interceptions. Smith, however, doesn't create a lot of big plays, and 27 other signal callers have thrown more touchdown passes. Still, Smith gets credit for doing what the Kansas City Chiefs have asked of him and leading them to one of the NFL's best records.
16) Ryan Tannehill (19 TD, 12 INT, 93.5 Rating)
Before Tannehill's year was cut short by an injury, he was having arguably the best season of his career. Leading the Miami Dolphins to their first playoff appearance in eight years, the quarterback ranks sixth in completion percentage and eighth in yards per attempt. His touchdown-to-interception ratio, however, leaves a lot to be desired.
17) Jameis Winston (27 TD, 17 INT, 87.0 Rating)
The former No. 1 overall draft pick has improved in his second season, helping the Tampa Bay Buccaneers post their best record since 2010. While he's eighth in touchdowns with big wins over the likes of the Chiefs, Seahawks and Falcons, Winston is still too reckless with the football. He's tied for second in interceptions, and it seems like many of his passes will either go for a score or get picked off.
18) Carson Palmer (23 TD, 13 INT, 87.0 Rating)
This year was Palmer's worst since joining the Arizona Cardinals in 2014. He looked like a top quarterback at times, but he was dreadful in other games, throwing at least two interceptions on four different occasions. Failing to rank in the top 10 in any major category other than yards, Palmer had a decidedly mediocre 2016 campaign.
19) Sam Bradford (17 TD, 4 INT, 98.3 Rating)
The Minnesota Vikings likely regret trading a first-round pick for Bradford in the offseason. He leads the league in completion percentage and ranks seventh in passer rating, but those numbers don't come close to telling the whole story. Bradford usually isn't in danger of being picked off because he rarely throws the ball more than a few yards. That's led to 20 quarterbacks throwing more touchdown passes than Bradford, as well as Minnesota ranking 30th in total offense and missing the playoffs.
20) Eli Manning (26 TD, 16 INT, 86.2 Rating)
The New York Giants are heading to the playoffs because of their defense, not the two-time Super Bowl MVP. In one of his worst career seasons, Manning ranks 22nd in passer rating and 24th in yards per attempts, while tying for fourth in interceptions. He's been bailed out by Odell Beckham Jr. on several occasions, though he gets credit for taking just 20 sacks behind an inconsistent offensive line. If the Giants improve their running game, Manning should bounce back in 2017.
21) Andy Dalton (17 TD, 8 INT, 91.3 Rating)
For the first time since Dalton was drafted in 2011, the Cincinnati Bengals failed to make the postseason. The absence of the injured A.J. Green hurt the Bengals in the second half of the season, but Cincinnati's offense wasn't much better in the first half. Dalton came up small against the league's best teams, and he shoulders a lot of the blame for the Bengals getting just one victory against a winning team.
22) Joe Flacco (20 TD, 14 INT, 84.5)
Flacco didn't look anything like a former Super Bowl winner in 2016. Throwing an interception in each of his last five games, Flacco ranks 23rd in passer rating and 27th in yards per attempt. He didn't have much help this season and was forced to throw the ball more than any quarterback besides Brees, failing to get the Baltimore Ravens in the playoffs with a top defense.
23) Cam Newton (18 TD, 11 INT, 77.5 Rating)
This is not how Newton hoped to follow up his MVP season. His 52.7 completion percentage is dead last in the NFL, and he ranks outside of the top 19 in passer rating, passing yards and passing touchdowns. His 353 rushing yards and five rushing touchdowns have helped give the Carolina Panthers an average offense, but the quarterback highly underachieved in 2016.
24) Carson Wentz (14 TD, 14 INT, 78.2 Rating)
The future at quarterback is bright for the Philadelphia Eagles, but Wentz has struggled mightily in the second half of his rookie season. After posting a passer rating of at least 100.0 in three of his first four games, Wentz hasn't reached that mark even once for the rest of the season. He's thrown six more interceptions than touchdowns since Week 5, though he does deserve credit for playing so well to start the season.
25) Cody Kessler (6 TD, 2 INT, 92.3 Rating)
The rookie certainly played the best of the five quarterbacks the Cleveland Browns used in 2016. His passer rating and touchdown-to-interception ratio were more than serviceable, though it's hard to put him any higher on the list since he played so little and failed to win a game as a starter. Kessler went 0-8 as a starter, and the Browns scored no more than 10 points in his last three starts.
26) Colin Kaepernick (15 TD, 4 INT, 88.3 Rating)
Kaepernick has proved to be a better option for the San Francisco 49ers than Blaine Gabbert, but that isn't saying much. His four interceptions are the result of a conservative offense, and he's just 26th in yards per attempt. Completing an abysmal 57.7 percent of his passes and winning just one game, Kaepernick probably won't be a starting quarterback in 2017.
27) Trevor Siemian (16 TD, 9 INT, 83.9 Rating)
The good news is that Siemian has been a clear upgrade at quarterback for the Denver Broncos, who won the Super Bowl last year with Peyton Manning under center. Unfortunately for Denver, that wasn't good enough to get the Broncos back to the playoffs. Denver's offense has been hampered by Siemian's inability to throw the ball downfield, as the quarterback ranks 24th in yards. The Broncos are 27th in total offense, scoring just 16 total points in Weeks 14-16.
28) Matt Barkley (8 TD, 12 INT, 70.3 Rating)
The Chicago Bears' receivers haven't provided Barkley with much help in his brief time as the team's quarterback, dropping an inordinate amount of passes. But aside from a few promising performances, Barkley hasn't played very well. Only one quarterback on the list has a worse passer rating, and his penchant for throwing interceptions makes it unlikely that he has a future as a successful starting quarterback.
29) Blake Bortles (22 TD, 16 INT, 77.6 Rating)
Bortles took a major step back after an encouraging second season. His 22 touchdowns are deceiving, considering he played some of his best football during garbage time. Bortles failed to post a passer rating of 100.0 in the first 14 games, and the Jacksonville Jaguars have to seriously consider whether Bortles can be their quarterback of the future.
30) Case Keenum (9 TD, 11 INT, 76.4 Rating)
Keenum was so bad from the start that there were calls for him to be benched after Week 1. Before he was eventually replaced by Jared Goff, Keenum compiled one of the league's worst passer ratings, and he's one of just four quarterbacks on the list with more interceptions than touchdowns.
31) Brock Osweiler (14 TD, 16 INT, 71.4 Rating)
There's no debating what was the worst signing of the 2016 offseason. Osweiler didn't even make it through one season as the Houston Texans' starter, despite getting $36 million guaranteed from the organization last spring. He failed to reach a 90.0 passer rating in 11 of his 14 starts.
32) Ryan Fitzpatrick (10 TD, 17 INT, 66.4 Rating)
Fitzpatrick takes home the honor of being the worst starting quarterback in 2016. His passer rating is by far the league's worst, and he's second in interceptions even though 27 quarterbacks have attempted more passes. The New York Jets benched him multiple times, and he's only played as much as he has because the team's backups keep getting hurt.​
© Copyright IBTimes 2023. All rights reserved.