Big Three Political Party Losers Count Cost Of Ukip Surge In EU Polls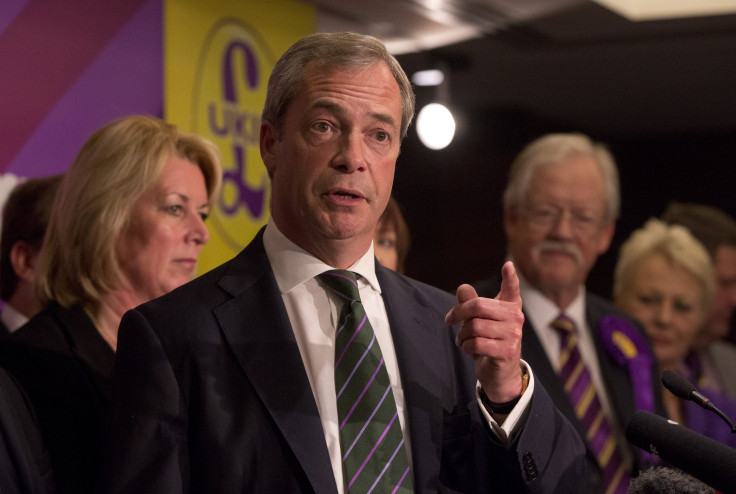 Nigel Farage's much-predicted UK Indepedence Party, or Ukip, earthquake has shaken Britain's established parties to their core, making losers of them all in the EU elections and leaving them struggling to find the means to combat the insurgent fourth political force.
The outcome saw Ukip scoring in every region of the country, seizing votes from all the big parties and echoing the anti-establishment, anti-EU wave which swept across the continent, notably with the shock win by the far-right National Front in France.
It was the first time in a century that a national UK election had not been won by either the Conservatives or Labour and sparked some desperate soul-searching, which will see all three big party leaders facing intense pressure for change from their own troops.
The full result saw Ukip winning 27.5 percent of the vote giving them 23 MEPs, 10 more than in 2009. Labour were second on 25.4 percent with 18 MEPs, up seven. The Tories managed 23.94 percent also giving them 18 MEPs, down seven.
While Farage was the clear winner, the Liberal Democrats were by far the biggest losers, only escaping wipeout by the skin of their teeth, losing all but one of the 11 seats they won in the last poll and attracting just 6.87 percent of the vote.
Calls for leader and deputy prime minister Nick Clegg to resign, already being voiced after the party's disastrous local election results, grew louder and there was growing speculation over his ability to resist them.
Labour may have managed second place ahead of the Tories, but only by the narrowest margin and, as with the local elections, thanks largely to London voters who again resisted the Ukip surge.
That renewed fears in the Labour ranks that it was not good enough to ensure victory at next year's general election and, as with the local polls, led to demands for leader Ed Miliband to up his game.
The Tories were battered by their third place but breathed a small sigh of relief that the result could have been worse and that, overall, they are running virtually neck-and-neck with Labour.
Still, David Cameron faced fresh demands for pre-election deals with Farage's party, which he immediately ruled out, and for a far tougher approach to the EU and immigration, Ukip's two strongest cards.
However, he will view the EU-wide support for Euroskeptic parties as a strengthening of his hand in his treaty negotiations ahead of his promised 2017 in-out referendum.
Farage, meanwhile, will now turn his attention to re-casting his previously ramshackle and gaffe-prone party into a more professional and disciplined outfit, appointing a team of spokesmen in key policy areas to shed the "one man band" label.
He will be looking for a good performance in the looming Newark by-election, where the Tories hold a 16,000 majority, and is predicting he will win a number of seats in the 2015 general election, even holding the balance of power in another hung parliament.
All three parties greeted the results saying they had to listen to voters' concerns and act accordingly, but it remained entirely unclear how they intended to do that.
Part of the problem is that the big three parties cannot make up their minds exactly why Ukip did so well, making it difficult for them to forge a response.
Was the result simply a "free hit" protest against distant, out-of-touch and discredited Westminster politicians, or was it an overwhelming demand for withdrawal from the EU, or tougher immigration controls? Or a mixture of all three?
There remains a suspicion that the mainstream parties still hold to the first explanation and their reactions so far appear to have been focused on selling their message more loudly rather than changing key policies.
Cameron repeated his slogan that only his party could and would guarantee an in-out referendum, Labour's Chuka Umunna said the party had done extremely well by improving on its 2009 result and former Liberal Democrat leader Menzies Campbell warned his party against a coup against Clegg.
But few doubt that, despite the calls for calm, behind the scenes Britain's "big three" losers are desperately reading through the local and EU election results seeking even the smallest glimmer of light to raise their morale in the next 11 months to the general election.
© Copyright IBTimes 2023. All rights reserved.