Billion Dollar Drug Ring Busted on Mexico-Arizona Border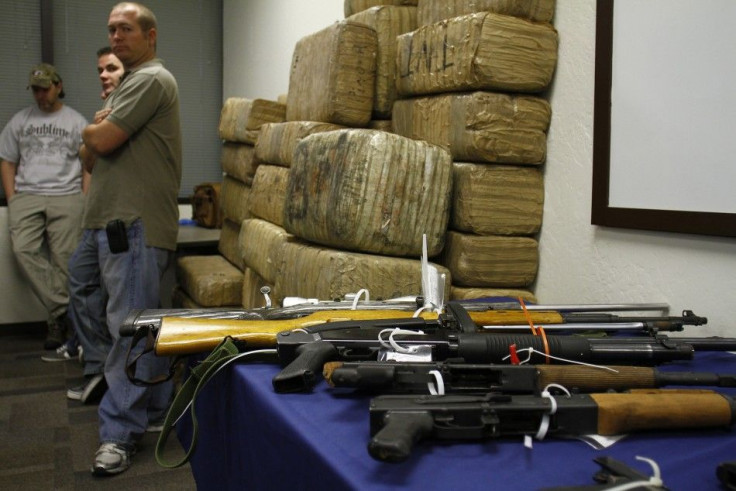 An international drug trafficking ring that sent narcotics through Mexico into the United States was busted by authorities in Arizona.
The smuggling operation reportedly has ties to the Sinaloa Federation drug cartel, which is one of Mexico's largest criminal organizations.
It is estimated that the Arizona ring took in more than $2 billion in the past five years, according to Bloomberg.
Law enforcement officials staged a 17-month investigation co-named Operation Pipeline Express, that has resulted in the arrest 76 suspects and the confiscation of three million pounds of marijuana, 20,000 pounds of cocaine and 10,000 pounds of heroin into the United States.
Today we have dealt a significant blow to a Mexican criminal enterprise that has been responsible for poisoning our communities, Arizona Attorney General Tom Horne said on Monday.
Sinaloa, which controls 80 miles of the U.S.-Mexico border, used migrants to carry loads of drugs by foot into Arizona, where look-outs on hills watched for police, New York Times reported. The packages were then taken to Phoenix stash-houses and distributed across the country.
Trafficking routes often went through the sparsely populated areas around Yuma and the Tohono O'odham Indian reservation.
It's a body blow but it doesn't knock them out by any sense of the imagination, Pinal County Sheriff Paul Babeau told FoxNews. This literally is just a fraction of what's going on.
This is not a closing chapter in this book. We have every expectation that command and control in Mexico is working to re-establish their presence, and it's our job to go after them, added Immigration and Customs Enforcement special agent Matthew Allen, who noted that other cartels could take Sinaloa's place in the region.
The bust has political implications, with Democrats and Republicans still sparring over the security of the border. The Obama administration has said that the Mexico-U.S. border is more secure than ever, but the huge bust will only make the debate over a border fence louder.
Border security is already a hot topic in the 2012 presidential race, with GOP candidates like Herman Cain, who said half-jokingly that a fence should be electrified, calling for bolder protections against illegal immigrants.
About half of the 76 people arrested were illegal, the other half either American citizens or visa holders, according to NYTimes.
In October, a Homeland Security official was reportedly arrested after he was chased by police in a government car packed with packages of marijuana.
Mexican cartels, which have been likened to paramilitary and terrorist organizations by the U.S. Drug Enforcement Administration, often spread from Central and South America into the United States. In the battle for territory and smuggling routes, these gangs has escalated their tactics to include trained assassins, trafficking via homemade submarines and even tank battles.
Drug-related violence in Mexico spiked in 2006, after newly elected president Felipe Calderon began his war on drugs. Since then, around 43,000 people have been killed, many cartel members, as well as security forces and civilians.
© Copyright IBTimes 2023. All rights reserved.