Black Church Burnings: Houston's Fifth Ward Missionary Baptist Latest To Catch Fire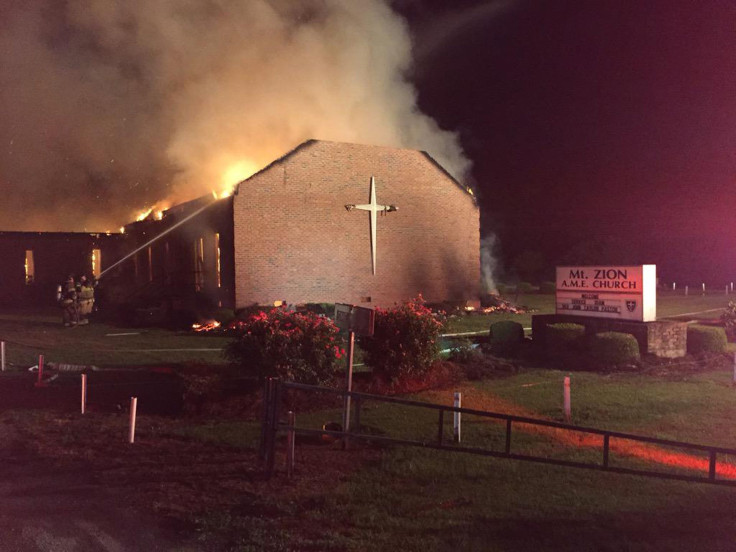 Authorities responded early Wednesday morning to a fire at Houston's Fifth Ward Missionary Baptist Church, the latest in a rash of burnings at predominantly black religious institutions. Nobody was injured in Wednesday fire, but the Texas church was "significantly damaged," KHOU reported. It took firefighters about 30 minutes to extinguish the flames.
The Houston Chronicle reported that officials were investigating what caused the fire, which was first reported at 7:34 a.m. News of the blaze came as police in other states were looking into similar incidents at other churches across the South over the past month. The FBI and Bureau of Alcohol, Tobacco, Firearms and Explosives were reportedly working with local agencies to determine whether the fires were connected.
At least six churches have been burned since a white shooter killed nine black people during a June 17 massacre at the historically black Emanuel African Methodist Episcopal Church in Charleston, South Carolina. The fatal shooting set off a nationwide discussion about race relations in the United States.
Recent church burnings include:
On June 21, a person lit hay bales at College Hill Seventh-Day Adventist in Knoxville, Tennessee. The building wasn't harmed, but a van was destroyed.
On June 23, a suspected arsonist burned down God's Power Church of Christ in Macon, Georgia. Authorities said they hadn't found evidence the fire was a hate crime.
On June 24, Briar Creek Road Baptist Church in Charlotte, North Carolina, suffered more than $250,000 in damages after a suspected arsonist set fire to the building. It was unclear whether the fire was racially motivated.
On June 26, the Greater Miracle Temple in Tallahassee caught fire when a tree fell on electric wires. Fire marshals ruled the incident accidental.
On June 26, Glover Grove Baptist Church in Warrenville, South Carolina burned down. State law enforcement were unable to determine what caused the fire.
On June 30, Mount Zion African Methodist Episcopal Church in Greeleyville, South Carolina, caught fire likely due to lightning strikes.
The Rev. Anthony Evans, president of the National Black Church Initiative, told USA Today the fires put his members on high alert. "This is a systematic attack against the black church," he said.
© Copyright IBTimes 2023. All rights reserved.