Black Church Burnings: GoFundMe Campaign Relocated In Light Of Fundraiser For Ferguson Cop Darren Wilson
When Heather Matarazzo wanted to raise money for a black church destroyed by an arson attack last week, GoFundMe seemed like the perfect place to turn. The actress, known for her roles in "The Princess Diaries" and "Grey's Anatomy," launched a campaign on the crowdfunding website Tuesday, and within 24 hours she had raised more than $2,100 for Briar Creek Road Baptist Church in Charlotte, North Carolina, one of a several predominantly black churches that have burned across the South since a white supremacist killed nine churchgoers in Charleston, South Carolina.
Supporters welcomed the funds, but not everyone was happy about Matarazzo's choice of platform. GoFundMe, which touts itself as a place where people can raise money for almost any issue, has faced harsh criticism over the years for what some perceive as inconsistent guidelines, and many of those critics have never forgiven the site for allowing users to raise more than $400,000 for Darren Wilson, the Ferguson, Missouri, police officer who killed Mike Brown last summer.
Almost a year later, some activists say they have no plans to abandon their no-GoFundMe policies.
Dream Hampton, an activist involved in an ongoing boycott of the site, contacted Matarazzo via Twitter on Tuesday and asked if she would consider switching platforms. By Wednesday morning, Matarazzo's campaign had been relocated to YouCaring, a rival crowdfunding website that lets users raise money for causes but doesn't take a cut of the action.
International Business Times reached out to Matarazzo through YouCaring, but a representative said she was not immediately available to comment.
A GoFundMe spokesperson also did not respond to a request for comment. The website has repeatedly defended the Wilson campaign, calling itself a "neutral platform," even as it faced intense pressure by critics who claimed the campaign violated its policy against funding hateful acts. (Wilson was never charged with a crime.) At the same time, GoFundMe has occasionally removed other controversial campaigns simply because they contained subject matter it "would rather not be associated with."
As pressure on GoFundMe continued, one group, Color of Change, planned to raise an anti-GoFundMe billboard near the company's San Diego offices last year. Lawyers for the website responded with the threat of a lawsuit, and throngs of activists swore never to use GoFundMe again.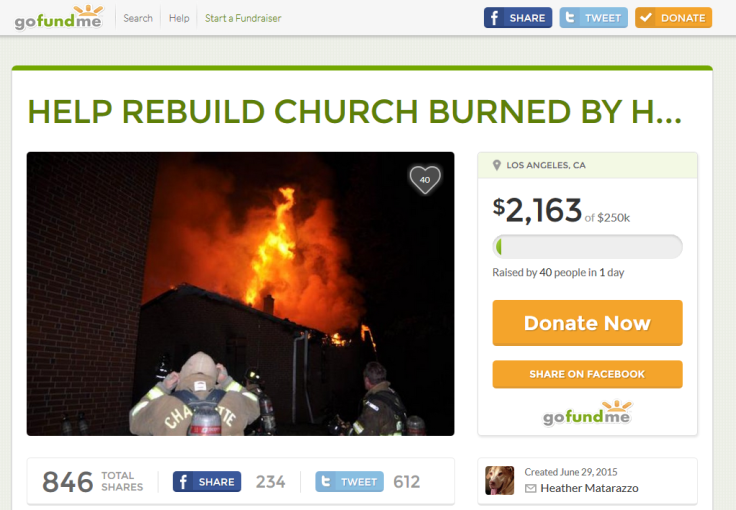 A Crowded Playing Field
YouCaring's tagline is "Compassionate Crowdfunding," a phrase that circuitously speaks to some of the reputational challenges faced by GoFundMe as it continues to grow into one of the most dominant fundraising platforms on the Internet. Amid a wave of racially charged violence this year, the site has become something of a punchline among social media commentators referencing GoFundMe as the go-to place to raise money for racists and bigots. Shortly after the Charleston shooting, one hoax circulated the Internet claiming that a GoFundMe account had raised $4 million for Dylan Storm Roof, the accused shooter. The rumor was quickly shot down by a GoFundMe representative.
That it would be a rumor at all raises questions about GoFundMe's long-term prospects in the increasingly crowded field of crowdfunding websites. Even as GoFundMe's founders, Brad Damphousse and Andy Ballester, prepare for a rumored majority-stake sale that could value the company at $600 million, lesser-known entrants like Bolstr, Petridish.org and Pozible are filling every imaginable niche, while larger players are striving to make themselves more accommodating. It was on Indiegogo where supporters went to donate more than $122,000 to Bree Newsome, the Black Lives Matters protester who was arrested after she removed the Confederate battle flag from the pole in front of the South Carolina statehouse.
At a time when the outrage machine rotates at increasingly shorter intervals, yesterday's corporate boycott is easy to forget, but not all of them are equally forgotten. "Boycotts almost always have economic goals," Hampton tweeted Tuesday. "If we can't harm their bottom line, we can at least cease to contribute."
Christopher Zara is a senior writer who covers media and culture. News tips? Email me. Follow me on Twitter @christopherzara.
© Copyright IBTimes 2023. All rights reserved.