Black Churches Burning: African-American Congregation Leaders Concerned By Wave Of Suspected Arson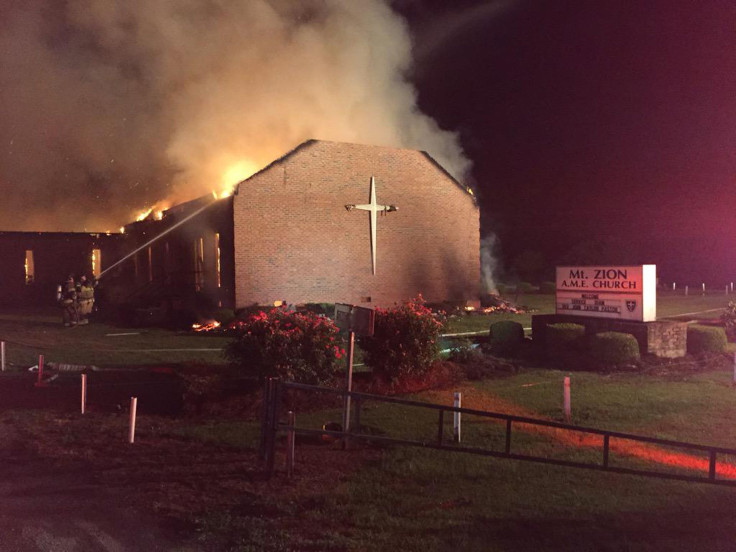 The True Life Missionary Baptist Church and its 200 members weren't widely welcomed when the predominantly black church first opened its doors in a white neighborhood in Birmingham, Alabama, years ago. Homeowners on Chickasaw Drive, where the house of worship is located, complained about increased traffic to the neighborhood, the lack of parking and not being able to allow dogs to roam freely. In the end, many moved away as the neighborhood became largely nonwhite.
"Even though we never got the impression that the complaints were racially motivated, we know it takes the entire community to look after the building," said Jason Jones, a 37-year-old secretary for the church who has been a member of the congregation for nearly all his life.
After several black churches in the Deep South have been burned by natural causes or suspected arson in recent days, African-American leaders are asking their congregations and communities to be more vigilant about security and threats of violence. The arson attacks came in the wake of the shooting massacre in June in Charleston, South Carolina, that saw a 21-year-old white man open fire in a historic black church after praying with its members. Despite the mounting violence, some officials at black churches said they will continue to build relationships across racial lines and don't see the recent attacks as evidence that the country is backsliding to a painful period when such violence was common in the U.S.
"You can't really overprotect yourself, but you also can't make yourself uncomfortable because of one incident," Jones said.
National Black Baptists Take Proactive Steps
For Jerry Young, the president of the predominantly black National Baptist Convention, USA, Inc., the church burnings are of grave concern. Young, 63, said the national church made up of 31,000 congregations is in consultations with experts to "beef up on security" to surveil its properties after normal hours.
"Some people might say, 'Don't you have the faith that God will protect your church,'" Young said. "I always tell people that I do make a distinction between being faithful and being foolish."
Young, who is also pastor of New Hope Baptist Church in Jackson, Mississippi, said he can remember a time during the civil right movement in the South when church burning, bombings and other acts of vandalism were common. The 63-year-old said he vividly remembers the national reaction to the 1963 bombing of 16th Street Baptist Church in Birmingham, Alabama that left four young girls dead and injured more than a dozen other church members. The bombing was carried out by four white supremacists. Young said he hopes the motives behind the recent church attacks being investigated by state and federal authorities were different.
"We are hopeful and prayerful that this is not an attempt by any person to turn progress backwards in this country," Young said. "But we're also not indifferent to the possibility that someone might be seeking to turn back the hand of time."
Fires Under Investigation, Not Ruled Hate Crimes
Authorities say no church-goers have been injured in at least six fires at predominantly black churches in southern states, including Florida, Georgia, South Carolina, and Tennessee. But each of the fires broke out just days after nine worshipers were gunned down at Mother Emanuel African Methodist Episcopal Church in Charleston, South Carolina. The alleged attacker, Dylann Roof opened fire during a bible study session at the Charleston church, killing the pastor and eight other members on June 17. Roof, who was reportedly inspired by white hate groups, is facing nine murder and one weapon charges.
FBI spokesman Paul Bresson said federal agencies were working with local police officials on the recent church fires. Three of the fires were being investigated as arson, according to the Federal Bureau of Investigation and the Bureau of Alcohol, Tobacco, Firearms and Explosives.
"They're being investigated to determine who is responsible and what motives are behind them," Bresson told BuzzFeed News. "I'm not sure there is any reason to link them together at this point."
Following arsons at Southern black churches carried out by the Ku Klux Klan and other unknown culprits in the mid-1990's, the NAACP said it asked the U.S. Department of Justice's civil rights division to assume responsibility for the investigation. Their request led to the creation of an interagency task force to look for the causes and culprits of those fires, the civil rights group said.
Currently, the ATF investigates all church fires. The National Fire Protection Association says there are 1,780 fires at religious buildings annually, but only around 16 percent of them are ruled arson, according to the association's study of cases that occurred between 2007 and 2011. Most are ruled accidental.
Hate crime experts say black churches are right to raise the alarm, even if the fires aren't found to be politically motivated.
"It is a very real worry, given the long history of attacks by white supremacists against the black church," said Mark Potok, a senior fellow at the Southern Poverty Law Center, an Alabama-based group that tracks hate crimes in the U.S. "If they have any suspicious they need to talk to authorities right away."
Young said he is most concerned that, in the wake of national protests against police brutality and the deaths of unarmed black men over the last year, civil rights leaders, including black pastors, are not being careful about inflaming hatred and inspiring threats against the black community. "There are so many people who very well have personal issues who cannot distinguish rhetoric from reality," he said. "In this country, we simply cannot afford that kind of divisiveness."
FOR FREE to continue reading
✔️ Unlock the full content of International Business Times UK for free
offer available for a limited time only
✔️ Easily manage your Newsletters subscriptions and save your favourite articles
✔️ No payment method required
Already have an account?
Log in
© Copyright IBTimes 2023. All rights reserved.