Charleston Church Shooting: South Carolina Racism Will Not Change After Killings, Black Residents Say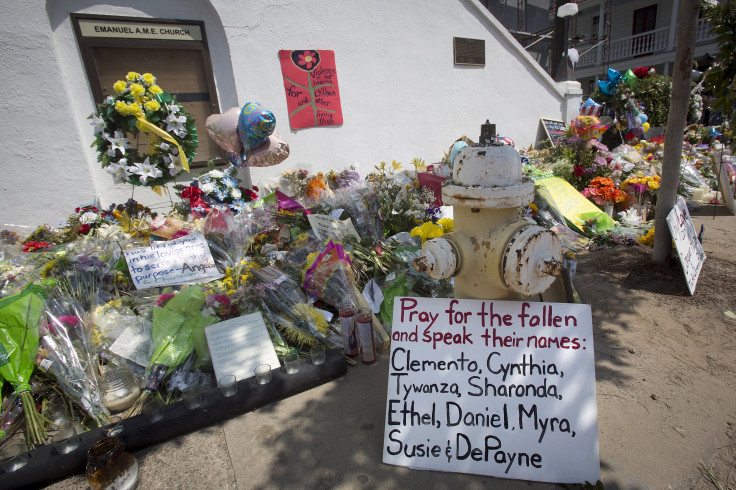 CHARLESTON, South Carolina -- The Rev. W. Brooks Harrison was sitting in the crisp, air-conditioned interior of his yet-to-open soul food restaurant Monday afternoon when the door swung open and a young white woman ducked in uninvited. "It's hot!" she exclaimed. A crushed pack of Newports peeked out of the waistband of her exercise capris. She plopped onto one of the stools and began chattering nonsensically, about bugs and then about her son, with unsettling cheer.
Harrison, a 62-year-old black pastor at a local church, did not know her, but he exchanged niceties until she inexplicably began using expletives. "You can be excused now," he said politely. But instead of leaving, the woman wandered further into the restaurant and began pulling the cigarettes from her hip.
"You can't smoke in here," Harrison said, gesturing toward the door. He was careful not to touch her, or raise his voice, or sound angry. He simply stood expectantly, trying to coax this addled stranger to leave his business, constrained by the awareness that if he called the police, they were unlikely to be on his side because he was black and the woman was white.
Racial issues endemic in South Carolina, a state scarred by high rates of police brutality and centuries of racial tension, have been cast into the national spotlight in recent months by two race-based killings in Charleston and North Charleston. The events have sparked cries for a national conversation about race, as well as for the local removal of icons of a war fought to preserve slavery. But many black residents here said they don't expect South Carolina's enduring racial problems, a matter of daily life and a fact perpetually overlooked by the white community, to change in the near future.
"The white person always gets the benefit of the doubt when it comes to race relations," Harrison, who was born in Charleston and serves as the pastor at Greater Beard African Methodist Episcopal Church, said. If the woman who entered his restaurant had decided to call the police, instead of finally leaving, "who do you think they would have considered evil?" he asked. "Me."
Last week, less than a mile south of Harrison's business, a 21-year-old white man entered a Bible study session at the historic Emanuel African Methodist Episcopal church and gunned down nine of its parishioners, all of them black. In April, a white police officer killed a black man, Walter Scott, in North Charleston by repeatedly shooting him in the back as Scott tried to flee. Had a civilian bystander not captured the incident on a cell phone, the officer's lie that he had shot Scott for trying to steal his Taser would likely never have been uncovered.
Taking Down The Flag
Unfurled high on a flagpole in front of South Carolina's State House in the capital city of Columbia is a prominent symbol of the Confederacy and the Civil War. The accused killer in Wednesday's church killings, Dylann Roof, carried the Confederate flag as a symbol of white supremacy, and numerous local civil rights leaders, politicians, activists and civilians have called for it to be taken down. South Carolina Gov. Nikki Haley, who previously said the flag ought to remain, said Monday that it should be removed.
"On matters of race, South Carolina has a tough history," Haley acknowledged. "We all know that. Many of us have seen it in our own lives, in the lives of our parents and our grandparents. We don't need reminders."
Taking down the flag for good would show that the state refuses to embrace a symbol used in the name of killing people based on skin color, those who call for its removal have said.
But while removing the rebel banner would be a major symbolic gesture, it will take a lot more to chip away at the racism that residents of both Charleston and North Charleston, the cities most recently marked by racial brutality, described as systemic in realms as varied as law enforcement, education, housing and religion.
When her son Joshua died at the age of 19 in the DeKalb County Jail in Georgia, Teresa Hazelton, 48, a lifelong resident of North Charleston, blamed South Carolina's history of systemic racism. By the time he killed himself, in 2007, after being diagnosed as needing psychiatric treatment, her son had already had several run-ins with the law, a vicious cycle that Hazelton said begins early for black children in North Charleston.
"The police racial profile kids from a young age, and then they keep them under lock and key," she said, fanning herself in the muggy air outside a convenience store in North Charleston, where she was running errands on Monday. "By the time they're 18, they can't even vote."
North Charleston is about 47 percent black and 42 percent white, yet police stop black residents about twice as frequently as they do whites, the Los Angeles Times reported. In South Carolina overall, police have a record of exercising racial profiling and brutality with impunity, with white suspects comprising just 67 of more than 200 suspects fired at by police since 2010. And black male incarceration rates in North Charleston are significantly higher than in other American cities, the New York Times reported in April.
How black children were supposed to escape from that cycle when they weren't given the same opportunities as white children was something Hazelton wanted to know, adding, "Our public schools are not equal in North Charleston."
In fact, schools throughout all of Charleston County are remarkably segregated and have been in the decades since integration began. Although the county has a relatively diverse student body that is about 46 percent white, 43 percent black and 8 percent Hispanic, only eight out of 84 schools in its districts, including those of Charleston and North Charleston, reflect that breakdown, the Post and Courier reported in February.
These schools' student bodies are not the only type of imbalance. In November 2014, the state supreme court ruled that public school funding was "a fractured formula" that denied the poorest students opportunities and subjected them to "substandard" education.
Without children of both races attending school together, studying the same curriculum and being granted equal resources and access to the same opportunities, Hazelton didn't see how bigotry could be eradicated from a perpetual cycle of judging people by the color of their skin.
"By September, we'll see what happens, after the funerals," Hazelton said, referring to memorials scheduled this week for the victims of Roof's Wednesday night shooting. Talk of shifting racial tides might abound immediately following the killings, but of whether that would last or have any impact, Hazelton was skeptical. "I'm waiting to see the change," she said.
Other residents of North Charleston were similarly doubtful. "Ain't nothing going to change," said Judge, a 64-year-old black man buying a drink in a convenience store on Monday who said he was born and raised in North Charleston and declined to give his full name.
A New Kind Of Racial Blindness
Numerous white small business owners or employees in North Charleston declined requests for interviews about the issue of race relations in the area in the wake of the killings. Some refused on the basis that they did not want to wade into controversy. Others said simply that they did not think South Carolina had racial issues.
Such blindness, willful or not, is a significant part of the problem, some black residents say.
"It's a racial issue that some people won't see because they're not in it," Joe Watson, the owner of a convenience store in Charleston's East Side, said. If communication were better -- if people held one-on-one conversations about race or could join programs that joined children of all races -- then perhaps more people would recognize the issue. "Charleston as a society must open that communication and be able to say they're blind," he said.
For people who don't bear the brunt of racism, it could be easy for them to claim that the problem doesn't exist, simply because legally people of all races can frequent the same restaurants and movie theaters, Harrison, the pastor who is opening a soul food restaurant, speculated.
"We work together, but then after 9-5, we go our own ways," Harrison pointed out. He called for "fellowshipping" -- the genuine integration of schools, neighborhoods and houses of worship -- to describe the conversations and relations he envisioned but was doubtful that recent events would provoke lasting change.
He sighed and shook his head resignedly. "I just hope that the younger generation will be able to see all the injustice. Maybe they'll build better relationships," he said.
© Copyright IBTimes 2022. All rights reserved.
FOLLOW MORE IBT NEWS ON THE BELOW CHANNELS