Black History Month 2015: Listen To Obama Interview Marking 'My Brother's Keeper' Initiative Anniversary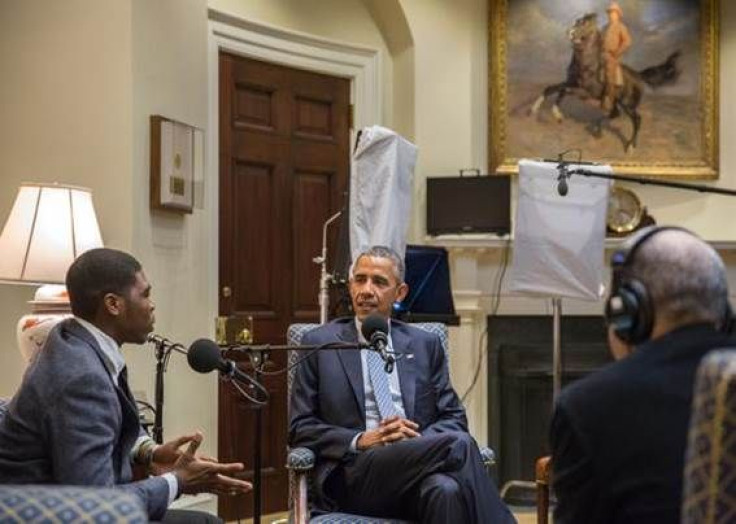 U.S. President Barack Obama recently sat down for an interview with a White House mentee to discuss their shared journey from being troubled teenagers to becoming young men who excelled at academics and athletics. The interview will air Friday on National Public Radio's "Morning Edition" program, the White House said. It was recorded last week for NPR's StoryCorps oral histories project and airs on the one-year anniversary of Obama's black men's mentorship initiative, "My Brother's Keeper." To listen to the interview, click here.
The president's interviewer is 18-year-old Noah McQueen, a participant in the White House Mentorship Program. McQueen, a senior at Dr. Henry A. Wise Jr. High School in Prince George's County, Maryland, struggled with staying out of trouble during his early years. Now, as an honor roll graduating senior, he has become a student ambassador, the editor of the school's newspaper, anchor of the school's news broadcast, and an all-county football player, according to the White House.
McQueen's story of high achievement mirrors the president's. On the latter end of his formative years, Obama became the first African-American president of the Harvard Law Review at age 28. In an interview at the time, he said he was encouraged by the achievement. "But it's important that stories like mine aren't used to say that everything is OK for blacks," Obama said in a 1990 interview with the New York Times. "You have to remember that for every one of me, there are hundreds or thousands of black students with at least equal talent who don't get a chance."
Giving chances to African-American men -- who are disproportionately the most unemployed and most incarcerated segment of the U.S. population -- is what Obama says inspired his My Brother's Keeper initiative. Started during Black History Month in 2014, the initiative provides funding to municipal governments, businesses and foundations that help young males of color come to school ready to learn; help them read at grade level by third grade; and prepare them to enter the workforce, among other milestones.
© Copyright IBTimes 2023. All rights reserved.