Black Lives Matter Protests Monitored By Federal Department Of Homeland Security Since Ferguson: Report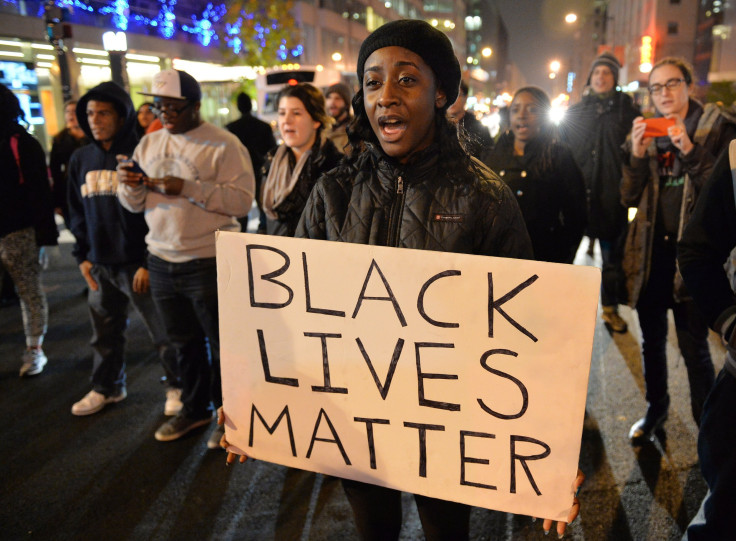 The federal government has been closely tracking the Black Lives Matter movement for the past year, the Intercept exclusively reported. Documents recently released under a Freedom of Information Act request showed that the Office of Operations Coordination under the Department of Homeland Security repeatedly used social media to gather information and watch demonstrations in places like New York City, Philadelphia and Ferguson, Missouri.
The Black Lives Matter movement started in 2012 after Florida neighborhood watch leader George Zimmerman was acquitted of charges relating to his fatal shooting of black 17-year-old Trayvon Martin. According to its website, the coalition works for "a world where Black lives are no longer systematically and intentionally targeted for demise."
The group rose to prominence after white police officer Darren Wilson fatally shot black 18-year-old Michael Brown in Ferguson last August. That's also when the DHS reportedly began monitoring the group's movements.
"It is concerning that the government would be diverting resources towards surveilling citizens who are assembling and expressing their First Amendment rights," protest coordinator Maurice Mitchell told the Intercept. "The fact that our government is doing this — I can only assume to disrupt us — is pretty alarming."
The documents reveal that the DHS checked Twitter and Vine to keep an eye on the riots that broke out last summer in Ferguson as well as anti-police violence rallies by the Philly Coalition for Real Justice and Black Lives Matter in Baltimore, among others. The agency circulated internal memos with maps ahead of the protests and in some cases emailed minute-by-minute updates of their progress.
Many of these reports were produced despite DHS determinations that the protests would likely be peaceful. Some detailed actions the DHS took at unrelated community events in black neighborhoods, like the Funk Parade in Washington, D.C.
DHS spokesman S.Y. Lee told the Intercept that the agency only provides situational awareness of such events. "The Department of Homeland Security fully supports the right of individuals to exercise their First Amendment rights and does not provide resources to monitor any specific planned or spontaneous protest, rally or public gathering," he wrote in an email.
Regardless, this wouldn't be the first time the government has monitored civil rights groups, Fusion reported. In the 1960s and 1970s, FBI director J. Edgar Hoover told staffers in the Cointelpro program to "expose, disrupt, misdirect, discredit, or otherwise neutralize the activities of the Black nationalists." Cointelpro shut down in 1971.
Read the documents in full here.
© Copyright IBTimes 2023. All rights reserved.
FOLLOW MORE IBT NEWS ON THE BELOW CHANNELS