Black Virginia Lawmakers Walk Out On Senate Vote Honoring Segregationist Harry F. Byrd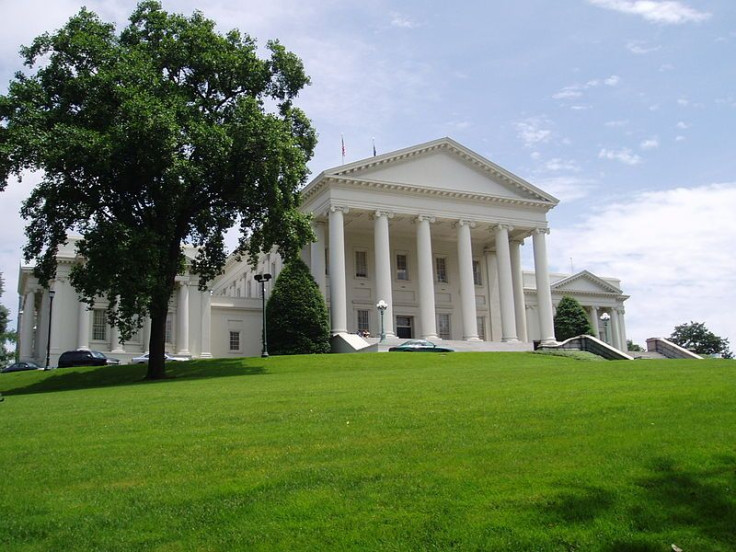 A group of black Virginia lawmakers walked out of the state Capitol in Richmond Tuesday in protest of a resolution honoring the life of a senator who fought for racial segregation.
On Tuesday, the Virginia Senate and House of Delegates voted to honor the late Harry F. Bird Jr., who served as both a Virginia and United States senator, the Richmond Times-Dispatch reports. Because Byrd was actively involved in Virginia's battle against the 1954 Brown v. Board of Education decision that desegregated public schools, however, a group of black delegates and senators chose to walk out of the chamber as a silent protest. Byrd passed away last July at the age of 98.
Sens. Mamie E. Locke, L. Louise Lucas, A. Donald McEachin and Adam P. Ebbin all chose to walk out of the chamber rather than vote. Another, Sen. Henry Marsh III, stayed in the room but left his seat and stood silently against the chamber's back wall. Delegates Matthew James, Jennifer L. McClellan and Roslyn C. Tyler also left the room during a similar session of the House of Delegates. All of the lawmakers who protested, with the exception of Ebbin, are black. All are Democrats.
McEachin explained that he and his fellow lawmakers felt they could not actively participate in honoring a man who never apologized for segregation.
"He was an unrepentant segregationist," McEachin told the Washington Post. "I don't have anything against the family. I don't have anything against the sponsors of the legislation. It would be very difficult for me to vote for or applaud an unrepentant segregationist."
Locke also clarified that no one intended the protest as a slight against Byrd's family, who were present in the Capitol. Reportedly, the group was so quiet leaving the floor that Byrd's family did not notice.
"It wasn't anything that anybody planned to do," Locke, chairwoman of the Black Legislative Caucus, told the Times-Dispatch. "I just didn't want to sit there and listen to a resolution that honored someone who was an ardent segregationist and never said I'm sorry for being a segregationist."
"Quite frankly, I thought it was more respectful that I left," Locke added.
Byrd's father, Sen. Harry F. Byrd Sr., was instrumental in leading Virginia's policy of "massive resistance" to public school desegregation in the wake of the Brown v. Board of Education Supreme Court decision. As former governor, a United States senator and the founder of the Byrd Organization political machine, Byrd Sr. spearheaded the Stanley plan to cripple desegregation efforts in Virginia.
As a Virginia state Senator, Byrd enthusiastically supported his father's massive resistance legislation and voted them into law. By the time Byrd took over his father's U.S. Senate seat in 1965, federal and state courts had struck down much of the Stanley plan legislation, but Byrd never apologized for his role in denying black Virginians equal educational opportunities. In 1975, Byrd successfully introduced a bill to posthumously restore Con. General Robert E. Lee's United States citizenship, which was stripped during the Civil War.
© Copyright IBTimes 2023. All rights reserved.
FOLLOW MORE IBT NEWS ON THE BELOW CHANNELS