Blackfish Backlash: SeaWorld Won't Let Trainers Back In Water With Whales As Shamu Goes Solo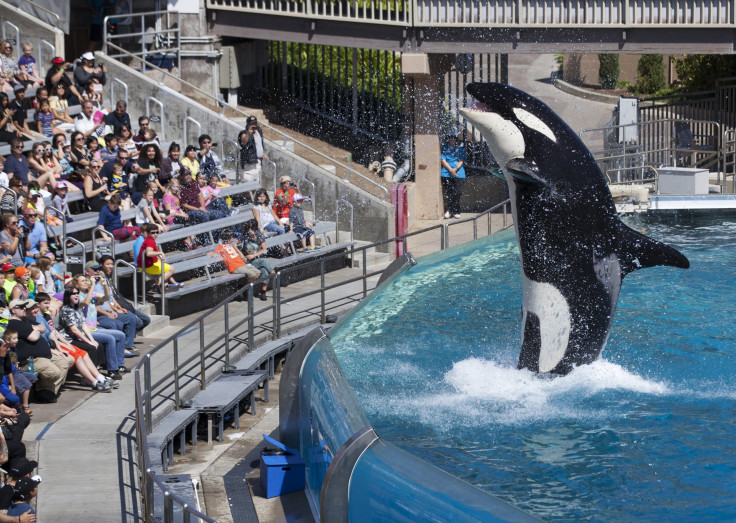 Swimming with Shamu is officially over. SeaWorld Entertainment Inc. (NYSE:SEAS) has shut down any future chance of its trainers performing alongside Orca killer whales after dropping an appeal of a federal safety citation.
The marine park company said in its Securities and Exchange Commission filing last week that it wasn't going to pursue the legal battle, the Associated Press reported on Wednesday. The news comes after SeaWorld's stock took a nose dive on Aug. 13 after the company reported fewer ticket sales and lower second-quarter earnings, an indication that the controversies surrounding recent trainer deaths – profiled in the critical "Blackfish" 2013 documentary – are making investors leery.
Orlando-based SeaWorld, which has parks in Florida, California and Texas, received the citation after the 2010 death of trainer Dawn Brancheau, who was killed during a popular "Shamu" show with the orca Tilikum. The 12,000-pound whale grabbed her and pulled her under water in front of a horrified crowd. It was later revealed that Tilikum had been linked to two other deaths before the incident.
Following an investigation, the federal Occupational Safety and Health Review Commission (OSHA) found what SeaWorld "willfully" violated federal safety laws requiring a workplace to be free from recognizable hazards. OSHA also recommended that trainers perform with the marine mammals only if separated by a protective barrier or a sufficient distance. The rules made it impossible for trainers to swim with the orcas during the shows, the AP noted.
SeaWorld appealed the ban on "close contact" in the U.S. Court of Appeals in November, claiming that a Labor Department judge went too far by restricting the content of the marine park's signature attraction. Last April, the appeals court said SeaWorld's challenge was unpersuasive, and that OSHA was correct in issuing a citation.
SeaWorld trainers, however, will still be able to swim with the whales during behind-the-scenes safety training exercises, spokesman Fred Jacobs told the AP.
© Copyright IBTimes 2023. All rights reserved.