#BlackLivesMatter Protesters Demonstrate During NYC New Year's Eve Celebration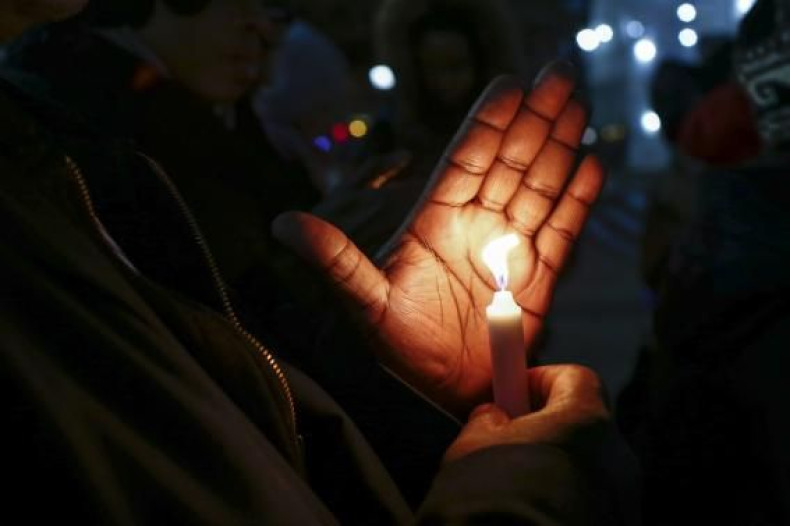 Dozens of protesters staged a demonstration, during the New Year's Eve celebration in New York City Wednesday evening, against brutal police tactics and the lack of accountability for police officers who kill unarmed black people. The #BlackLivesMatter protest was planned to coincide with the largest New Year celebration in the U.S., which sees thousands of people gather in New York's Times Square every year to celebrate and watch the ball drop.
The protest saw participants march from Union Square in Manhattan to Times Square, where they gathered to decry the militarization of law enforcement, police overstepping and the lack of indictments against the officers who killed Michael Brown in Ferguson, Missouri, in August, and Eric Garner in Staten Island, New York, in July.
The protesters chanted -- and held up signs -- bearing slogans of their movement including "we can't breathe" and "blacklives matter" throughout the event, which lasted for several hours Wednesday evening.
The demonstration came at a difficult time for New York and the city's relationship with its police department. Last week, two NYPD officers were shot to death by a man who declared on social media his intention to execute cops, sparking a round of pro-police protests and complicating protesters' efforts to change police policies and tactics.
Meanwhile, NYPD members have staged a series of protests of their own, in which they have turned their backs against New York City Mayor Bill de Blasio, who their union blames for being overly sympathetic to the protests, and not doing enough to defend them as the city's chief executive and their boss.
The National Guard sent a large number of guardsmen into New York City Wednesday, where they protected transit stations and were on hand to assist the NYPD with any potential crime or violence, and to watch out for major chemical, biological or radiological incidents, according to ABC News.
Similar protests were also held in other cities across the nation, including Boston, Los Angeles and St. Louis.
© Copyright IBTimes 2022. All rights reserved.