Brooklyn Police Shooting: Protests Against Police Amid Dim Lights In Honor Of Slain NYPD Officers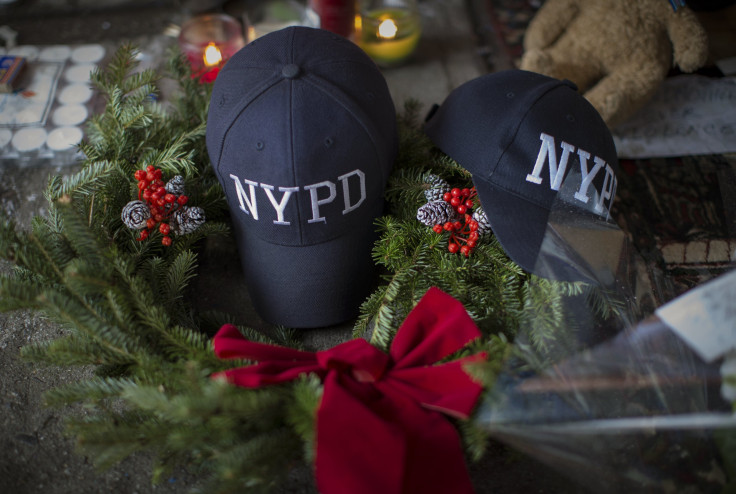 Hundreds protesting police brutality marched up New York City streets Tuesday night, while iconic landmarks went dark across the skyline in honor of two slain NYPD officers, who were shot dead in Brooklyn Dec. 21. De Blasio had urged demonstrators to hold off on protests against cops until after the funeral this week. But there was no pause for the protesters who chanted "black lives matter" and squared off with police in Harlem.
The Empire State Building, Chrysler Building, One World Trade Center, Rockefeller Plaza, the Rockefeller Center Christmas tree, the Condé Nast Building and Bryant Park dimmed their lights at 9 p.m. for five minutes of darkness, at the behest of New York City Mayor Bill de Blasio. "Our city is in pain," de Blasio said in a statement Tuesday afternoon. "Tonight, some of the greatest emblems of our city will dim their lights to honor our fallen police officers. Let us take these moments to reflect on our common values, and rededicate ourselves to moving this city forward together."
A group of NYPD officers turned their backs on the mayor when he spoke at Woodhull Medical Center in Brooklyn, where the two cops were pronounced dead. "Mayor de Blasio, the blood of these two officers is clearly on your hands," said Ed Mullins, president of the Sergeants Benevolent Association. "It is your failed policies and actions that enabled this tragedy to occur. I only hope and pray that more of these ambushes and executions do not happen again."
New York City Police Commissioner William Bratton called the comments inappropriate and said the killings have widened a rift between the mayor and police officers. "I don't think it was appropriate, particularly in that setting, but it's reflective of the anger of some of them," Bratton said Monday on the "Today" show.
Rep. Peter King of New York also called out de Blasio, along with President Barack Obama, in light of the killings. "This is an absolute tragedy, what occurred in New York, and it's really time for our national leaders, the president, it's time for the mayor of New York, and really for many in the media to stop cop bashing, to stop this anti-police rhetoric," the Republican politician reportedly told Fox News.
NYPD officers Wenjian Liu and Rafael Ramos were reportedly having lunch in their patrol vehicle in the Bedford-Stuyvesant neighborhood of Brooklyn Saturday afternoon when they were both shot in the back of the head by 28-year-old Ismaaiyl Brinsley, who later committed suicide in a subway station near the scene.
Brinsley reportedly killed the cops to avenge the deaths of Michael Brown and Eric Garner, unarmed black men who were killed by white police officers. Shortly before the shooting, an Instagram account reportedly linked to Brinsley posted a photo of a silver handgun with the caption: "I'm putting wings on pigs today. They take 1 of ours … Let's take 2 of theirs. #shootthepolice #ripericgardner #ripmikebrown This may be my final post … I'm putting pigs in a blanket." Police found a silver handgun near the body of Brinsley, USA Today reported.
New York Police Commissioner William Bratton called the ambush-style killings an assassination. "Two of our officers were shot and killed, with no warning, no provocation," New York Police Commissioner William Bratton said in a statement Sunday. "They were assassinated -- targeted for their uniform and for the responsibility they embraced to keep people of this city safe."
© Copyright IBTimes 2023. All rights reserved.
FOLLOW MORE IBT NEWS ON THE BELOW CHANNELS