Bloomberg Snooping Got You Spooked? Here Are 5 Alternatives To The Bloomberg Terminal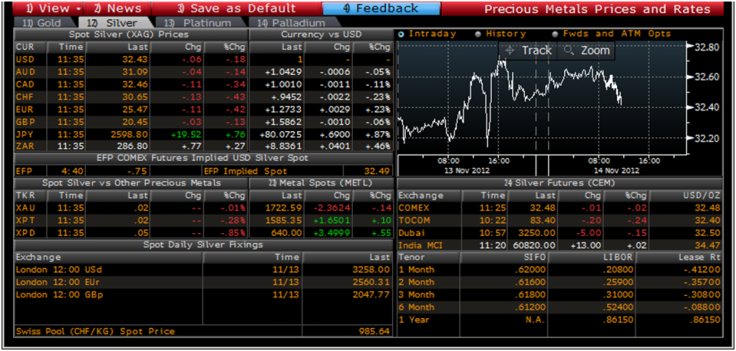 Bloomberg LP could lose market share in the lucrative business of providing financial data to Washington and Wall Street since the revelation that it gave its reporters access to information about clients who pay for that financial data.
On Saturday, the U.S. Federal Reserve and the U.S. Treasury Department, both Bloomberg customers, began investigating the privacy breach.
CEO and President Daniel L. Doctoroff called the now-terminated policy "a mistake" and said the company revoked the policy last month "so that all reporters only have access to the same customer relationship data available to our clients," he wrote in a blog post.
But that may not be enough for some customers, who may see in this now-viral scandal a chance to challenge Bloomberg's share of the international market for providing financial data to investors, banks and government agencies, among others.
And at about $20,000 a year per terminal, Bloomberg is one of the most expensive financial data services on the market.
So, if you fear that Bloomberg's culture may breed endemic snooping and you're not savvy enough to MacGyver your own data desktop, here are five alternatives to the Bloomberg terminal:
1. Thomson Reuters' Eikon
Thomson Reuters offers a sophisticated stream of up-to-the-second financial data that resembles what is available via the Bloomberg Terminal, and many say the clean user interface gives it an advantage over Bloomberg's somewhat-cluttered design. [Disclosure: International Business Times is a customer of Thomson Reuters Eikon.]
But it is not without its critics.
"Apart from the user interface, Thomson Reuters Eikon doesn't prove any value whatsoever," writes Anandmar Pun on WallStreetFool.com. "The charts are practically non-existent. You cannot do any legitimate analysis on Eikon."
Still, it remains the Bloomberg terminal's leading rival with about 30 percent of the financial data market's share – about the same size as Bloomberg's slice.
2. Morningstar Direct
The dual gray-and-white backgrounds of Morningstar's data software is an aesthetic departure from Eikon and Bloomberg, but it isn't the only difference.
Though it lacks the behemoth databases Thomson Reuters and Bloomberg have accumulated, its performance attribution analysis examines managers' relative under- or over-performance based on region, sector, style, market-cap weightings and security selection, making it ideal for manager research.
3. SunGard MarketMap
MarketMap's main competitive advantage is its price. If you watch the video testimonial from brokerage firm TradeKing on SunGard's website, one word is repeatedly uttered: "Value."
It is a seriously low-cost alternative: One month of use runs at $310, while a yearlong subscription costs a mere $3,335.
But SunGard certainly seems slow to launch services deemed crucial to analyzing the global economy. It was only last September that it added macroeconomic data in a calendar format.
4. FactSet
FactSet Research Systems Inc. (NYSE:FDS) has carved out a niche for itself beside Bloomberg, targeting research analysts more so than portfolio monitoring, according to discussions on AnalystForum.com.
Much of FactSet's revenue is derived from sell-side firms, according to quarterly earnings reports, making it a more specified service than the all-encompassing Bloomberg Terminal.
5. S&P Capital IQ
Capital IQ's company database makes it ideal for researching M&A deals and expanding portfolios. However, the service lacks the same news and market data that distinguishes Bloomberg and Reuters.
But the branch of Standard & Poor's Financial Services LLC (NYSE:MHP) is young. Though the original service dates back to 1999, Capital IQ is a newer addition to S&P and has grown with acquisition of such companies as India's SimplyStock data provider and ClariFI, which provides software to quantitative portfolio managers.
© Copyright IBTimes 2023. All rights reserved.
FOLLOW MORE IBT NEWS ON THE BELOW CHANNELS