Bo Xilai Files Appeal: Shandong Court Accepts Appeal Request Against Life Imprisonment Verdict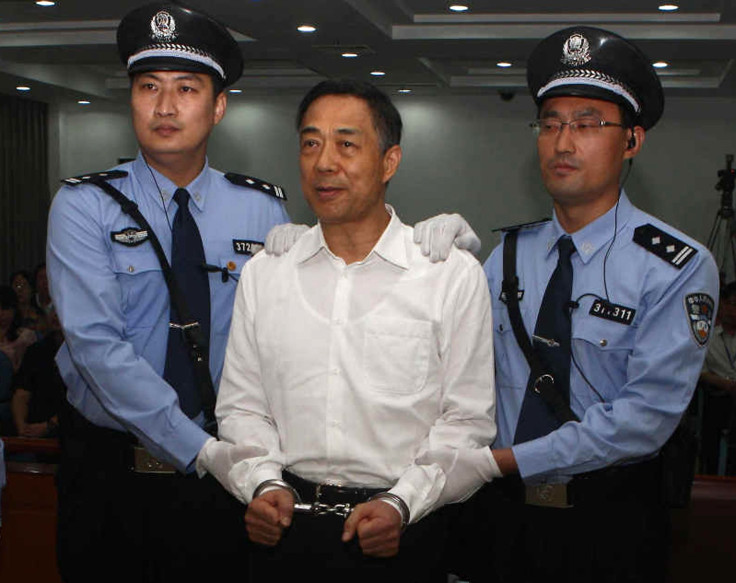 A high court in northern China's coastal Shandong province has accepted an appeal by fallen top Communist Party official Bo Xilai, who was sentenced to life in prison last month. Bo was found guilty by the Jinan Intermediate People's Court of bribery, embezzlement, and abuse of power but filed an appeal sometime before Tuesday's deadline.
While the court sealed Bo's political fate in September with the life sentence, sources close to Bo announced almost immediately after the verdict was made public that Bo had every intention of appealing. According to Reuters, a source with insider knowledge of the case said Bo had filed the appeal "on the day the sentence was announced." Throughout the high-profile case, which was documented through state media and on social media site Weibo, Bo maintained a defense strategy which claimed he was innocent and didn't know his family's finances had become so florid while he was mayor of the city of Chongqing and a rising political star. Bo even recanted a previous confession made to police earlier in the case, saying he was coerced into giving it.
Just as how most of the case's other details were released, the Shandong court made a brief announcement on Wednesday on its website confirming that it had received Bo's request for an appeal and accepted it. The announcement did not mention when the appeal would be heard.
At the same time, Bo Guagua, the high-profile son of the convicted former Communist Party official, has also made his first statement to a mainland media outlet, the Guangzhou-based Southern Metropolis Weekly magazine. According to the South China Morning Post of Hong Kong, the publication, which has a reputation as one of the more outspoken among those owned by the state, published excerpts of what appeared to be a correspondence between the younger Bo and a newspaper employee. "Facts will speak for themselves, either now or in the future," Bo Guagua wrote via email. "[I] will wait to decide if I will make relevant responses when conclusions have been made," he also said. The magazine, which was published at the end of September, did not specify the context in which Bo's emails where responding to.
Bo's appeal was mostly expected by China-watchers and those on Chinese social media. "Good luck with that, Bo," one user wrote on China's popular social media microblogging platform, Weibo. "Your fate is sealed, not sure what an appeal will do other than draw this out further," another user wrote.
The success rate of appeals in China is not high, and many times appeals are heard more as a judicial formality rather than an actual reassessment of the case findings.
© Copyright IBTimes 2023. All rights reserved.