Bob Arum Backs 'Puerto Rican Mike Tyson' To Beat Canelo Alvarez 'In Two Years'
KEY POINTS
Bob Arum says Saul "Canelo" Alvarez is unbeatable
Arum predicts Edgar Berlanga is the only fighter who could possibly beat Alvarez
Berlanga has earned the nickname "Puerto Rican Mike Tyson"
Bob Arum has named the only fighter he thinks is presenting a strong case to beat Saul "Canelo" Alvarez.
After becoming a multi-division champ, Alvarez has successfully convinced boxing fans that he is the pound-for-pound king.
When discussing the subject in a recent talk with a group of reporters, Top Rank boss Arum shockingly appointed one sought-after boxing sensation as the fighter who can possibly dismantle Alvarez.
According to Arum, the Mexican boxing superstar is unlikely to be beaten at the moment, but his super middleweight rising star Edgar Berlanga could put an end to Alvarez's reign in about "two years" from now.
"I don't think anybody beats Canelo," Arum predicted. "He's just that good. Maybe in two years or a year and a half, [Edgar] Berlanga [could]."
Indeed, Berlanga possesses incredible power in his hands and his undefeated professional record of 17-0 speaks highly of what he can do inside the ring.
In fact, his devastating knockout power has earned him the moniker people "Puerto Rican Mike Tyson."
If Berlanga manages to continue his hot streak, a fight against Alvarez wouldn't be impossible.
For now, the 24-year-old needs to collect a couple of titles to his name first before he could possibly earn a shot at "Canelo."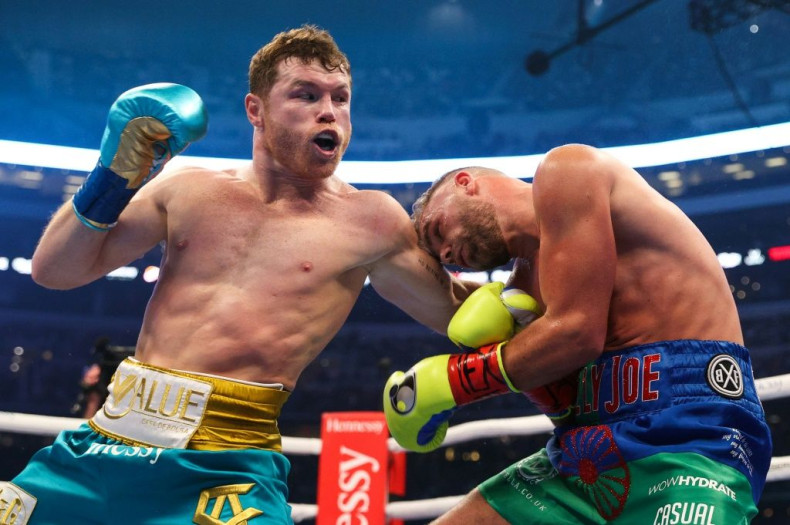 Berlanga is already slated for a showdown against Marcelo Esteban Coceres in October, but Arum earlier revealed that he is planning to book one more fight before the year ends.
"He [Berlanga] will appear on [the Tyson Fury vs Deontay Wilder undercard on] October 9, then he will be in Madison Square Garden on December 11," Arum exclusively to Sky Sports.
"Then we will take him to Puerto Rico," the promoter added. "He is a New Yorker of Puerto Rican origin. He will fight in Puerto Rico where he is enormously popular."
As it stands, Berlanga has his sights on WBC super middleweight champion David Benavidez, who is also open to the idea of putting an end to his unbeaten record.
"I think Edgar Berlanga is an amazing fighter," Benavidez said.. "I think he's a very strong fighter. But I don't think he's proven yet. If he wants to get that fight going, though, we're the same age; I feel like I'm all for that fight, too. I think it would be a big fight for Mexico and Puerto Rico.
"I feel like I would beat Edgar Berlanga. Whenever he's ready to come to take that fight, I'm right here, I'm ready to take that fight whenever. Tell me when he wants to make that fight, and we'll make it happen."
© Copyright IBTimes 2022. All rights reserved.