Bode Miller Apologizes For Blaming Anna Veith's Marriage For Skiing Woes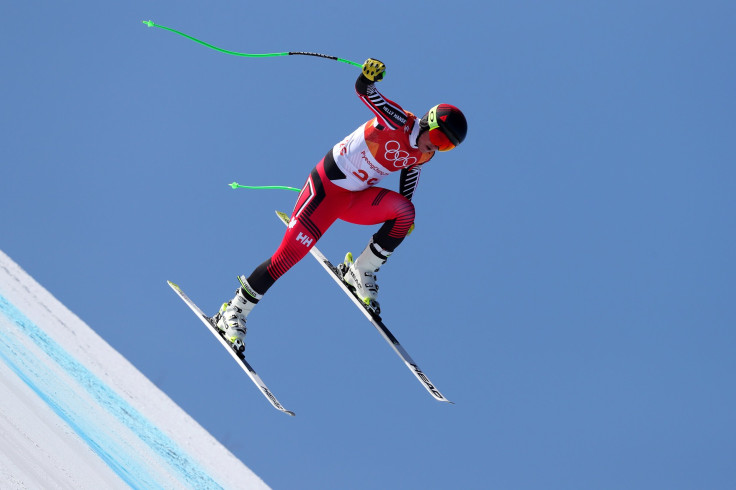 NBC analyst Bode Miller raised eyebrows during Wednesday's broadcast when he suggested how marriage hindered a racer's performance.
Miller, who debuted as an analyst for the Pyeongchang Olympics in South Korea this year, later redacted his opinion after he received wide backlash from the online community.
The former U.S. Olympic gold medalist's controversial comments came as Austrian skier Anna Veith embarked on her first run in the women's giant slalom event Wednesday night. Miller pointed out Veith's knee injury but homed in on her 2016 marriage.
"The knee is certainly an issue," Miller said on air. "I want to point out she also got married. And it's historically very challenging to race on the World Cup with a family or being married. Not to blame the spouses, but I just want to toss it out there that it may be her husband's fault."
Veith, a two-time medalist, tore her ACL in 2016 and her pectoral muscle in 2015. She married her longtime boyfriend former snowboarder Manuel Veith in April 2016. Her performance on Thursday landed her in 12th place.
Miller backtracked his earlier comments and apologized during a broadcast of the men's downhill race. He even pointed out that marriage could be more positive than negative for an athlete.
Is Bode Miller Still Married?
Miller, 40, married professional beach volleyball player and model Morgan Beck in October 2012. He's considered one of the most successful male skiers of all time and has participated in five Winter Olympics with 33 victories overall.
"Yea, I apologize. That was an ill-advised attempt at a joke," he said. "I was an athlete that competed after marriage and I know how beneficial it is. I know the support team you need. I relied on my friends and family.
And if you have the luxury of relying on a spouse I know they are inevitably your biggest supporter. And on Valentine's Day I didn't mean to throw spouses under the bus. Certainly, I'm going to be hearing it from my wife, I know."
© Copyright IBTimes 2023. All rights reserved.