Body Of Tortured Civilian Found On Former Russian Base; Hands, Neck Tied
KEY POINTS
Authorities discovered a man near Kyiv with a rope tied around his hands and neck
He was allegedly tortured by Russian forces and strangled before his death
It was the second time a civilian allegedly killed by Russian forces was found in the area
A civilian allegedly killed by Russian forces was found in Ukraine's Kyiv region with a rope wrapped around his neck, Ukrainian authorities claimed.
The unidentified man was discovered in a strip of forest near the village of Nove Zalissya, close to former Russian positions, Pravda reported, citing Andriy Niebytov, the head of the region's police.
A rope was tied around the man's hands and neck, Niebytov said.
"Everything indicates that the man was strangled before his death," the official was quoted as saying by Pravda, which noted that the deceased appeared to have been tortured by Russian forces.
This is the second time a civilian allegedly killed by Russian forces was found in the area, according to Vadym Chernyshuk, the Deputy Chief of the police department in the town of Borodianka.
The body of a murdered migrant from Ukraine's partially Russian-occupied Donetsk region was found in the forest nearby a few months ago, he said.
Forensic experts and the investigative team of the Bucha district police department have exhumed the most recently discovered body and conducted an examination, according to police.
At least 5,237 civilians, including 348 children, got killed in Ukraine between the start of Russia's invasion on Feb. 24 and July 25, the Office of the United Nations High Commissioner for Human Rights claimed in its most recent casualty report.
The ongoing conflict also injured 7,035 civilians, according to the agency.
Russian forces have repeatedly been accused of torturing and killing civilians.
Around 900 dead civilians were discovered in Kyiv following Russia's retreat from the region in late March, nearly 95% of whom were "simply executed," the United States Mission to the Organization for Security and Cooperation in Europe claimed in a report, citing the region's police.
Russian forces also "carried out targeted, organized killings" of civilians in the city of Bucha, experts alleged.
More than a thousand dead civilians were found in Bucha after Russia's retreat, many buried in shallow graves.
Russia has shot down accusations that its forces were targeting civilians in its invasion of Ukraine, and it has also denied responsibility for the deaths in Bucha.
Killing, torturing, or taking hostage of non-combatants in war violate the Geneva Conventions.
Meanwhile, "extensive destruction and appropriation of property, not justified by military necessity [and] carried out unlawfully and wantonly" is considered a war crime under Article 8 of the Rome Statute of the International Criminal Court.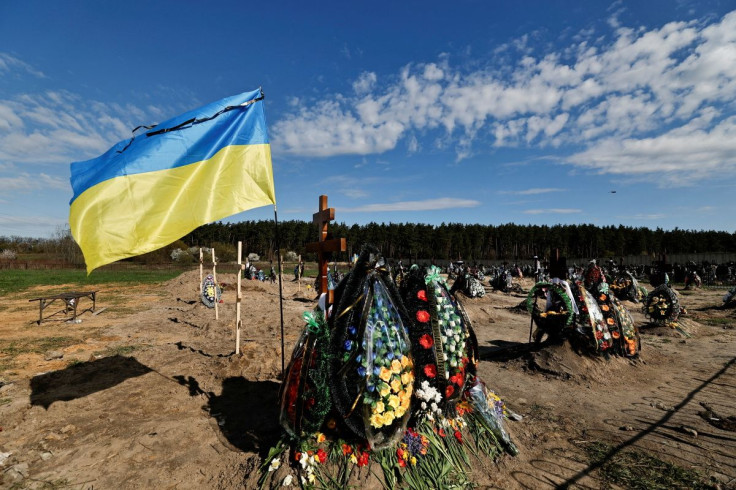 © Copyright IBTimes 2023. All rights reserved.