Boeing Defense Jobs, Business In St Louis At Risk After Losing Bomber Jet Contract To Northrop Grumman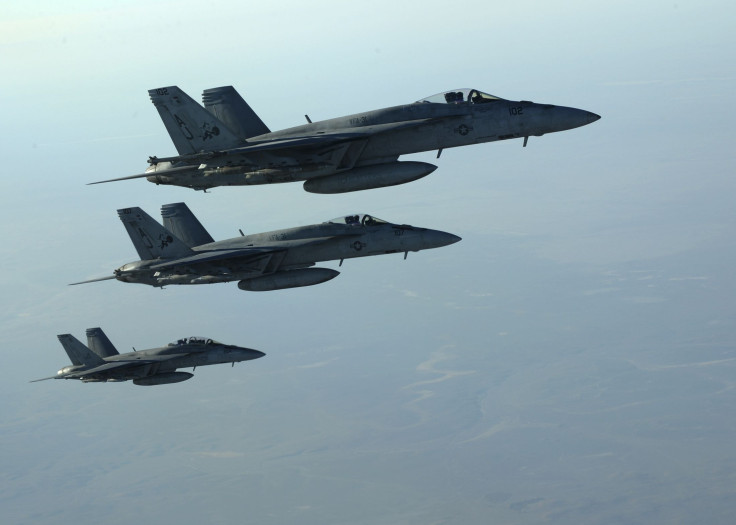 For much of the last decade, workers at Boeing's aircraft manufacturing plant in St. Louis, Missouri, continued in the aviation company's long tradition of churning out quality major defense items for a steady stream of customers at home and abroad. According to the labor union chief for many Boeing employees there, the last thing on the workers' minds was the possibility of being laid off.
But now, that seemingly complacent stability could be threatened after Boeing lost out this week on an $80 billion contract to build America's next generation of long-range bombers. The bid was instead awarded Tuesday to competitor and much smaller defense contractor Northrop Grumman, effectively ending Boeing's long affiliation with the U.S. Air Force's bomber program.
"Yes, this deal hurts my Boeing members," said Steve McDerman, president of the International Association of Machinists & Aerospace Workers' local St. Louis chapter. But, he added, "I can [also] see a future for our workers."
McDerman's apparent optimism belied the grim reality Boeing and its workforce were facing. The storied aviation pioneer's contract loss is symbolic of its slipping status as one of the major combat aircraft manufacturers in America. With only the F-15 and the F-18 fighter jets left on Boeing's combat jet order book, the last of which are expected to be delivered to customers in 2018 and 2019, respectively, the loss of the long-range bomber contract has led analysts to raise questions about Boeing's position in the jet fighter market and the future of its employees in St. Louis.
"Because the company and head of Boeing's defense unit had been explicit that winning the LRS-B (Long-Range Strike Bomber) contract would be a major source of work for the St. Louis facility, not having won it will create some serious challenges for workloads in the future," said Andrew Hunter, a director, Defense-Industrial Initiatives Group and senior fellow at the Center For Strategic & International Studies, a Washington, D.C., think tank. "It creates a real sense of urgency that they will have to win on other contracts in order to sustain their workforce in St. Louis."
The Boeing Company Government Contracts | FindTheCompany
Boeing Weakened
While Boeing launched a joint campaign along with its biggest defense rival Lockheed Martin in a bid to win the bomber contract, the loss means that long-term outcomes for both companies in the combat aircraft market will now begin to diverge. Lockheed has plenty of work to keep it busy as it builds thousands of the F-35 Joint Strike Fighter aircraft over the next 35 years, each with a price tag as high as $108 million. Boeing, on the other hand, is facing a far more bleak future in its jet fighter and overall defense business.
Boeing continues to manufacture the F-18 Super Hornet and the F-15 Eagle jet fighters in its St. Louis plant, but with no new confirmed customers at home or abroad, the line is scheduled to be shuttered in 2018 and 2019, respectively. The company's intentions were to secure the long-range bomber contract to help generate a new production line that employees involved in the F-15 and F-18 lines could have moved into after a period of retraining, according to a Boeing spokesperson, but that is no longer a possibility.
Revenue at Boeing's defense division is more or less the same as it was 10 years ago, around $30 billion in 2015, while overall company revenue from the military side of the business has fallen from 56 percent to a projected 25 percent over that same period. And it's not likely to improve.
"Slowly but surely the walls are closing in on Boeing's military aircraft operations in St. Louis," said defense analyst Loren Thompson, of the Lexington Institute, a public policy think tank based in Arlington, Virginia.
The win for Northrop secured its long-term future in the combat aircraft market for the U.S. Air Force, for which Boeing, during World War II, produced almost 7,000 B-17 Flying Fortresses. Boeing's B-52s, last built in 1962, continue to be a large part of the military wing's aging bomber fleet.
Jobs At Risk
Along with reduced revenues in its defense business, Boeing over the last ten years has cut its defense workforce from more than 75,000 people to just over 50,000 today. Around 15,000 of those current employees work out of the St. Louis plant. A Boeing spokesperson refused to release details of how many people it employs on the F-15 and F-18 lines, which the representative said would remain open at least until the end of the decade.
Despite McDerman's positivity, Boeing Chairman Jim McNerney said at Boeing's investor conference in May that potentially losing the bomber contract wouldn't mean the company would have to panic, but acknowledged the defense unit "would be smaller than it is today," according to a Seattle Times report.
Jobs within Boeing's flourishing commercial aviation business in Washington and South Carolina will be unaffected as they have a backlog of more than 6,500 aircraft that will keep the company producing planes for decades. The focus of cuts concentrates on St. Louis because that's where Boeing, the city's second-biggest employer, has its defense manufacturing plants.
Meanwhile, California's economy is preparing for a huge boost. Northrop's new bomber is likely to be built in Palmdale, California, where it could reportedly create up to 6,500 jobs at the assembly facility Air Force Plant 42. While it was not immediately clear why the U.S. Air Force selected Northrop, the Virginia-based company will reap the rewards of up to $500 million in tax incentives that the California Legislature is now offering to any company willing to build planes in Palmdale.
"California, we don't have a reputation that's necessary the cheapest place to do business or the least regulatory," Ledford said. "I think the Legislature, I've got to give them a lot of credit here because they did step up. They did provide an incentive program, which levels the playing field more so in competition with other states," Mayor Jim Ledford of Palmdale said at the time.
The Boeing Company (BA) Stock Price - Trailing 30 Days | FindTheCompany
What Next For Boeing?
"Boeing will have to make a very difficult decision that might take years to play out. Will they gradually exit the combat aircraft business, possibly never to return, back to making mostly jetliners [like] they were before they bought McDonnell Douglas?" Richard Aboulafia, vice president and aviation analyst at the Virginia-based Aerospace think tank Teal Group Corporation, asked rhetorically. However, Boeing could look at buying Northrop's aircraft unit, a way to beat losing out on the contract and something the company has been considering for a number of years, he suggested.
After Boeing is debriefed by the U.S. Air Force as to why its joint bid failed, it then has up to 100 days to file a protest that could put Northrop's plans on hold. It's likely that Boeing will go down that route after successfully overturning a 2011 decision by the Pentagon to award the contract for the KC-46 air-refueling tanker to the French airline company Airbus.
While losing out on the deal has undoubtedly hurt Boeing's defense business prospects and will likely shrink its employee base in St. Louis, the company may yet find salvation in an unlikely place: Canada. The incoming Liberal Party, which is expected next week to take the reins in Ottawa, has already declared it will cancel its order of more than 60 F-35 Joint Strike Fighters from Lockheed and opt for a cheaper version that better suits the country's defense needs.
It's strongly rumored, according to a Defense One report, that Boeing's Super Hornet jet fighter, which is assembled in St. Louis, could be the perfect choice for Canada.
Along with that bit of hope, the imminent arrival of work in St. Louis related to the normally Seattle-built 777 commercial aircraft will help ease the pain of the contract loss with 700 new for workers at Boeing, whose affected employees still have a lot to be positive about, McDerman said. But if all the conflict happening across the globe was any indication, he added, the jobs expected to be lost this time around will soon be regained.
"I can see a future for our workers because I can see a future for the F-18, because it's one of the best fighter planes being built anywhere and we live in a world that is really in turmoil right now," McDerman said.
© Copyright IBTimes 2023. All rights reserved.
FOLLOW MORE IBT NEWS ON THE BELOW CHANNELS