Boeing Might Lose $4B Brazil Deal For F-18 Jets After NSA Surveillance Scandal; Analysts Say Politics Won't Trump Business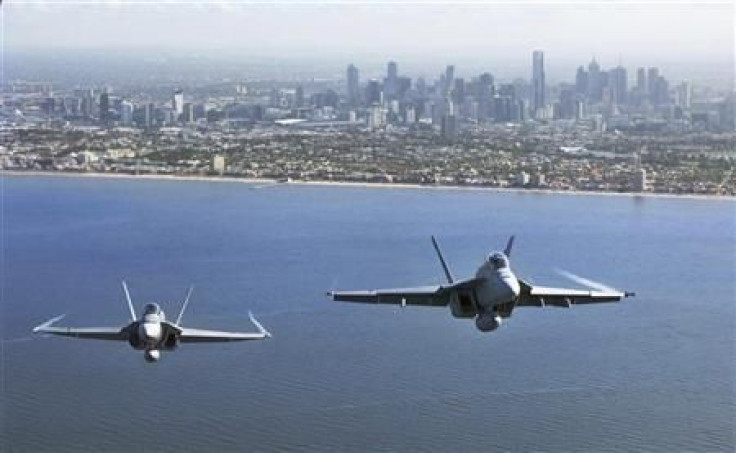 Brazil did not take it lightly when it found out that the U.S. National Security Agency had been spying on official correspondence, calls and emails from the Brazilian government. President Dilma Rousseff, whose cell phone had been tapped by the spy agency, asked for explanations and an apology from President Barack Obama, while Brazilian diplomats called the surveillance an "attack on sovereignty."
But the NSA operation revealed by leaker Edward Snowden might have damaged more than relations between the two biggest economies in the Americas. It might also have put in jeopardy a $4 billion deal for fighter jets that was, until recently, almost a done deal for Boeing (NYSE:BA).
Brazil is in the market for 36 new fighter jets to modernize its air force. The order was hotly contested by the world's major aircraft producers, and a three-way final round ended in America's favor with the planned purchase of the F-18 Super Hornet from Boeing. The Chicago-based aviation giant was the clear favorite of Brazil's government, over the Rafale made by France's Dassault (EPA:AM), which was former President Luiz Inácio da Silva's choice, and the JAS-39 Gripen NG from Sweden's Saab (STO:SAAB-B). A visit by Vice President Joe Biden to Brazil earlier this year was widely considered as having sealed the deal for Boeing.
But as news broke that the NSA had been monitoring not only the Brazilian government but also oil giant Petrobras (NYSE:PBR), rumors began swirling that Brasília might not want to pursue the deal. "You cannot give such a contract to a country that you do not trust," Reuters quoted a source close to the jet fighter negotiations as saying.
The Brazilian government has not made an official announcement on the matter, and has blamed its delays on budget cuts and the mass upheaval in recent months, with hundreds of thousands of people protesting austerity measures. Brazil slashed its defense budget by $1.55 billion in May, and a further $386 million in July. Under this move, a total $1.8 billion will be cut from 2013 military spending, taking it down to $6.3 billion.
"We do not expect the president to decide on the fighter contract this year, and the next is an election year. It might have to wait until 2015," said an official statement. The issue was reportedly not discussed during Secretary of State John Kerry's visit to Brazil in August. Rousseff also said she was waiting for explanations about the NSA affair from Obama before her official visit to the U.S. scheduled for October.
Boeing executives in both the U.S. and Brazil have made confident arguments that this political bump in relations will not affect the business decision.
"I think the fighter decision will be made on its own merits," said the president of Boeing Defense, Dennis Muilenburg, during the Aerospace and Defense Summit in Washington on Sept. 3. "If you step back from the current situation and look at the trends, I think you can see that the relationship between our countries is continuing to gain strength and momentum."
Donna Hrinak, a former U.S. ambassador to Brazil and recently appointed head of Boeing in that country, stated that relations between the company and Brazil will continue to be strong.
"Our partnership dates back eight decades, and it will go on. Whether we sell the 36 fighter jets or not, it will continue," she said. "Political issues should not interfere with bilateral relationships."
Luciana Lima, a foreign policy expert in Brasília, wrote in online publication Ultimo Segundo that the idea of "distrust" towards the U.S. might just make the government reconsider the other options, while not explicitly rejecting Boeing.
"The purchase of fighter jets, which has been delayed for over a decade, was not only considered as a business transaction, but also a long-term partnership that would help Brazil develop national technology," wrote Lima. "In the years that have passed, Boeing's competitors have overcome some technical difficulties that might make them more attractive for Brazil."
Lima described how Dassault, which had never sold a Rafale outside France, successfully closed a $15 billion deal with India in July, showing that the newest member of the company's long line of fighter planes (which includes the Mirage that is currently the mainstay of the Brazilian air force) is perfectly good for export.
As for Saab, its smaller Gripen was "barely an idea," wrote Lima, when it entered the competition, but now the Swedish fighters have had several export successes and could be a credible contender if the competition is reopened. The Swedish company has also said it is willing to transfer its technology to Brazil, which could be a sticking point with the other two airplanes, both featuring advanced technologies that the U.S. and French governments may not be happy to share.
© Copyright IBTimes 2023. All rights reserved.
FOLLOW MORE IBT NEWS ON THE BELOW CHANNELS