Boko Haram In Nigeria Runs Out Of Weapons, Ammunition As Nigerian Army Advances On Sambisa Forest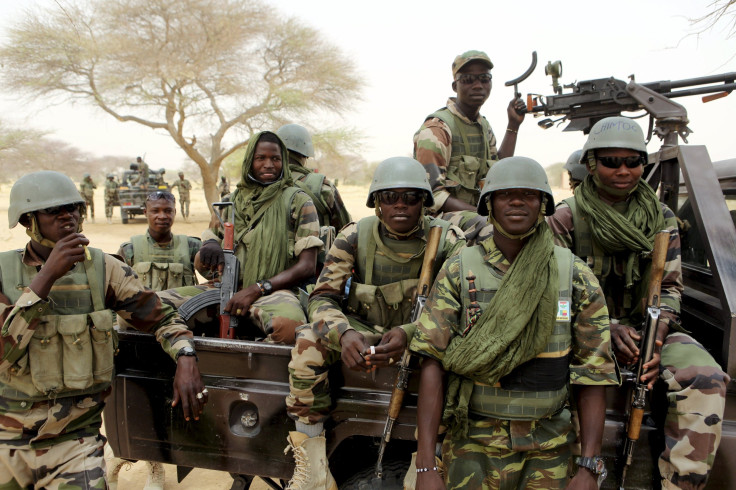 The Boko Haram insurgents in northern Nigeria have run out of weapons and ammunition, and the Nigerian army is advancing on the militant group's remaining territory in Borno state's Sambisa Forest, military sources and residents told local reporters Thursday. The intensified military operation by Nigerian and coalition forces has reportedly weakened the Islamic militant group and cut off their arms supply.
"The Boko Haram terrorists have run out of arms and ammunitions as the military intensify attacks on Sambisa Forest," a resident of Tabe village of Damboa who narrowly escaped from the area, told Vanguard news in Abuja. "You can find more than 500 members of the insurgents, with only a few of them having rifles and even when one or two of them have rifles, it is like a stick, as they have run out of ammunitions, because the usual supplies they get are not forthcoming."
Coalition airstrikes and ground troops have stormed the Sambisa Forest, which covers more than 23,000 square miles across mostly Borno, Yobo, Gombe and Bauchi states in Nigeria's northeast. Nigeria's defense headquarters spokesman, Major General Chris Olukolade, told Vanguard news Thursday the operation has pushed out many Boko Haram fighters. Residents told Leadership newspaper in Abuja some militants have fled into the nearby woods of Yamtake, Tabe and Jangoro villages in the Damboa local government area of Borno state.
Since the military offensive has reportedly severed Boko Haram's access to their main arms suppliers, witnesses said the insurgents have resorted to less sophisticated weaponry. "The Boko Haram terrorists have only bow and arrows, machetes, daggers and other local weapons, as they have run out of arms and ammunitions and were roaming about in the bushes of the villages along the fringes of the Sambisa Forest," another resident of nearby Yamtake village told Vanguard news Thursday.
Although the group has fled much of Borno state, a former stronghold, the militants have left behind devastating destruction in northeast Nigeria. Entire towns were razed, with homes destroyed and corpses scattered in the empty streets. A security source from Bama said Boko Haram has nearly demolished the town in Borno.
"Only a few structures still standing, as the terrorists have virtually destroyed all structures in the town. Very soon we are also going to the Sambisa Forest for mop-up operations, as we have been directed to clear the Sambisa before the May 29 handing over [deadline]," a security source told Vanguard news.
Last week, outgoing Nigerian President Goodluck Jonathan rejected the United Nations' offer to send international forces into northern Nigeria to help fight Boko Haram, saying the group has one remaining stronghold in Sambisa Forest. Jonathan said the Nigerian army, with support from Chad, Niger and Cameroon, had recaptured most of the territory seized by the Islamist insurgents, including the group's stronghold of Gwoza in Borno state. The outgoing president said the West African nation instead needs support rehabilitating its people and rebuilding the communities worst affected by the Islamist insurgents.
Jonathan lost re-election to Muhammadu Buhari last month. He has been widely criticized for acting too late on the Boko Haram insurgency, which has gripped northern Nigeria for six years. But Jonathan has vowed to rid the country of the terrorists before he leaves office and Buhari is sworn in on May 29.
© Copyright IBTimes 2023. All rights reserved.