Nigeria Chibok Kidnapping Update: One Year After Bring Back Our Girls Campaign, Still No Sign Of Missing Students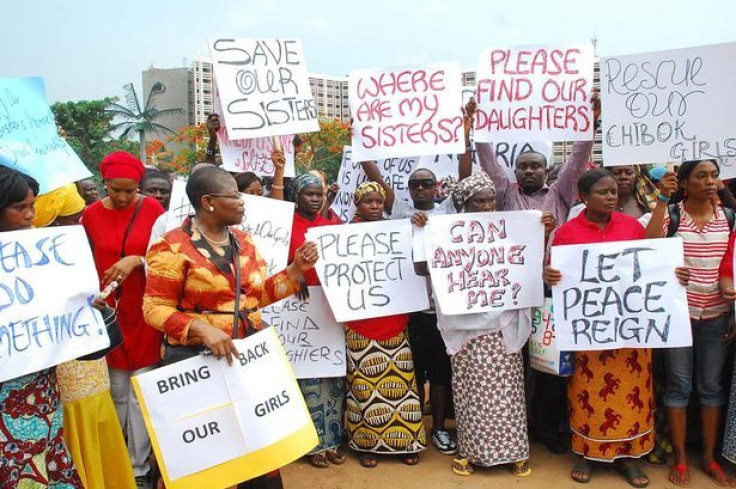 Boko Haram militants descended on a boarding school in northeast Nigeria on the night of April 14. By morning, the militant group had herded 276 schoolgirls into trucks and vanished behind the forest brush in the town of Chibok. That was one year ago. Since then, some of the girls have managed to escape on their own, but over 200 are still missing and government search efforts have been unsuccessful despite a global social media campaign and pleas from international leaders.
The girls' plight garnered attention on Twitter last year using the hashtag #BringBackOurGirls. High-profile political figures such as first lady Michelle Obama, former Secretary of State Hillary Rodham Clinton and British Prime Minister David Cameron endorsed the social media campaign. But the conversation on social media never rendered political action, highlighting the disconnect between public support and political will that often arises in international conflict, media experts said.
"Emotional stories like this one play particularly well on social platforms, which further speeds up sharing and spreading," said Kate Brodock, the president of Girls in Tech and an adjunct professor at the S.I. Newhouse School of Public Communications at Syracuse University. "It was a perfect storm of user behavior and compelling story. But real change will more likely come with follow-up action and efforts."
The Nigerian government only acknowledged the mass kidnapping at the Government Girls' Secondary School in Chibok two weeks later, when the missing girls began to make international headlines. Nigerian President Goodluck Jonathan made his first public comment three weeks after the abduction, promising to ensure the schoolgirls were freed from their Boko Haram captors, who had claimed responsibility. "Give us some time over the Chibok girls," Jonathan said on a nationally televised program last year, according to the Associated Press. "The story will be better in a few weeks."
Family members in the area, however, said the Nigerian military were not looking for the girls and nowhere in sight. "Death is preferable to this life of misery we have been living since their abduction," one mother told the Guardian during a protest last year in Chibok, a mixed Muslim-Christian community in Nigeria's predominately Muslim north. "We call on our government to sit up and rescue our girls."
The United States and other Western countries pledged to do "everything possible to support Nigeria" in finding the Chibok schoolgirls but never elaborated on how they would do so. "This is not uncommon. Violence against women is not treated as it should be," said Soraya Chemaly, a media critic and activist who has been involved in the campaign in the United States. "There has been no stated international effort to take steps."
The Chibok kidnapping isn't the only incident that gained worlwide attention but failed to provoke real change. Ugandan warlord Joseph Kony, who has kidnapped thousands of children, received international attention in March 2011, when Invisible Children, based in the U.S., released a 30-minute documentary, calling for the militia leader and his Lord's Resistance Army to be brought to justice. The short film, titled "Kony 2012," was uploaded to YouTube and exploded into an online phenomenon. In October 2012, the United States authorized up to 100 troops to help the African nation search for Kony. But years later, the movement has waned, and Kony remains free. More recently, global interest in the Ebola crisis last year took months to translate into effective aid on the ground in West Africa.
The Nigerian army claimed military success against the Boko Haram insurgency in the northeast earlier this year. But the whereabouts of the Chibok girls remain unknown, and the Islamist militants continue to abduct more young women, who are held in slavery and forced to marry Boko Haram fighters. Former captives who have escaped the militant group said Boko Haram bragged to their new prisoners about kidnapping the schoolgirls, many of whom were Christian.
"They told me the Chibok girls have a new life where they learn to fight," Abigail John, 15, who was held by Boko Haram for more than four weeks before escaping, told AP in February. "They said we should be like them and accept Islam.
A 56-year-old woman who was recently released by Boko Haram said last month the schoolgirls were being held at the group's headquarters in Gwoza. Jonathan announced the recapture of Gwoza on the eve of Nigeria's presidential election last month but made no mention of the Chibok girls. Military sources told a Nigerian newspaper there have been no sightings of the young women since liberating the strategic town, and there were earlier reports that Boko Haram fighters had slaughtered their female captives before fleeing Gwoza.
"I think it's highly unlikely that those girls will be found together and safe. That's just unrealistic," Chemaly said. "A year is a hugely long time."
The lack of action proved to be a political embarrassment for Jonathan, who recently lost his bid for a second term after he was widely condemned for his slow response to the Chibok kidnapping.
"Social media has got its benefit, but it's not an end in of itself," Obiageli Ezekwesili, the former federal minister of education in Nigeria and one of the early promoters of the hashtag campaign, said during an interview with NPR in December. "But you know what? We are not moving on. The world may have moved on -- and wrongly so -- but we who have started this matter of the focus on the girls have not moved on."
© Copyright IBTimes 2022. All rights reserved.
FOLLOW MORE IBT NEWS ON THE BELOW CHANNELS