Bombs Kill At Least 50 In Baghdad On 10th Anniversary of Iraq Invasion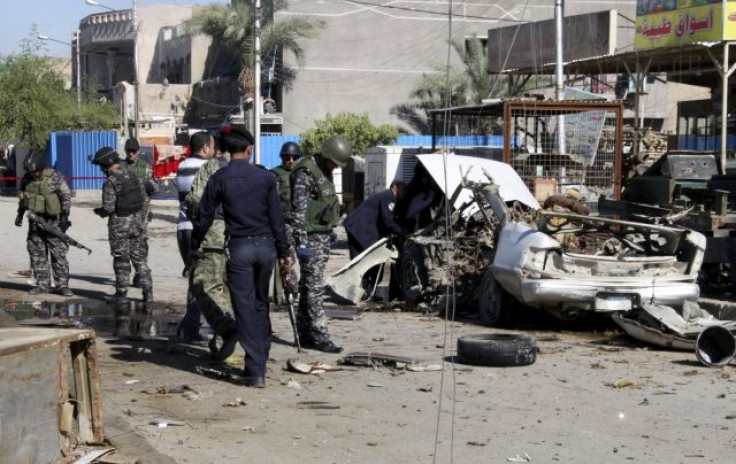 A series of car bombs and suicide blasts tore through the Shi'ite section of Baghdad on Tuesday, killing at least 50 people on the 10th anniversary of the United States' invasion of Iraq.
Area hospital officials have also reported that 160 others were wounded in the attacks.
Reuters reported that the attacks were likely carried out by Sunni Islamist insurgents, who have undertaken a renewed campaign against Shi'ite targets in an attempt to undermine the stability of Prime Minister Nouri al-Maliki's government. The blasts were apparently an attempt to foment increased sectarian violence in the region.
Many of the victims were killed when car bombs exploded outside a crowded Baghdad market located near the well-guarded Green Zone, though several other areas throughout the Iraqi capital were also affected. A suicide bomber also drove a truck into a police station just south of Baghdad, local hospital and police told Reuters.
"I was driving my taxi and suddenly I felt my car rocked. Smoke was all around. I saw two bodies on the ground. People were running and shouting everywhere," said Al Radi, a taxi driver who was one of the many victims of the blasts that rocked Baghdad's Sadr City.
While no group has claimed responsibility for Tuesday's deadly bombings, Reuters suggests that al Qaeda's Iraqi wing, known as the Islamist State of Iraq, has carried out a series of notable attacks since the year began. The group swore to oust American forces and regain the territory it has lost since President Bush ordered the March 2003 invasion of Iraq.
This latest wave of bombings comes on the heels of Sunday's lethal car bombings in Shi'ite Muslim neighborhoods in Baghdad, just days before the 10th anniversary of the U.S. invasion. The Associated Press reported that 37 people were killed in those attacks.
While sectarian violence is still well below the heights it reached in the aftermath of the 2006 Sunni bombing of the Shi'ite Al Askari shrine, local security officials are wary of al Qaeda's efforts to regroup in the Anbar province near the Syrian border. To further complicate matters, Anbar has been flooded with thousands of Sunni protesters who accuse al-Maliki of marginalizing their role in the Iraqi government while consolidating his own power.
Since his election in 2010, critics from Iraq's outspoken Sunni and Kurdish minorities have accused the prime minister of abusing his authority over the region's security forces. The departure of American troops in December 2011 has also played a factor in the region's destabilization, while simultaneously weakening America's ability to intervene in sectarian conflict.
© Copyright IBTimes 2023. All rights reserved.
FOLLOW MORE IBT NEWS ON THE BELOW CHANNELS