'Bond King' Jeffrey Gundlach Predicts Trump's Reelection, Believes America Could Split Up
KEY POINTS
Jeffrey Gundlach has "far less conviction" in a Trump victory than he had in 2016
Gundlach is bearish on long-dated bonds like 30-year Treasury
Should invest in emerging markets like India rather than U.S., U.K.: Gundlach
Says inferior outcomes could lead to a lack of faith in democracy
Billionaire investor Jeffrey Gundlach has predicted that Donald Trump will most likely be reelected as U.S. president, but the unrest and bitterness from that result could see the country itself splitting up.
The CEO of DoubleLine Capital, however, said he had "far less conviction" about Trump's victory than in 2016 when he "was virtually certain" Trump would win.
Speaking to economist David Rosenberg on his webcast Monday, Gundlach also said it would be "a disaster" for the economy if Washington is unable to deliver a big enough stimulus package.
He warned that Americans could lose their faith in democracy if the (economic) outcomes are inferior to what totalitarian regimes like China's deliver.
"People are strongly committed to the concept of democracy and yet China has had massive growth and way better infrastructure under totalitarianism. What are we doing when our outcomes are inferior? Is it possible we could change in that regard?" Gundlach was quoted in a MarketWatch report.
He added that there will be "substantial change" in the next six years, including the possibility of the U.S. breaking into more than one country.
When it comes to financial markets, Gundlach is sure that "we are going to break away from a paradigm we have been in for the past decade or so." In an interview in October, Gundlach had predicted that stocks would crash within 18 months and that the dollar would tumble in the long run. On Oct. 31, MarketWatch quoted a Financial Advisor report where Gundlach noted that he saw a sort of revolution rising from the widening economic inequality by 2027.
Gundlach is also bearish on long-dated bonds like the 30-year Treasury.
"I hate long bonds, but I still think you're supposed to own some, and in a deflationary environment, you would want your portfolio to have that hedge," he said on the webcast. Barron's first called him the "King of Bonds" in February 2011 cover story.
In a tweet on Oct. 31, Gundlach highlighted that the 30-year bond has been rising at an annual rate of 200 basis points. He said if this continues through August 2021, the year-on-year return on the bond will be about -35%.
Gundlach also stressed investment in emerging markets, especially India, rather than U.S. or Europe, which he called "bad demographics, not very well-run and vulnerable to another Brexit-type outcome."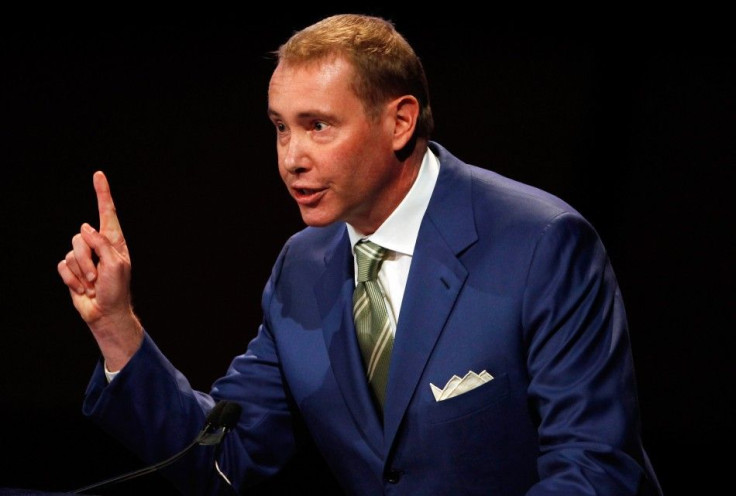 © Copyright IBTimes 2023. All rights reserved.