Boris Nemtsov Murder Indictments Expected For 5 Chechen Men Accused Of Killing Russian Opposition Politician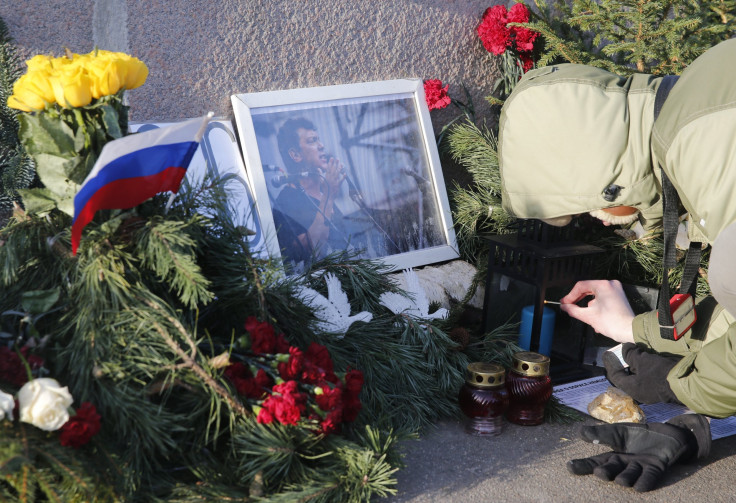 Nearly a year after the brazen murder of Russian opposition politician Boris Nemtsov mere steps away from the Kremlin in the heart of Moscow, suspects in his murder were scheduled to be indicted Tuesday, with the final investigation into his death to be completed next month, the Associated Press reported. Nemtsov was shot in the back multiple times Feb. 27 while walking late with his Ukrainian girlfriend, Anna Duritskaya.
Five Chechen men — Ramzan Bakhayev, Tamerlan Eskerkhanov, Shagit Gubashev, Anzor Gubashev and Zaur Dadayev — have been accused in Nemtsov's murder, but it still remains unclear who ordered the attack against one of the Kremlin's most well-known critics. Anzor Gubashev's lawyer said his client would be charged next year because he was not able to appear in front of the Investigative Committee Tuesday, Russian media reported.
Nemtsov's family has been pushing for officials to look at Chechen leader Ramzan Kadyrov in connection to the murder, while allegations have been made of direct links to the highest echelons of the Kremlin in the case.
"I believe that Nemtsov was murdered by members of a government [special services] or pro-government organization on the order of the country's political leadership [including Russian President Vladimir Putin]," opposition politician Alexei Navalny said.
Nemtsov had been highly critical of Putin and Russia's involvement in Ukraine after its annexation of Crimea in March 2014 and the start of a subsequent conflict in the Donbass region that has left over 9,000 people dead. Before his death he was working on a report about Russia's military involvement in Ukraine, something Putin has continued to deny. Published posthumously, the report claimed at least 220 Russian soldiers were killed fighting alongside Russian-backed separatists in Ukraine.
Last week a Russian court refused to change the case from one categorized as "murder" to "attempted life of a state or public official." At the time he was killed, Nemtsov was an opposition political figure and a member of Russia's regional Parliament representing the Yaroslavl region. Nemtsov came to prominence after the collapse of the Soviet Union serving as deputy prime minister under then-President Boris Yeltsin.
© Copyright IBTimes 2023. All rights reserved.