Boston Celtics Rumors: Gordon Hayward's Contract Could Force Team To Trade Multiple Starters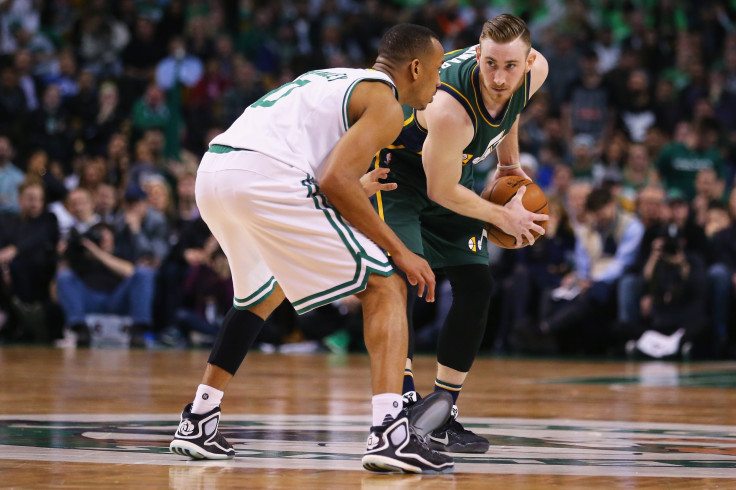 The Boston Celtics are about to make the biggest signing of the 2017 NBA free agency period, but not before potentially losing some key players. In order to make room for Gordon Hayward's max contract, the Eastern Conference's No.1 seed in last year's playoffs is shopping two starters and a key bench player.
Jae Crowder, Avery Bradley and Marcus Smart are at the center of the latest trade rumors with the Celtics looking to create room under the salary cap so they can give Hayward a four-year deal worth $128 million. According to ESPN, Boston and the Utah Jazz have discussed a possible sign-and-trade that would prevent Utah from losing Hayward without getting anything in return.
READ: Does Gordon Hayward Make The Boston Celtics Contenders?
Moving Crowder makes sense, considering he plays the same position as Hayward. Jaylen Brown and Jayson Tatum, who Boston selected with the third overall pick in each of the last two drafts, also play small forward, but they make significantly less money than Crowder. Crowder hasn't made an All-Star team in his five NBA seasons, and the Celtics are hoping that Brown and Tatum turn into star players.
There's no doubt that Hayward is the better player, but Crowder wouldn't be the worst compensation that Utah could ask for. He averaged 13.9 points and 5.8 rebounds per game last year, shooting 46.3 percent from the field and 39.8 percent from three-point range. He also owns one of the most team-friendly contracts in the NBA with less than $22 million coming to him over the next three years. Hayward will make more than that in just the 2017-2018 season alone.
But the Celtics don't have to make a deal with the Jazz. They can send Crowder, as well as Bradley and Smart, to a team that might be willing to give them an asset in return.
Bradley was one of the most important pieces on Boston's 53-win team a year ago, and arguably only Isaiah Thomas played a bigger role in the Celtics making it to the conference finals. He posted career highs with 16.3 points, 6.1 rebounds and 2.2 assists while being one of the best defenders at his position. Bradley is entering the final year of his contract, which will pay him a salary of $8.8 million.
Smart is easily the most expendable of the three players that Boston is considering trading. He's an awful shooter, making just 35.9 percent of his field goals and 28.3 percent of his threes. The guard often makes questionable decisions, and he takes more than four shots from behind the arc per game, even though he shoots at such a low percentage.
Smart, however, is a valuable defender and a key player off the bench for the Celtics. He managed to score 10.6 points per game along with averages of 4.6 assists and 3.9 rebounds. ESPN's Ian Begley reported that Boston reached out to the New York Knicks to gauge their interest in acquiring Smart.
The Celtics have had discussions with at least six teams regarding possible trade scenarios, according to ESPN. Boston has already begun the process of shedding payroll, hoping to keep as much of their core intact as possible. That process has included renouncing Kelly Olynyk, who is now an unrestricted free agent. The team could also renounce the rights to Jonas Jerebko, James Young and Gerald Green, in addition to trading Terry Rozier. That, however, would still leave the Celtics just shy of being able to offer Hayward a max contract.
READ: Marc Gasol, Carmelo Anthony, Kenneth Faried Involved In Latest Trade Rumors
Shedding current salaries might be the final moves of significance that Boston will make this summer, but the team is still in position to make another splash that matches the impact of signing Hayward. The Celtics could potentially have four first-round picks in the next two years, giving them the assets required to trade for another star.
It remains to be seen, however, what players will become available now that the likes of Paul George and Jimmy Butler have been dealt.
© Copyright IBTimes 2023. All rights reserved.