Boston Marathon Bombing Trial: Dzhokhar Tsarnaev Unlikely To Testify But Could Take The Stand During Sentencing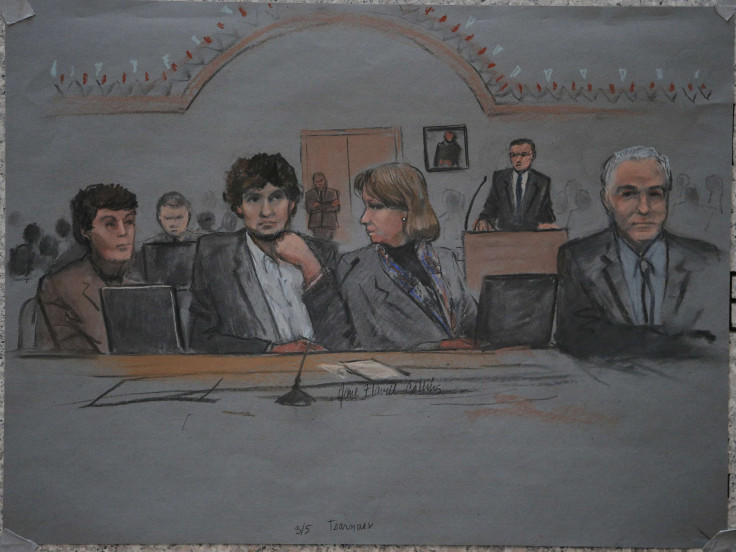 The 18 jurors for the Boston Marathon bombing trial have heard testimony from about 20 people so far, but defendant Dzhokhar Tsarnaev probably won't join that list of witnesses anytime soon -- if at all. Experts say the 21-year-old bombing and murder suspect is all but assured of not taking the stand during the first, guilt phase of the trial, and may even be unlikely to testify during sentencing.
There's pretty much nothing Tsarnaev can say to convince the jury that he's not guilty of the April 2013 attacks that killed three and injured more than 260, said Jules Epstein, a Pennsylvania criminal defense attorney and Widener University law school professor. CNN reported that Tsarnaev's lawyer Judy Clarke, during her opening statement last week, openly admitted Tsarnaev's guilt, saying "It was him."
Tsarnaev is charged with about 30 federal counts, including using a weapon of mass destruction, bombing a public place and carjacking. If convicted, he could face the death penalty. "There's too much of a downside to him being on the stand," Epstein said. "What he would have to say would probably be smothered in the cross-examination he would face, because the prosecution would walk him through every single minute and every minute detail of this horrible crime and the follow-up."
The suspect's high-profile capital murder trial started in earnest last Wednesday after two months of jury selection. The prosecution's case kicked off with graphic testimony from Boston Marathon survivors, whom the defense has declined to cross-examine.
Tsarnaev's attorneys are trying to establish a rapport with the jurors, Epstein said, and shift their attention away from the crime. The fact that he did it is not as important as why he did it, they say. The defense's strategy rests on the argument that Tsarnaev was manipulated by his radical older brother, Tamerlan. The court will learn more about the brothers' relationship later in the trial, as the judge last week granted a motion to mostly exclude evidence about the duo until the sentencing phase.
That is the only time during the case that Tsarnaev would potentially testify, said Robert Bloom, an attorney and law professor at Boston College. "The defense, at that point, gets more active in showing reasons why this young man should get life in prison as opposed to death," Bloom said.
The jurors already dislike Tsarnaev, Bloom said, so they might think he's lying. But on the stand, Tsarnaev could provide strong anecdotal evidence about how Tamerlan controlled him. "He would talk about his closeness to his brother, and how much influence he had, and how his parents left for Russia -- kind of a sad story," Bloom said.
Martin Weinberg, a Boston criminal defense attorney, said he thinks Tsarnaev's lawyers can build that narrative without him, however. His friends and family could tell the jury about how he was coerced – underscoring the importance of the cause of the action rather than the effect -- without giving prosecutors the chance to bring up more gruesome evidence.
But that's a decision for the suspect and his defense team to make. If Weinberg were representing Tsarnaev, would he put the accused Boston Marathon bomber on the stand? "Unequivocally, no," he said.
© Copyright IBTimes 2022. All rights reserved.
FOLLOW MORE IBT NEWS ON THE BELOW CHANNELS