Tsarnaev Boston Marathon Bombing Trial: Victims Testify, Describe Gut-Wrenching Scenes In Court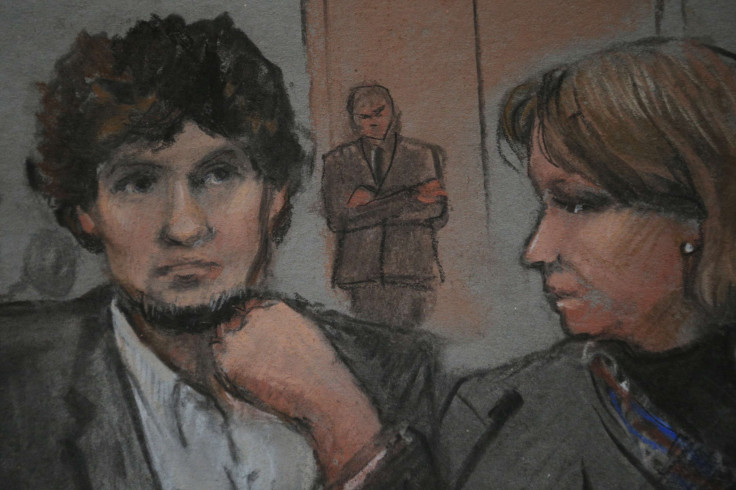 Victims and witnesses of the 2013 Boston Marathon bombings took the stand Thursday in the trial of suspect Dzhokar Tsarnaev at the U.S. District Court in Boston, offering gut-wrenching testimony of the chaos following twin blasts at the finish line in the heart of Boston two years ago and their struggles to cope with their losses since then. The bombings killed three people and wounded 264.
Those who testified included the father of Martin Richard, an 8-year-old boy who was killed, numerous people who were injured or lost friends and a handful of Boston police officers who were on duty when Tsarnaev and his older brother Tamerlan Tsarnaev detonated two pressure-cooker bombs near the marathon finish line.
A handful of reporters were live-tweeting testimony from the trial, many saying that the testimony of William Richard, Martin's father, would be the most emotionally taxing. Richard described the scene immediately following the blast as he and his wife, Denise, tried to find their three children in the chaos. Denise Richard ended up losing sight in one eye. Their daughter, Jane, lost a leg.
Some victims chose not to attend, but others felt they had to appear in court so the now-21-year-old Tsarnaev could see the results of his actions. "I want to see him, and I want him to see me," said 36-year-old Marc Fucarile, who lost his leg in the blast, according to the Boston Globe.
Tsarnaev's lawyers admitted that he was involved in the plot on the first day of the trial, but seek to show 26-year-old Tamerlan was the leader and his younger brother was following him. They hope to get Tsarnaev a sentence of life in prison instead of a death sentence. He faces 30 criminal charges related to the bombing and the subsequent murder of Massachusetts Institute of Technology Police Officer Sean Collier, who Tamerlan Tsarnaev is accused of shooting to death in the days after the bombings. See the full list of criminal charges here, via NPR's Boston affiliate, WBUR.
Federal prosecutors showed the jury dozens of photos and video taken just after the blast, many of them including graphic images of the injuries sustained by victims sitting across the courtroom. Boston Police Officer Frank Chiola was on duty near the finish line at the time of the blast. "I saw blood everywhere. Shock. People's faces. You couldn't tell who was alive, who was dead," he said in court Thursday, according to Reuters. "It was chaos."
© Copyright IBTimes 2023. All rights reserved.