Boston Red Sox Great Johnny Pesky Dies at Age 92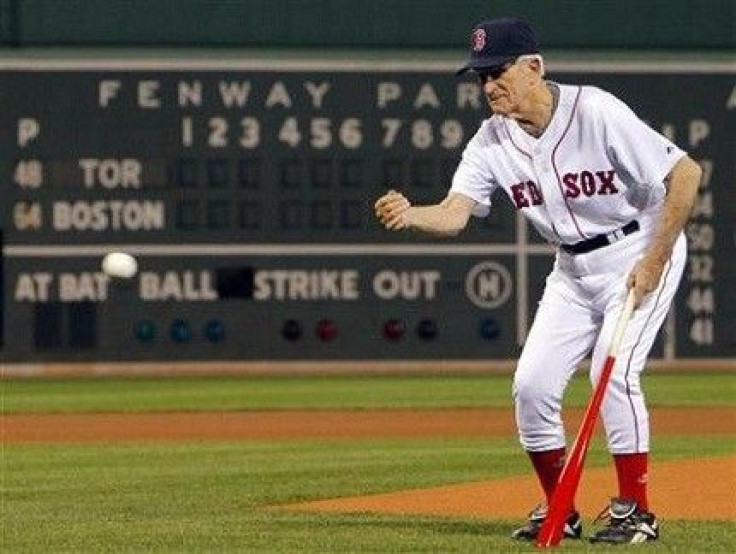 (Reuters) - Johnny Pesky, who spent the bulk of his baseball career with the Boston Red Sox, and after whom the right-field foul pole at the team's fabled Fenway Park is named, died on Monday. He was 92.
He died surrounded by family and friends at the Kaplan Family Hospice House in Danvers, Massachusetts, the Red Sox said in a statement.
Born John Michael Paveskovich, Pesky began his MLB career with the Red Sox in 1942 and finished third in American League Most Valuable Player voting that year, before missing the next three seasons for military service during World War Two.
"We have lost a dear and beloved friend," Red Sox principal owner John Henry said. "Johnny was happiest when wearing the Red Sox uniform.
"He carried his passion for the Sox, for Fenway Park, and for baseball everywhere he went, and he was beloved in return. We will miss him. We share the sadness that his family and legions of friends are all feeling."
Pesky retired in 1954, after a 10-season playing career that included stints with the Detroit Tigers and Washington Senators, but also served as a manager, coach, broadcaster and ambassador during a relationship with the Red Sox that spanned six decades.
He joined Hall of Famers Ted Williams and Wade Boggs as the only players in Red Sox franchise history to score at least 750 runs while compiling a batting average of .300 or more.
Pesky, whose number six was retired by the Red Sox in 2008, was among over 200 former Boston players on the field at Fenway Park in April, when the team celebrated the ballpark's 100th birthday.
"The national pastime has lost one of its greatest ambassadors today," MLB Commissioner Bud Selig said in a statement. "Johnny Pesky, who led a great American life, was an embodiment of loyalty and goodwill for the Boston Red Sox and all of Major League Baseball."
Nicknamed 'The Needle' because of his nose, Pesky finished his MLB career with .307 batting average, 404 runs batted in, and 1,455 hits.
The right-field pole at Fenway Park, known as "Pesky's Pole'", was named after the former infielder, after a Boston broadcaster once claimed Pesky wrapped a ball around the pole to lead his team to victory.
He is also featured in a bronze statue outside Fenway Park that was unveiled in 2010 and showed him alongside former team mates Bobby Doerr, Dom DiMaggio and Williams.
"He has been as much a part of Fenway Park as his retired number six that rests on the right-field facade, or the foul pole below it that bears his name," Red Sox chief executive Larry Lucchino added.
"But beyond these physical testaments, Johnny will be remembered most for his warmth, kindness, and loyalty. It was through his countless friendships that Johnny made his greatest impact on us, and we will miss him dearly. His was a life well-lived."
The Red Sox said they would host a public tribute at Fenway Park at a later date.
(Reporting by Frank Pingue in Toronto; editing by Matt Barker)
© Copyright Thomson Reuters 2023. All rights reserved.