Boxing: Bob Arum Shares Update On Manny Pacquiao, Terence Crawford Mega Fight
KEY POINTS
The much-awaited bout between Manny Pacquiao and Terence Crawford is far from a done deal, says Bob Arum
Arum reveals he has reached out to Crawford's camp for a possible fight in November
Arum says he already has plans for boxing for the next couple of months
Bob Arum shared the latest update on the possible bout between Manny Pacquaio and Terence Crawford – and it does not sound promising so far. The veteran promoter admitted that the highly anticipated welterweight showdown still has a long way to go before it is sealed, revealing that his team has yet to reach out to the Filipino legend to discuss the plans for the fight.
"Right now, all we've done is we've contacted Crawford and 'BoMac' (Brian McIntyre, Crawford's manager/trainer), told them that they'll fight in November, either the 14th or the 21st, and we're looking at opponents," Arum told ESPN on Wednesday.
This recent development turned out to be a resounding dampener for fight fans after earlier reports claim that negotiations between both camps were running smoothly.
According to Arum, one obvious reason for possibly leaving Pacquiao out of the fight card is the logistical restrictions that are caused by the pandemic.
"Obviously, if it's Pacquiao and we can do the fight, which is a big ask because where am I going to put it? We can't do it in the United States because there are no crowds. So again, (some reports) that it's Pacquiao and Crawford -- it's misleading."
Moreover, the ESPN report added that the Pacman "never seemed interested in facing Crawford" even when the Filipino icon was still under Arum's Top Rank Promotions.
With boxing still trying to regain its stance after sustaining a tough blow from the COVID-19 crisis, Arum, meanwhile, is looking at every chance possible for the sport to gradually get back on track.
"We're working on everything because what we know now is, starting mid-August, every week through the end of September, that's booked," the 88-year-old executive said of his plans for boxing in the upcoming months.
Pacquiao and Crawford each hold a welterweight title to defend: the former being the WBA Champion while the latter holding the WBO belt. The Filipino boasts a shoo-in Hall of Fame resume, notching 62 victories in 71 fights while possessing a 63% knockout rate. The American champ, on the other hand, continues to protect an unblemished professional record in 36 fights that are highlighted by 27 victories via a stoppage.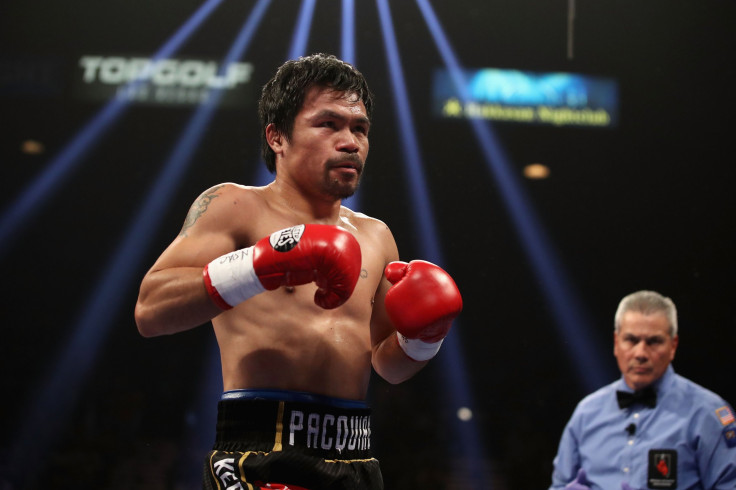 © Copyright IBTimes 2023. All rights reserved.